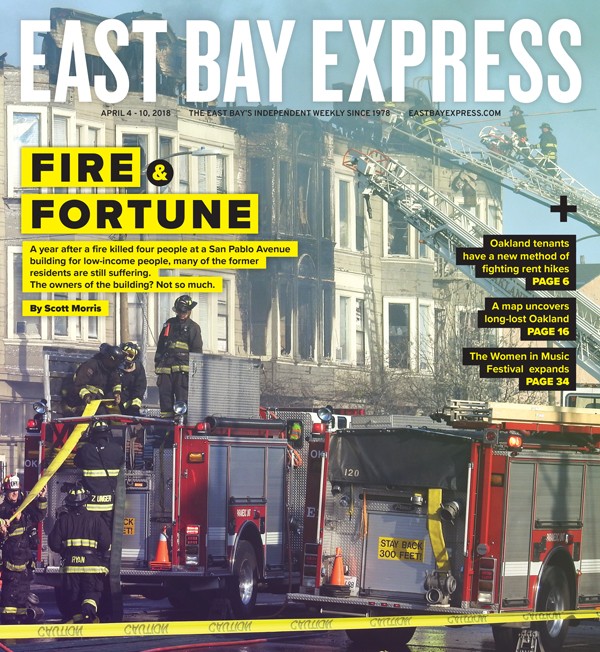 "Fire and Fortune," Feature, 4/4
A Special Ring
Surely, as Dante suggests, there is a special ring in hell for the perpetrators of this dreadful, sad situation. Thank you, Express, and especially Scott Morris, for researching, writing, and publishing this piece.
If I were mayor, I think I would delegate a member of my staff to have the task of following through on the issues Morris raises, so that status quo is not where this awful dilemma is left.
Sherry Smith
"Reaching Too Far?" News, 4/4
We Have a Petition, Too
I also have a petition on Change.org with almost 500 signatures stating we don't want the Alameda County Sheriff's Office to manage the REACH Ashland Youth Center. I am a 20-plus year resident of Ashland and have been involved in politics and local government since 2004.
Barisha Spriggs, via Facebook
Explanation Needed
The supervisor whom I've supported in his re-election campaigns needs to explain why he feels a sheriff who coordinates with ICE is the most progressive agent in his district.
Guillermo Daniel Elenes
"Tenants Opt for Direct Action," News, 4/4
No Rent Control
People with no grounding in economics think that they are going to do good for the community. Quite the reverse. Efforts to eliminate Costa Hawkins [the state law that limits rent control] will do nothing more than discourage real estate developers from investing in Oakland. The end result is fewer units built and no incentive to improve existing units. As the housing stock diminishes, there are no places for people to live. Also, the pressure of more renters against fewer units inevitably will force rents higher.
These do-gooders, who have no economics knowledge, do nothing more than ruin the city of Oakland and do more harm than good in the long run.
Jerry Udinksy
"When Police Take Kids' Bikes," News, 3/28
Police Are Sending the Wrong Message
In a time where kids are holed up at home on their electronic devices, I commend these kids who are out on their bikes building a community, developing a passion, and saving money for something they care about. Youth in East Oakland are up against many challenges, including poverty and homelessness, risk of drop out, and high murder rates, to name a few. These kids have found an interest that allows them to be engaged in a healthy community and to express themselves in positive ways.
We need to give a voice to these youth who are being treated unjustly. There is no need for San Leandro Police to instill fear and abuse power by threatening them by gunpoint and confiscating their bikes. If the concern is safety, a more effective solution has been proposed — assign training hours, community service, and bike-safety courses.
These police are sending a message to these kids that they do not deserve respect and that the adults who should be protecting them are only out to hurt them.
Miyako Matsudaira
How About Cars?
Do these cops confiscate cars instead of writing tickets?
Holly Harwood
"How Three Black Women Use Food as Tools for Resistance," Taste, 3/28
Nice!
So love hearing how people just decide to not take it anymore [and] positively move on to something different. Blessings.
Gloria Jernigan
Corrections
Our March 28 news story, "When Police Take Kids' Bikes," mistakenly stated that the Scraper Bike Team hangs out at Oakland's 81st Street library branch. It's the 81st Avenue branch.
And our April 4 cover story, "Fire and Fortune," mistakenly stated in a photo caption that building co-owner Keith Kim lived at 622 Highland Ave. in Piedmont at the time of the fire. He actually lived there after filing for bankruptcy in 2011.