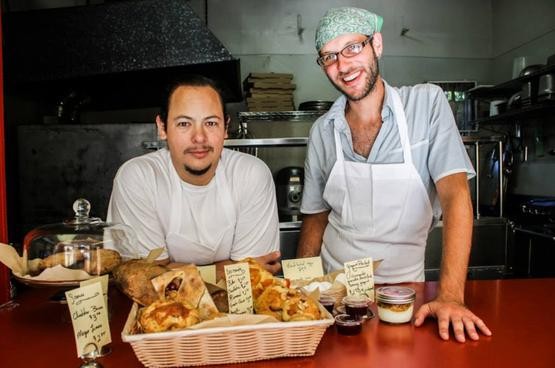 Next month, an offshoot of the popular North Oakland pizzeria
Nick's Pizza
(6211 Shattuck Ave.) will open in Temescal, where owners Nick Yapor-Cox and Aron Ford are also planning to expand their menu.
[jump] Located in the space that most recently housed Barkada,
Nick and Aron's
(4316 Telegraph Ave.) will be a full-service restaurant offering house-baked croissants and scones in the mornings, salads and sandwiches for lunch, and appetizers and heartier entrées during dinner service — all of that in addition to serving plenty of pizza, of course. The original Nick's Pizza, where Yapor-Cox presides over the pizza dough and Ford heads up the
morning pastry program
, will remain unchanged.
Nick's is best known for its self-proclaimed
"Oakland-style" pizza
— a kind of cross between a California/Arizmendi-style sourdough crust and the somewhat heftier, red sauce-centric pies that are prevalent on the East Coast. According to Ford, the appeal of the new location, which boasts a 1,400-square-foot dining room and a 600-square-foot patio, is that it'll allow them to host guests in a more formal way that just isn't possible at their tiny pizzeria.
One of the quirks of the old Barkada space, which was
originally designed to be primarily a bakery
, is that two huge gas-deck ovens take up almost all of the kitchen space, meaning most of the food, by necessity, needs to be cooked in those ovens. For Yapor-Cox and Ford, who describe themselves as bakers at heart, that was a perk, not a problem.
As Yapor-Cox put it, "If there's anybody that's going to pull off making a full-service restaurant of that place, it's going to be a couple guys who know how to use ovens to their fullest potential."
In addition to the pizzas, the lunch menu will focus on sandwiches served on house-made baguettes, and dinner options will include roast chicken and oven-roasted mussels. Eventually,
weekend brunch
service will be added to the mix.
Nick and Aron's is slated to open in early March.