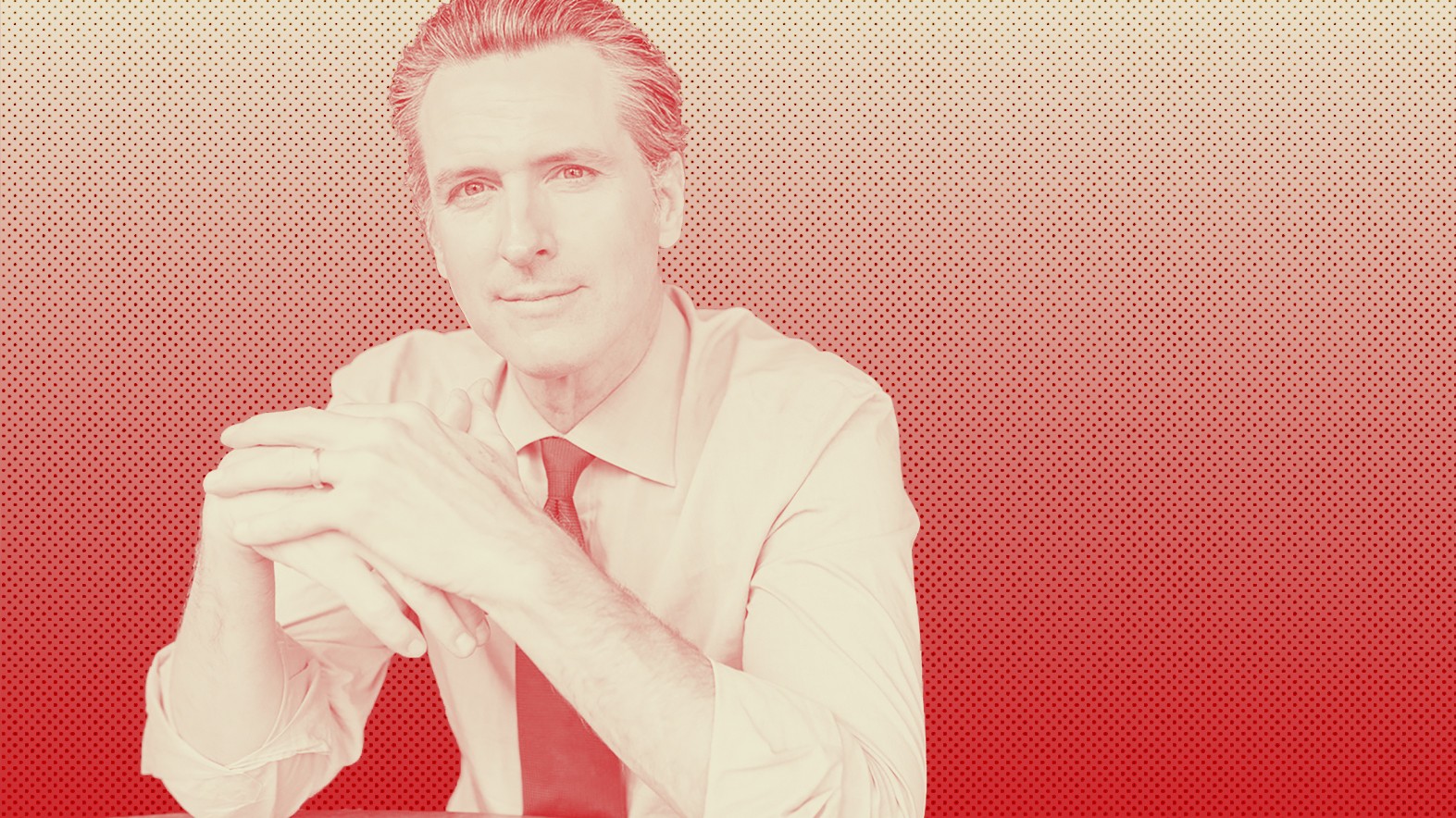 All of California's constitutional offices are represented in this year's election cycle. But not all of the seats are really up for grabs. Secretary of State Alex Padilla, for example, is expected to cruise to reelection, even though he's facing seven challengers in the June 5 primary. So, we decided to focus on four of the top statewide contests, plus the race for U.S. Senate. The top two finishers in each race square off in the November general election.

Governor
In 2015, Lt. Gov. Gavin Newsom announced his campaign for California governor just three months after Jerry Brown won re-election. And ever since, Newsom's chances for winning next month's primary have seemed like a forgone conclusion. He had consistently led the polls, and he seems assured of winning one of the top two spots on June 5. But who else will join him in the general election this November remains uncertain.
For his part, Newsom has made it clear that he hopes he gets to square off against a Republican candidate in deep blue California — a possibility that would likely assure him of an easy victory in November. During a televised gubernatorial debate two weeks ago in San Jose, the six top candidates were asked who they would rather face. Without missing a beat, Newsom pointed to the two outspoken Republicans on the stage, San Diego businessman John Cox and Assemblymember Travis Allen. "Any of these will do," cracked Newsom.
Over the past month, Cox appears to be surging into the second spot. But former Los Angeles Mayor Antonio Villaraigosa and State Treasurer John Chiang are also in the mix. Uncertainty abounds, however, in part due to the increasing unreliability of polling in the state.
Villaraigosa has evolved over the years into a moderate Democrat. He does not support single-payer health insurance, for example, and he backs charter schools, a stance unpopular in the liberal Bay Area.
Newsom has also emerged as the most pro-housing candidate in the race. He supports building 500,000 units of housing per year in California to deal with the state's extreme housing shortage.
Chiang, meanwhile, is the race's resident wonk. He took Wells Fargo to task for its fraudulent banking practices and stopped the state from doing business with the iconic California lending institution. Chiang, however, is the least supportive of more housing among the top six candidates.
Former Superintendent of Public Instruction Delaine Eastin brings some East Bay cred to the governor's race. A former assemblymember who got her start on the Union City City Council, Eastin has a flair for delivering potent soundbites. She is also the most progressive candidate among the frontrunners. She supports single-payer health insurance, reforming Proposition 13, repealing the anti-rent-control Costa-Hawkins Act, and of course, due to her background, ramping up state funding for public education.

U.S. Senator
When U.S. Sen. Dianne Feinstein opined last August that Donald Trump "can be a good president," many Democrats howled in anger. For them, Feinstein's comment proved once again that the 84-year-old moderate Dem is out of step with California's liberal and progressive voters.
Then in February, California Democrats declined to endorse Feinstein for reelection — and instead issued no endorsement — further revealing Feinstein's possible vulnerability this year.
Feinstein's top challenger is state Senate President Pro Tem Kevin de Leon, D-Los Angeles. The liberal de Leon's insurgent campaign appears to be impacting Feinstein, moving her to the left as well. Earlier this month, for instance, Feinstein dropped her long-standing opposition to legalizing cannabis.
But both candidates possess strong credentials when it comes to a number of high-profile issues. Feinstein is a longtime gun control advocate who authored the 1994 assault weapons ban. Despite her earlier comments about Trump, she won points when it appeared that she nearly duped the president into supporting a new assault weapons ban during a televised meeting at the White House. De Leon, meanwhile, supports single-payer health insurance and was a leader in the legislature's push toward becoming a sanctuary state.
He also helped push through last year's landmark housing package and climate change legislation. Feinstein, by contrast, has raised objections among Democrats and environmentalists for repeatedly siding with Big Agribusiness and Republicans in California's water wars.

Attorney General
After Kamala Harris won the election to the U.S. Senate in 2016, Gov. Jerry Brown tabbed Democratic U.S. Rep. Xavier Becerra to replace her as the state attorney general. Becerra then quickly won recognition as one of a handful of national leaders who formed the front line of resistance against Trump's far-right policies.
Becerra's office has sued the Trump administration on a range of issues, from blocking inclusion on the 2020 U.S. Census a question on immigration status to funding for sanctuary cities; the transgender military ban; the Muslim travel ban; and DACA.
State Insurance Commissioner Dave Jones, also a Democrat, nevertheless, has spent much of the campaign arguing there's more to the attorney general's job than fighting Trump. Jones says that if elected, he will also go after oil companies, and bail reform will be one of his top priorities. Republicans Steven Bailey, a retired El Dorado County Superior Court judge, and attorney Eric Early, are also in the running.

Lieutenant Governor
There's not much for a lieutenant governor to do. A cynic might say the officeholder basically receives an $146,000 annual salary to participate in ribbon-cutting ceremonies.
Two of the frontrunners in the race are both former U.S. ambassadors and first-time candidates. Jeff Bleich is former ambassador to Australia and an East Bay resident. U.S. Rep. Ro Khanna has endorsed his campaign.
Eleni Kounalakis is a former ambassador to Hungary who supports universal health insurance.
Her campaign is also the best financed in the race. And she's the only candidate who has made housing one of her top priorities. Kounalakis has also garnered several high-profile endorsements, including from U.S. Sen. Kamala Harris, D-Calif., and from numerous women's and LGBTQ groups and several unions.
State Sen. Ed Hernandez, D-Montebello, is the most experience elected official in the race. His top priority is improving public schools. And he's endorsed by some of the most powerful labor unions in the state, including the California Teachers Association.
The race also has an East Bay flavor in Richmond Councilmember Gayle McLaughlin (also a former longtime mayor of Richmond). The self-described "Bernie Sanders of the East Bay" is a founder of the Richmond Progressive Alliance and is running as No Party Preference. McLaughlin also shuns corporate contributions. But her campaign has struggled with fundraising, and her inability to garner much statewide attention has been noticeable.
Also in the race are Republican businessperson Cole Harris, who is largely self-funding his campaign, and another GOP businessperson, Lydia Ortega.

Superintendent of Public Instruction
Tony Thurmond and Marshall Tuck both want to increase education funding and make schools more equitable for all kids. But who doesn't?
To really understand the differences between Tuck and Thurmond you have to follow the money. Thurmond is supported by mass membership teachers' unions and has the Democratic Party's endorsement, while Tuck's base is a small network of wealthy pro-charter school reformers.
So far, the California Federation of Teachers and California Teachers Association have expended $2.5 million independently supporting Thurmond, who previously served on the Richmond City Council and West Contra Costa Unified School District board. That's because Thurmond wants to rein in charter schools, which the teachers view as a threat to organized labor, fair pay, and pensions.
But Thurmond bucks the unions on some issues like teacher tenure, supporting an increase from 18 months to three years. Tuck, who used to be president of Green Dot Public Schools in Los Angeles, wants to see teachers work for five years before getting tenure.
Tuck's backers — including more than a few billionaires like Eli Broad and heirs to the Walmart fortune who have spent $3.6 million independently promoting his campaign — would like to see teachers unions play a smaller role in education and have charter schools given more freedom to experiment.
In short, the race is a replay of 2014 when Tuck unsuccessfully ran against Tom Torlakson after tens of millions were spent on both sides, and the major issues are charter schools and the role of organized labor in schools.