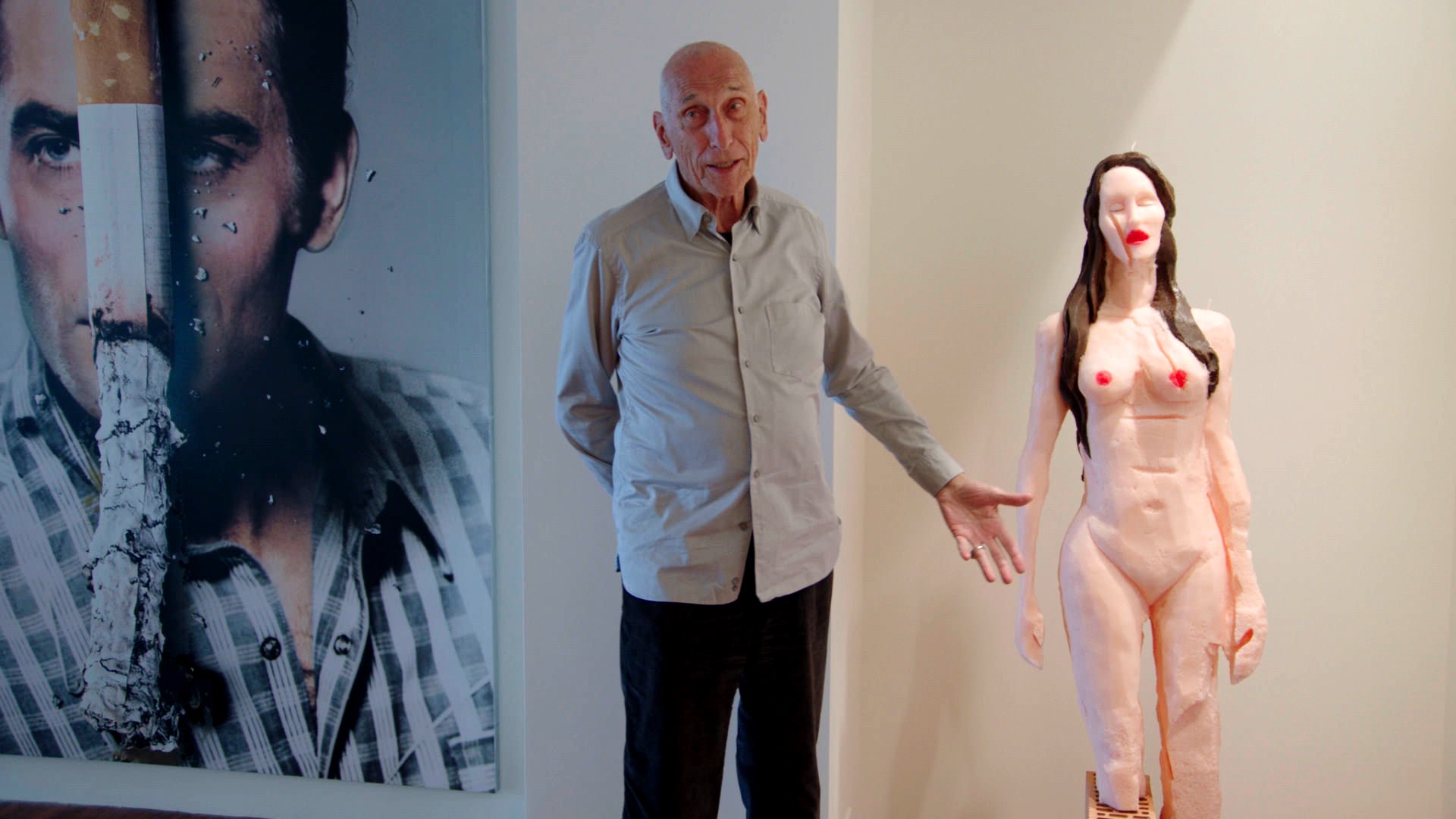 Nathaniel Kahn's incisive documentary,
The Price of Everything
, is one of the most provocative films of the year, not only because of its insights on the current state of visual arts but its clear-eyed, tangential commentary on one of today's most pressing issues. Simply put: The absurd amount of wealth in the world today is driving prices for fine art into the stratosphere.
As explained by one mega-rich collector: "There's a lot of money kicking around. There's a limit to where you can put it." The speaker is Stefan Edlis, who conducts a mini-tour of the modern-art-crammed Chicago high-rise condo he shares with his wife and fellow collector Gael Neeson — a place where an Andy Warhol rubs shoulders with a Jeff Koons.
Holocaust survivor Edlis, a retired plastics magnate, has a sense of humor that many of his art-acquiring brethren lack. Collectively, however, they make the world's art market a $66 billion proposition.
Like nature documentarians investigating a thriving beehive, filmmaker Kahn and his crew drop in on lots of busy creators, sellers, and accumulators, liberally sprinkled with critics and art historians. Busiest of them all seems to be Koons, whose partnership with Louis Vuitton churns out costly handbags decorated with reproductions of classical masterworks by Manet and Gauguin. Hustler extraordinaire Koons has sold his original pieces for as much as $50 million, mostly to private collectors — museums are generally not a part of the conversation at the high end of the market. Well orchestrated publicity, of course, is always up front.
More than ever, observes one critic, art is a luxury brand, and contemporary art is where the action is. At times, Kahn's film resembles an infomercial for Sotheby's, where a steady stream of trophy art is auctioned to a well-heeled clientele — say, isn't that Woody Allen on the bidding floor? We also hear from best-selling artists Gerhard Richter (he's openly contemptuous of big money) and Njideka Akunyili Crosby, a relative newcomer to the hyper-rich market.
Compare and contrast the world of glossy galleries and self-satisfied art dealers with the ramshackle upstate New York workspace of painter Larry Poons. Poons' abstract expressionist splatters and Op Art illusions were hot in the 1960s and '70s, but ever since his explorations fell out of fashion, he's been on the outside looking in. Lately, though, Poons has been "rediscovered" in the demand for collectable new art. For the 81-year-old former motorcycle racer and maker of huge paint-splashed canvases, the rekindled clamor for his work is a matter of bewildered amusement. But the prices are certainly right.
Kahn's doc maintains a healthy skepticism for the cupidity his camera witnesses along the artist-dealer-collector pipeline. He's not alone. Historian Alexander Nemerov talks about the "soul" of a Vermeer and bemoans the fact that such things no longer seem to be valued, and painter Richter also decries the sky-high valuations. ("A painting shouldn't cost the same as a house.") The days of the modest mom-and-pop collectors profiled in the warm-hearted 2008 doc Herb & Dorothy
may indeed be over.
The Price of Everything makes a useful gloss on the ideas put forward in such films as Exit Through the Gift Shop and The Art of the Steal — that the privatization of society is well under way in the art-as-asset arena. Notes talking head Sabine Moritz-Richter: "Museums are democratic," the antithesis of private collections in which art disappears into well-guarded homes, away from public view. In that vein, mega-popular street artist Banksy ought to be applauded for his latest prank — the shredding of <i style="mso-bidi-font-style:
normal">Girl with Balloon after it had been auctioned off for $1.4 million.
The Price of Everything, an HBO Documentary Films release, opens theatrically first in San Francisco, then premieres on HBO Nov. 12. See it, then get to know your local artists while you can still afford to talk to them.


[embed-1]