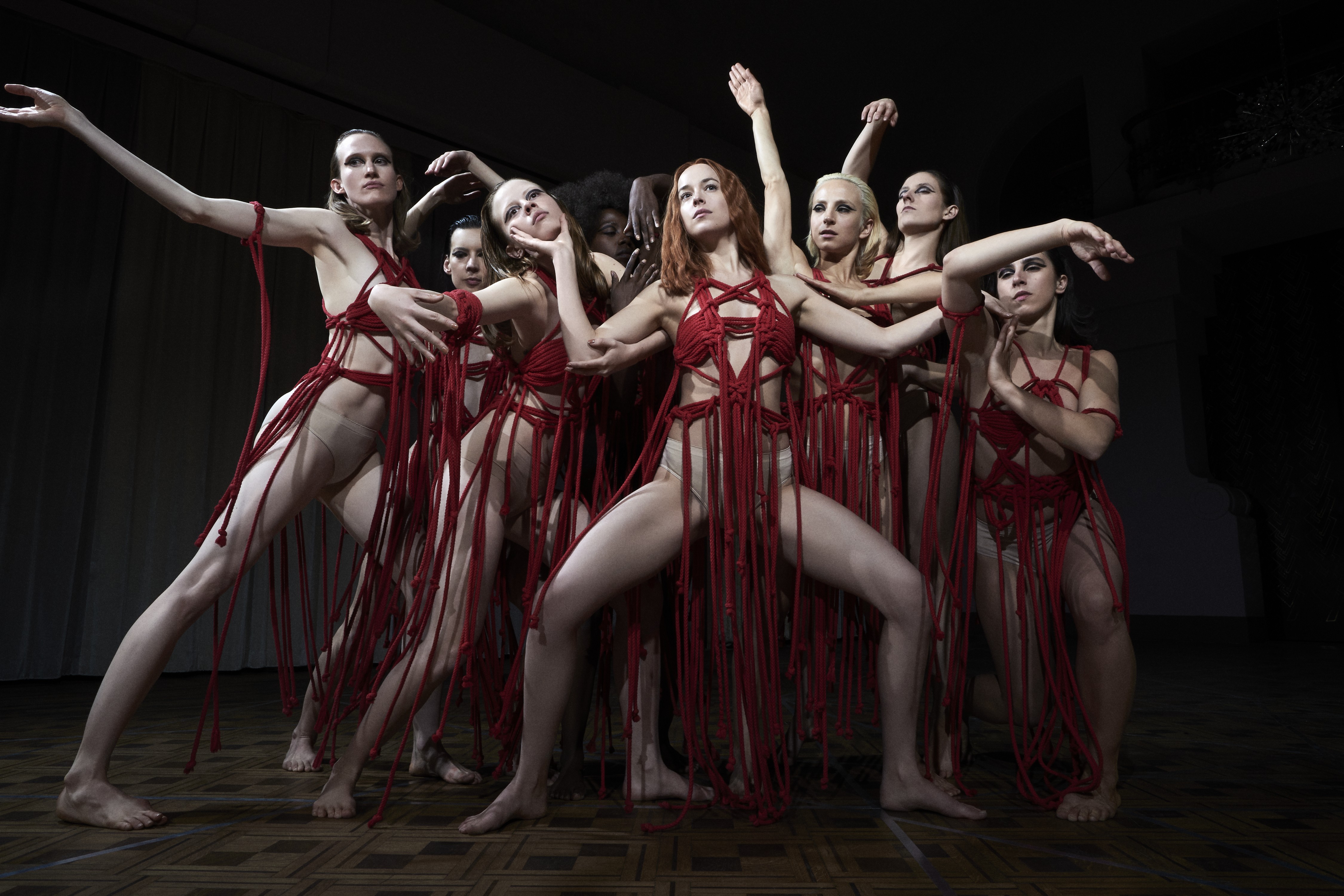 Luca Guadagnino's
Suspiria
is a genuine mindbender, a psychological melodrama in every sense of the term, a many-chambered nautilus of shocks and shudders that takes us from the sublime to the horrific and back again with each new scene.
The Italian-American co-production is a remake of Dario Argento's
original Suspiria, an endlessly referenced 1977 horror item about strange goings-on at a German ballet school. But director Guadagnino (Call Me by Your Name) — who in common with many other moviegoers was captivated in his youth by Argento's gaudy, violent visions — embroiders even more disturbing elements into the already gothic fabric.
American dance student Susie Bannion (Dakota Johnson) is justifiably bewildered when she first arrives at the ballet academy in Berlin, in 1977. In addition to the expected new-girl-in-class frostiness and the
wintry gray Northern European skies (the precipitation never seems to stop), an eerie sense of foreboding hangs over Susie's host nation, currently under assault by the leftwing terrorism of the Baader-Meinhof gang. It's constantly in the background on TV.
The jittery political situation is echoed by the atmosphere in the ballet company, where the autocratic director, Madame Blanc (Guadagnino
regular Tilda Swinton, from A Bigger Splash and I Am Love), is
rehearsing a new and demanding dance piece, titled <i style="mso-bidi-font-style:
normal">Volk. To the dismay of her rivals, newcomer Susie vaults into the lead role immediately. She evidently grasps the unannounced concept of the material subconsciously as well as physically. There are grotesque elements in
the new ballet, and similarly bizarre phenomena begin to take place among the dance troupe: unexplainable disfigurements, stigmata, hallucinations, frenzied contortions, odd patterns of light on the walls, nightmare flashbacks to Susie's Amish background in Ohio, etc.
Writer David Kajganich's screenplay — adapted from Argento and Daria Nicolodi's 1977 version — boasts at least four narrative spheres of action. The first is a ballerina melodrama centered on the charmed/accursed Susie. Anti-authoritarian civil unrest and feminist politics co-exist as separate but equal forces. Most obvious of all are the supernatural shenanigans, signaled early and often. Longtime Argento fans naturally come to expect them, and Guadagnino's touch with shock cuts and the rhythmic montage of terror will make your skin crawl.
Special honors to the anxiety-producing music score by Thom Yorke of Radiohead, and the gloom-drenched lighting by Thai cinematographer Sayombhu Mukdeeprom, who also shot Call Me by Your Name. Damien Jalet's choreography is central to the story, of course. Reportedly inspired by the work of Pina Bausch, Mary Wigman, and Isadora Duncan, the movement achieves a chaotic bacchanalian energy ideal either for a Witches' Sabbath or as a convenient metaphor for the era's Red Army Faction bombs-and-kidnapping terror — take your pick.
What more is there left to say about actor Swinton? Here, amid writhing bodies and tones of despair, her Blanc is the very model of a modern high priestess, watchful and vengeful, the mother of all misfortune, an
equal-opportunity slayer of the innocent and the guilty. Ditto her climatic cameo as Mother Markos, the singularly hideous life of the party (credited as Lutz Ebersdorf). Ditto too Swinton's role (her third in this movie) as hapless psychologist Dr. Klemperer, a puzzling figure with his guilty wartime memories. Guadagnino's Suspiria contains too
many plot threads for its own good, but once it gets up to speed we're
traveling too fast to worry.
Beside Swinton's tour-de-force, the other roles form a gallery of thwarted desire, led by Johnson's Susie and Mia Goth's Sara, with Chloë Grace Moretz especially strong as Patricia the outcast — her crime is rebellion against the sisterhood. It's gratifying as well to see veteran actors Angela Winkler, Ingrid Caven, Renée Soutendijk, and Sylvie Testud in vociferous supporting roles. And yes, that's Hollywood thesp Jessica Harper, who played Susie in the first film, in a key role as a face from the past. The past is a major player in Guadagnino's helter-skelter dance of death, less an update than a labyrinthine tribute to Argento's mythological spells. Happy nightmares, everyone.


[embed-1]