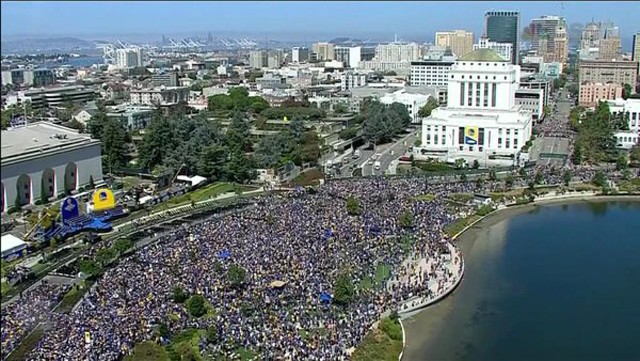 Are the Warriors the Bay Area's greatest sports dynasty? Discuss. (
East Bay Times
)
More than 1 million people are expected to show up to the Warriors' championship parade tomorrow in Oakland.
Here's everything you need to know
about the event. (
East Bay Express
)
The wildfires that devastated Northern California last October were indeed caused by PG&E power lines, according to an investigation by the California Department of Forestry and Fire Protection. The report shows that downed electric lines or trees and branches coming into contact with power equipment sparked eight fires in Sonoma and Napa counties, as well as Mendocino County's Redwood Fire and three smaller blazes in Lake, Humboldt, and Butte counties. (
San Francisco Chronicle
)
The findings — plus more than 100 lawsuits — could spell financial and political peril for the state's largest utility. (
San Francisco Chronicle
)
After
video surfaced
 of a jogger at Lake Merritt destroying a homeless man's belongings and throwing some of them into the lake, Kenzie Smith — one of the men targeted by "BBQ Becky" —
launched a GoFundMe campaign
for the man.
Dozens of home cooks came together in Oakland yesterday to support the Homemade Food Act, which would amend the state's health and safety code by defining "microenterprise home kitchen operations" as legitimate food facilities. (
San Francisco Chronicle
)
Applicants to Oakland's cannabis equity program say they're not getting the help they need to get their businesses off the ground, citing delays with building permits and inspections by the city. (
San Francisco Chronicle
)
And the Assembly District 15 race continues to be
a close call for second place
. Dan Kalb maintains a small lead over Jovanka Beckles, with about 600 more votes.