Stories you shouldn't miss:
1. The homicide rate dropped 22 percent during the first six months of 2014 compared to the same period last year in the fifteen largest cities in the Bay Area, the Chron reports. And homicides are down 31 percent compared to the same period in 2012. The city of Richmond has experienced the steepest declines in homicides, and is on track to beating last year — which was the lowest in three decades.
[jump]
2. Nearly 80 percent of the state is now under extreme drought conditions, the LA Times$ reports, citing National Weather Service data. About 36 percent of the state is now in exceptional drought conditions — the highest possible rating.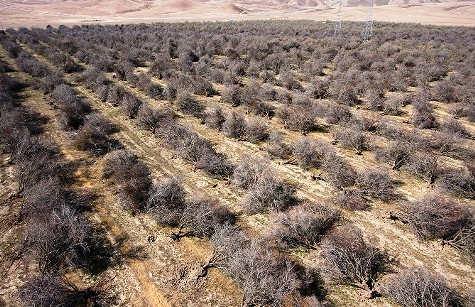 3. Democratic lawmakers in Sacramento have scaled back a proposed water bond ballot measure from $10.5 billion to $7.5 billion in an effort to win support from Governor Jerry Brown, the SacBee$ reports. The governor wants a more modest measure for the November ballot, but the new proposal may not receive any GOP backing because it includes $2 billion for water storage projects rather than the $3 billion that Republicans desire.
4. The race for state controller will undergo a recount beginning today at the request of state Assemblyman John Perez, who finished in a close third place in the June 3 primary, just 481 votes behind fellow Democrat Betty Yee, the LA Times$ reports.
5. And nearly two-thirds of all GI bill college funds for Iraq and Afghanistan war veterans in California have gone to for-profit colleges that do not report how many students graduate or land jobs, according to the Center for Investigative Reporting.