Stories you shouldn't miss:
1. Governor Jerry Brown signed legislation that reforms the California Environmental Quality Act (CEQA) to make it easier to build dense housing developments along major transit corridors in cities, the LA Times$ reports. The new law prohibits lawsuits that seek to block smart growth projects based on parking and aesthetics issues. The new law also could make it tougher to block smart growth based on traffic impacts. The reforms were part of legislation that also will make it easier to build a new basketball arena for the Sacramento Kings.
[jump]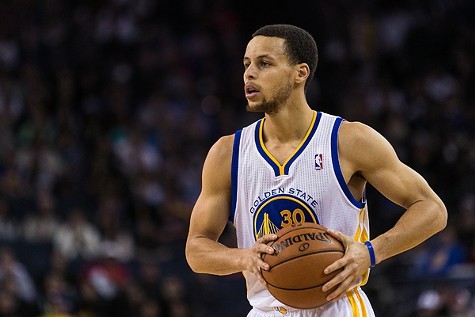 Warriors' star Stephen Curry
2. The governor, meanwhile, also helped the Golden State Warriors' plans to leave Oakland, signing legislation that will make it easier for the team to build a new arena on the San Francisco waterfront, the Chron reports. The Warriors plan to move when their lease at the Oakland Arena expires in 2017.
3. New FBI statistics show that Oakland is still the robbery capital of America, although homicides and other violent crimes have declined in the city this year, the Chron reports. Police attribute the robbery epidemic to the proliferation of easy-to-steal smartphones, an understaffed police force, gentrification of many city neighborhoods, and a decision by some criminal gangs to abandon the drug trade in favor of pedaling stolen electronics.
4. Truancy has reached epidemic levels in California — one out of every four elementary school students are truant each year, the LA Times$ reports, citing a new study by Attorney General Kamala Harris. The truancy epidemic also cost local school districts $1.4 billion in state funds tied to school attendance.
5. The conservative-leaning US Supreme Court may decide to strike down political campaign donation limits nationwide this year, the Chron reports.
6. The governor also signed a mattress-recycling bill, Capital Public Radio reports (via Rough & Tumble).
7. And the federal government appears to be headed for a shutdown tonight after House Republicans once again refused to pass a bill that would keep the government operating — unless it also delayed the implementation of Obamacare.