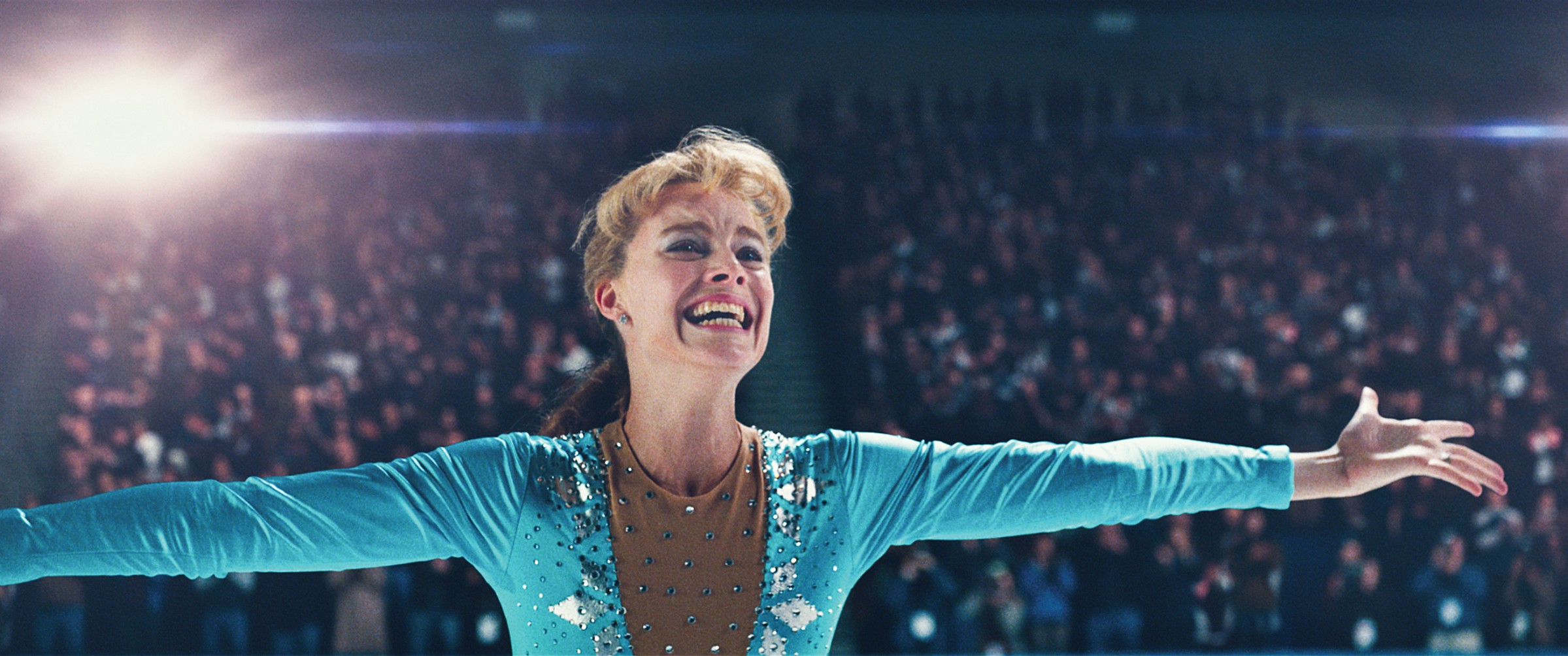 Gossip enthusiasts and readers of the National Enquirer will recall the case of Tonya Harding, the former Olympic ice skater and U.S. figure skating champion who was banned from the sport for life for her role in the 1994 attack on her longtime rival, skater Nancy Kerrigan. After that kerfuffle, Harding became a boxer, acted in action flicks, and set a land speed record in a Model A. Now there's a movie about her, I, Tonya.
I know what you're thinking: Is anyone really interested in this woman? (Or words to that effect.) Well, the NEON film company apparently was, enough to round up director Craig Gillespie (maker of the cricket/baseball pic Million Dollar Arm), writer Steven Rogers (Love the Coopers), actress Margot Robbie (in the title role), and veteran character actress Allison Janney to stir up the dirt. How bad could it be? After all, Martin Scorsese had a major hit depicting the sordid life of a misunderstood boxer. Maybe I, Tonya could be the next Raging Bull.
Tonya and LaVona Golden, her chain-smoking, nagging mother (Janney at full strength), live the lower-middle-class life in Portland, Ore., where young Tonya devotes her every waking moment to perfecting the difficult triple axel and other prize-winning stunts. Long-term domestic violence and a rough upbringing (sample motherly advice: "You fuck dumb. You don't marry dumb") turn the insecure young woman into a ferocious competitor who won't be pushed around by anyone. Dubbed "The Charles Barkley of Figure Skating" by the press, Tonya gets heckled by audiences, but her revenge comes whenever she sticks the triple axel. Judges don't like her and she knows it. When things go wrong, she blames somebody else.
Joining Tonya and her mother in this basket of deplorables are Tonya's abusive husband, Jeff Gillooly (Sebastian Stan), Jeff's friend Fat Shawn (Paul Walter Hauser), Tonya's coach, Diane Rawlinson (Julianne Nicholson), and, eventually, idiot hit man Derrick Smith (Anthony Reynolds). Gillespie, an Australian product directing Robbie, another Australian product, plays Tonya's true crime story for the broadest laughs possible, a white trash catfight on ice with all the trimmings. Tonya's "star attitude" ruins her marriage, but Jeff's punches are just as damaging — he's a Reagan supporter, natch. A competition judge candidly informs Tonya: "You're just not the image that we want to portray. You just refuse to play along." After placing fourth in the Olympics, Tonya takes a bad day job as a waitress. Through it all, she falls back on her game face, a grotesque grin underneath heavy makeup. At age 23, she looks 38. None of these characters is very smart. We begin to wonder what might have happened if Tonya Harding had ever met up with Mickey Rourke's Randy "The Ram" Robinson from The Wrestler. Kerrigan might not have made it out alive.
Robbie, Sebastian, and especially Janney nail their roles. I, Tonya is this year's answer to David O. Russell's Joy, in its relentless spearing of poor dumb working stiffs — the guffaws flow freely, but it's a cheap, rather cruel sport. After the judge throws the book at her, Tonya finally waxes philosophical: "America. They want to someone to love, but they want someone to hate. And they want it easy." Screenwriter Rogers should get an Oscar for these lines. In the end, Tonya makes a defiant sort of peace with her adversaries: "Everyone has their own truth, and life just does whatever the fuck it wants." It's not fair to make fun of someone like Tonya Harding, but it's damned near irresistible.

I, Tonya
Directed by Craig Gillespie. With Margot Robbie and Allison Janney. Now playing.