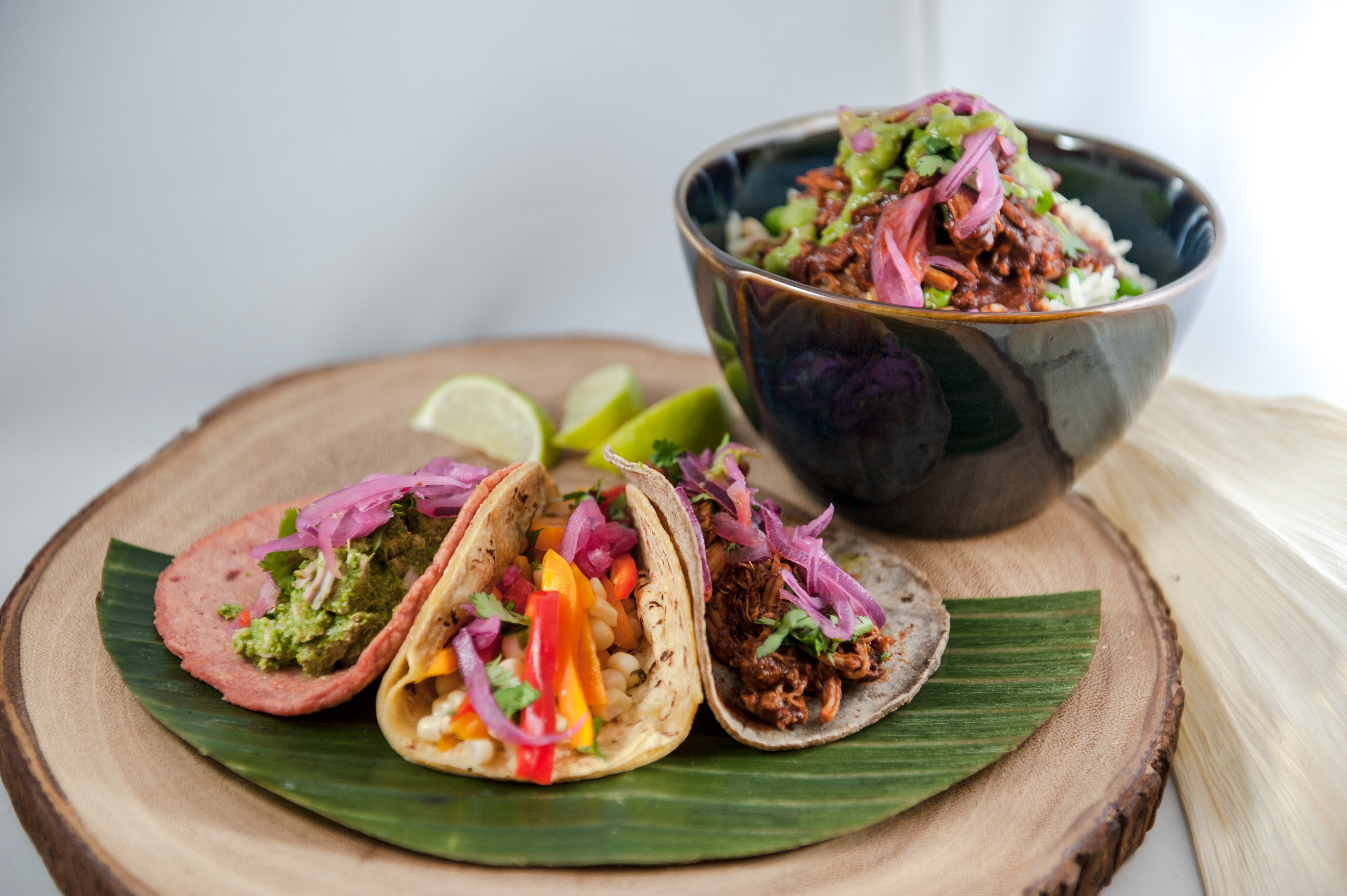 Alma Rodriguez is now bringing mixiotes to the masses at Plum Bar in Oakland. What's a mixiote, you might ask? Rodriguez, who began her business through the San Francisco food business incubator program La Cocina, wanted to serve mixiotes because they were hard to find in Bay Area restaurants.
"We wanted to bring something a little bit different from Mexican cuisine," said Rodriguez's son Arturo Marin, who was a partner in Mixiote — a La Cocina pop-up now at Plum Bar — in the beginning but has recently stepped back to work on other projects. "Even in Mexico it's kind of rare to find it, because it's a really tedious preparation." Marin said that while you can sometimes find mixiotes on the street in Mexico, they're commonly served at special occasions like quinceañeras, weddings, and family gatherings.
Rodriguez is originally from Mexico City. Her mixiotes are slow-cooked meats or vegetables marinated with dried chiles including guajillo and pasilla, then wrapped in banana and avocado leaves and cooked for several hours. The mixiotes are served along with handmade tortillas, nopales, black beans, and pickled onions.
According to Marin, the lamb and chicken mixiotes, which are marinated in a red chile sauce, are relatively traditional. But Rodriguez is also creating her own interpretations of the mixiote, such as the pork in a green marinade. "That's really not traditional at all," said Marin. There's also a mixiote made with king trumpet mushrooms and vegetables, which Marin said is also unusual.
"I'm trying to innovate the menu here at Plum Bar," said Rodriguez. Mixiote has popped up at locations including Cala in San Francisco and at the UC Berkeley Student Union, and at Plum Bar (2216 Broadway), where Rodriguez continues to experiment with her menu. She's serving small plates, including tortitas de papa: fried potato cakes stuffed with cheese and encrusted with bread crumbs. Marin said they've been a hit with customers. "It's more of a homey dish," Marin said. "She used to make those for us when we were little."
Mixiote is still in the incubation stage at La Cocina in San Francisco. While Rodriguez originally planned to open a food truck, she's now shied away from that idea and is deciding whether to operate Mixiote as a brick-and-mortar or as a catering business. The Plum Bar pop-up, Marin said, is an opportunity for Mixiote to gain experience running a brick-and-mortar restaurant, and they're thankful for the opportunities that La Cocina and Plum Bar have provided. Plum Bar is currently hosting a series of La Cocina pop-ups, each lasting three months.
"Thank you for La Cocina," Rodriguez said. "This is my dream, you know… [to] introduce our dish."
Mixiote opened in Plum Bar on Nov. 12 and will stay through February. Kitchen hours are Monday through Saturday, 5 p.m. to 11 p.m.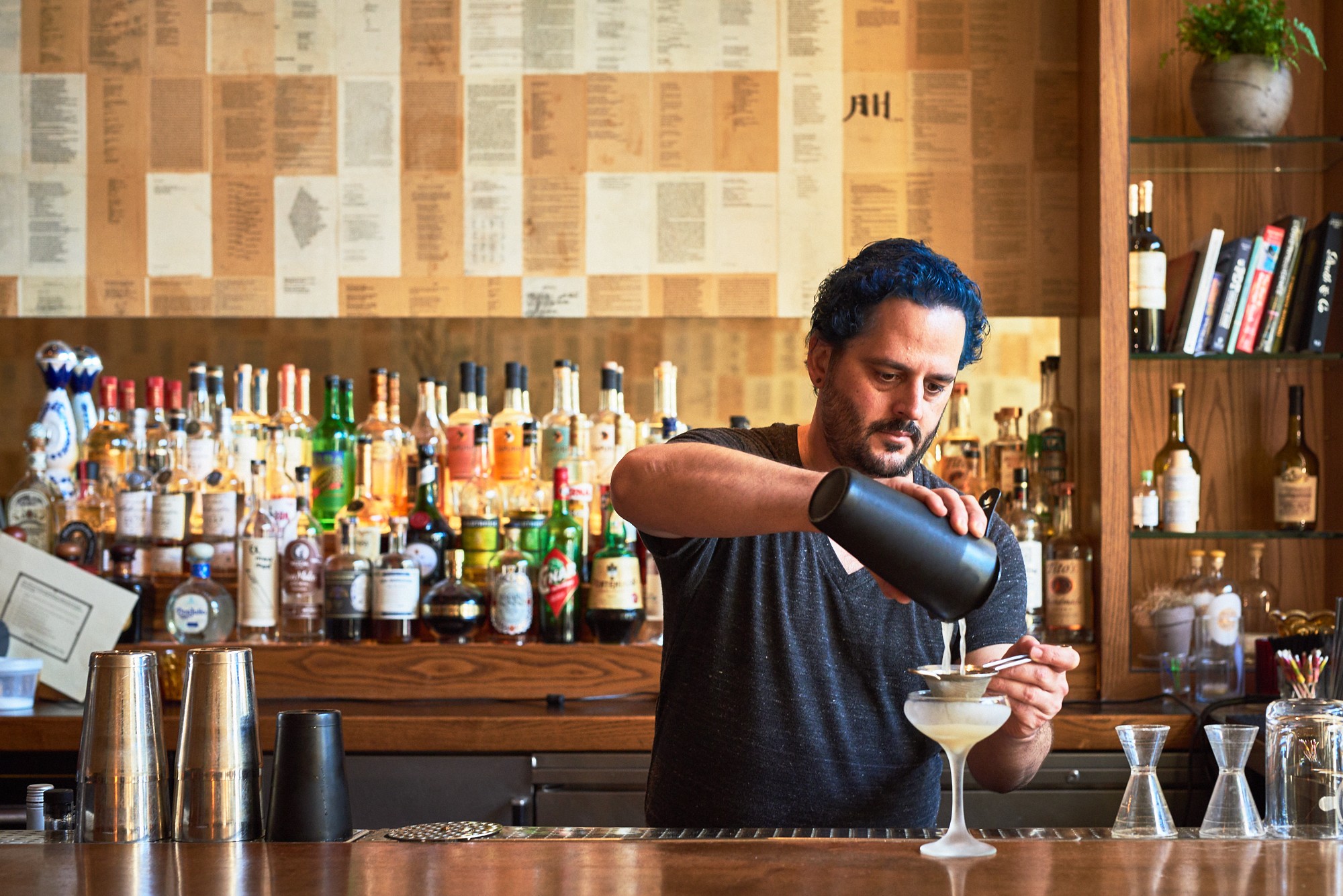 Meanwhile, Nov. 12 also marked the launch of Plum Bar's first poetry-themed cocktail menu, based on the poems by E. E. Cummings. Plum Bar's new bar lead, Chris Mansury, developed the menu along with Alta Group beverage director Aaron Paul.
"There are pages of poetry lining the walls," Mansury said, but Plum Bar's previous cocktail menu didn't reference poetry at all. Mansury decided to change that. He loves reading poetry, and the first book of poetry he owned was by Cummings. "[It] was gifted to me by my mother. It was kind of my introduction to poetry at a young age."
Mansury also believes Cummings' poems are still strikingly relevant today. One cocktail on the menu is called etcetera, made with Laird's apple brandy, Liquore Strega, and Amaro CioCiaro. It's named after the poem "my sweet old etcetera," which is about the experience of a soldier's family while he was away at war. "I think it kinda reflects a lot of what's going on right now, where things are difficult, and there are so many people out there that just have a hope for something."
Mansury said the E. E. Cummings menu is the first in a series of poetry-inspired menus, and the Cummings menu will be available until mid-January.