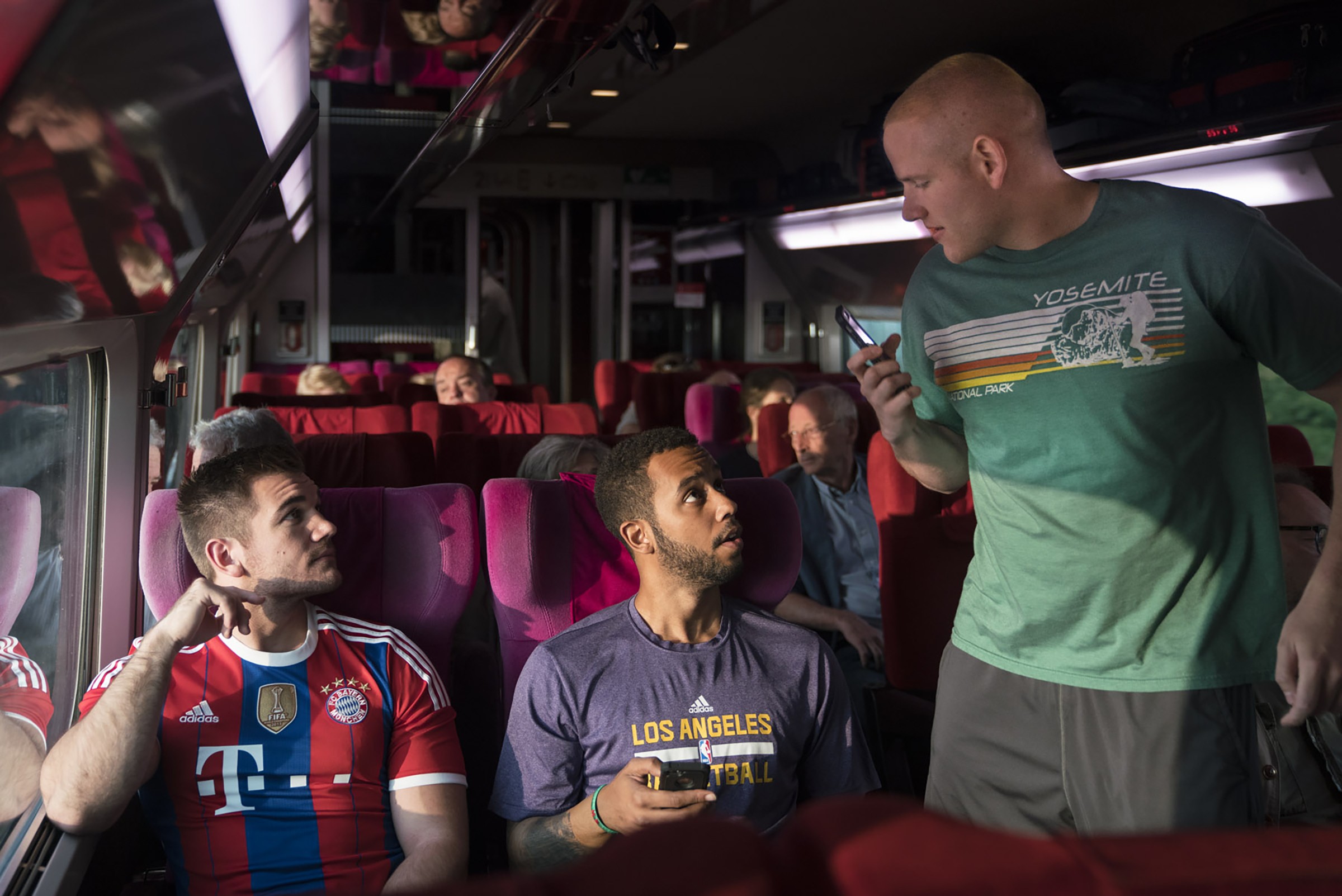 Clint Eastwood takes a chance with The 15:17 to Paris, his sincere but puzzling account of the 2015 incident in which three young American men overpowered an armed terrorist on a high-speed train between Amsterdam and Paris. The first trick is to stretch a 15-minute fight sequence into a credibly dramatic movie without losing its essential high-energy fizz. Another potential problem is the casting of the real-life trio to play themselves. Director Eastwood's strategy – screenplay by Dorothy Blyskal, from the book by Anthony Sadler, Alek Skarlatos, Spencer Stone (the three Americans), and Jeffrey E. Stern – raises questions that may not occur to us until after we leave the theater.
The scene in which Stone, Skarlatos, and Sadler jump the AK-47-wielding Ayoub El Khazzani (American actor Ray Corasani) is a model of economical physical action, the sort of dustup Eastwood has filmed and/or participated in countless times. But his method for arriving at the struggle tells us something else about Eastwood, whose career is chock full of stories about the folks who "take three steps up," in his own words (presumably referring either to a pickup truck or a bus), to go home after seeing one of his movies. Active-duty service members Skarlatos and Stone (Sadler is the lone civilian) are presented as having been steeped in a military mindset from childhood, in common with many other ordinary American kids.
These are the people whose motives many of us would probably rather not think about – until they perform an undeniable humanitarian service. At certain points in the movie, Sadler, Skarlatos, and Stone resemble documentary subjects more than fully fleshed out fictional characters, something that's obvious in the film's "European vacation" section. If Eastwood had cast, say, Channing Tatum, Chris Hemsworth, and Trevante Rhodes as the "ordinary guys," the spell would be broken.
The three buddies fit the stereotypical Eastwood-fan demographic to a tee, in their Christian school background and military aspirations all the way down to the young Spencer (William Jennings) laying out his collection of frighteningly realistic toy assault rifles for his pals to play with. Did the terrorist also play with weapons as a kid? We never find out – he's presented as a generic adversary. Meanwhile, Eastwood's admiring portrait of the three young Americans contains the seeds of a moral dilemma. The same military training that enables so much injustice around the world likewise enables them to stop the murder of innocent people.
This portrait of relatively uncomplicated guys from Sacramento is our window into the warrior mentality, the lives of those who carry out orders and perform the dirtiest tasks of a democracy. We get to know how the three men think, from boyhood pranks to career disappointments to the moment of truth, but we can't say we fully understand them. In fact, we almost feel sorry for them. The 15:17 to Paris is obviously not in the same class as Unforgiven or Million Dollar Baby, but for better or worse, it's classically, ambiguously Eastwood.
The 15:17 to Paris
Directed by Clint Eastwood. With Spencer Stone, Alek Sarlatos, and Anthony Sadler. Now playing.