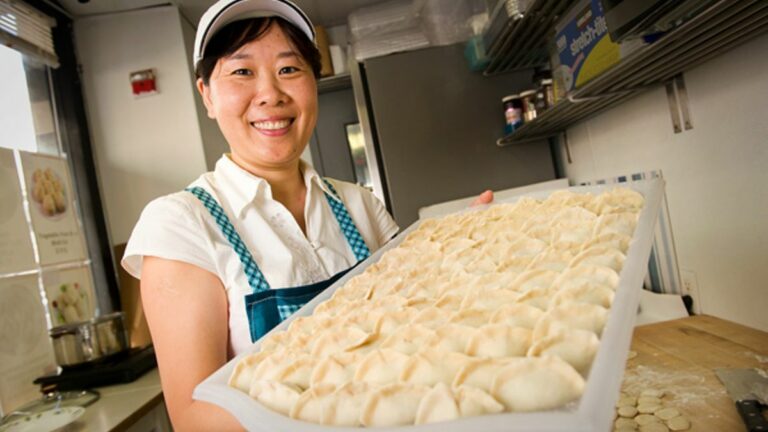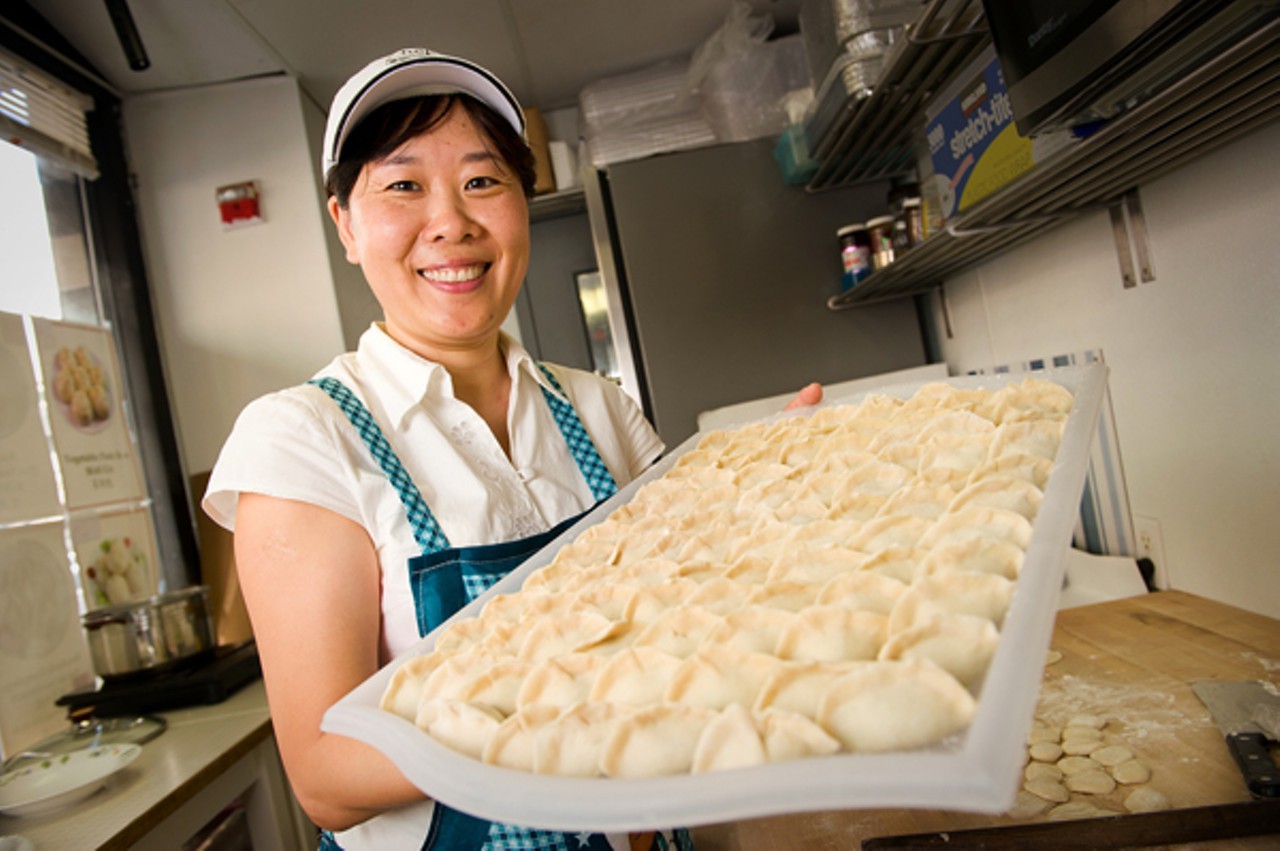 Welcome to the Mid-Week Menu, our roundup of East Bay food news.
1) It saddens me to report that Tian Jin Dumplings (989 Franklin St., Ste. B, Oakland), purveyor of the
best damn dumplings in the East Bay
, is no longer selling its signature item. Following up on a letter from a distressed reader, I confirmed the news this morning. Owner Amy Liu said it was "too tiring" for her to keep making the dumplings — a sentiment I'm sympathetic to: She must have been making thousands of them each week, basically single-handedly.
See also:

The Dumpling of Champions
[jump]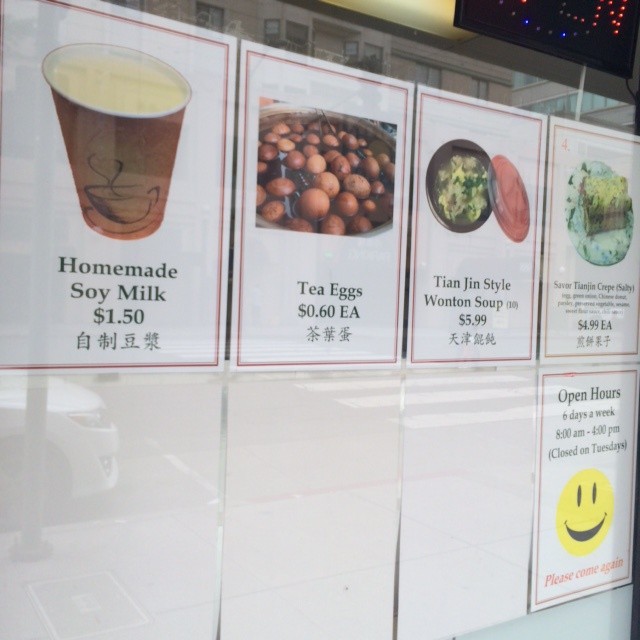 The Oakland Chinatown takeout window  also no longer sells pork buns or
shao bing
(sesame-seed biscuits). The only small consolation? Tian Jin Dumplings still sells its excellent savory breakfast crepes (
jianbing guozi
), and it appears that Liu has introduced a couple of new items: housemade soy milk, made fresh each day, for $1.50 a cup; tea eggs; and what's listed on the menu as "Tian Jin Style Wonton Soup."
2) Josephine, a tech startup that provides an online platform for home cooks to sell their food, has long operated in a kind of murky legal territory — a "gray area," as the company's founders are fond of saying. But this week, the other shoe dropped:
Berkeleyside Nosh
reports that Josephine has temporarily halted all cooking operations in Alameda County after its cooks were handed cease-and-desist orders by county health regulators. As the
Express
recently
reported
, Josephine is pushing for legislation to expand the California Homemade Act, which currently only allows the (tightly constrained) sale of non-perishable homemade foods such as jams and jerkies. In the meantime, the company has decided it doesn't want to expose its cooks to prosecution. Fortunately, Josephine's work with nonprofits — including
Berkeley's Willard Middle School
— won't be affected.
3)
Mission Cheese
, the trendy Mission district "artisan cheese bar," is opening a new branch in downtown Berkeley called Maker's Common,
Eater
reports. The hybrid cheese shop and restaurant will take over the old OctoberFeast Bakery spot at 1954 University Avenue.
4) A poster on
Chowhound
notes the opening of
Philomena Pizza
(1801 14th Ave., Oakland), a new thin-crust pizza spot in the San Antonio district from the owners of Portal. This is the location of the old fish-fry restaurant around the corner from Bun Mam Soc Trang, the
dearly departed
EBX favorite.
5)
Inside Scoop
reports that Claremont Diner has reopened in Rockridge under new ownership.
6) Fifth Quarter Charcuterie, the popular farmers' market vendor, is opening a brick-and-mortar shop this summer in Oakland's Montclair neighborhood,
Tablehopper
reports.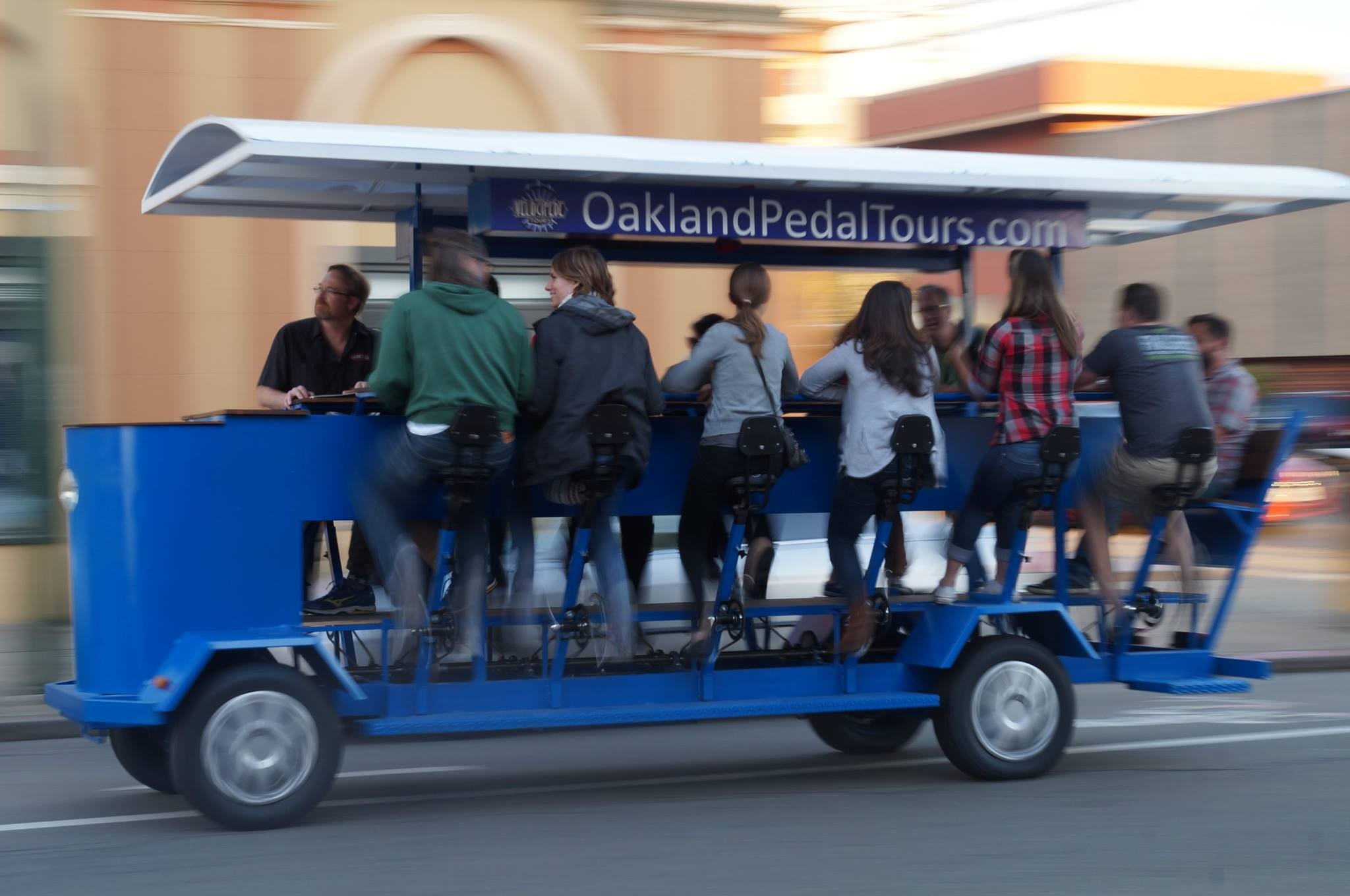 7) For those who judge a city by its quantity of cheeseball tourist attractions, let it be known that Oakland has hit the big-time: Visitors can now partake in their very own many-pedaled "beer bike" tour, courtesy of a new company called
Velocipede
,
Berkeleyside Nosh
reports. The company's first tour focuses on breweries in the Jack London district.
8) You may have heard about the big earthquake that hit Ecuador last month, killing hundreds and leaving thousands homeless. One way you might help: by buying chocolate from
this collective
based in the Manabí province.
9) Finally, ICYMI, Oakland Veg Week will try its hand at spreading the gospel of veganism
in the Fruitvale this year
.
Got tips or suggestions? Email me at Luke (dot) Tsai (at) EastBayExpress (dot) com. Otherwise, keep in touch by following me on Twitter @theluketsai, or simply by posting a comment. I'll read 'em all.