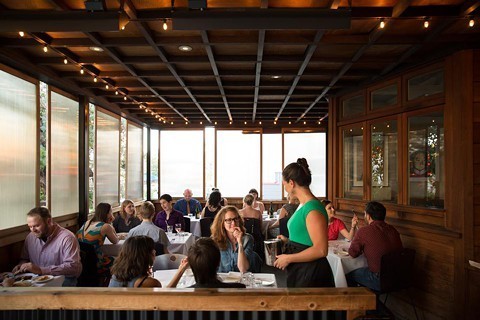 Welcome to the Mid-Week Menu, our roundup of East Bay food news.
1) Fans of Bay Wolf and Wood Tavern — one of Bay Wolf's spiritual descendents — have been waiting with bated breath since the
news dropped
that Rich and Rebekah Wood were taking over the space formerly occupied by the iconic Cal-cuisine restaurant. The wait is finally over:
The Wolf
(3853 Piedmont Ave., Oakland) opens today, February 8,
Berkeleyside Nosh
reports.
[jump] Bay Wolf co-founder Michael Wild, who is friends with the Woods, told the
Chronicle
that the newly remodeled space is "pretty much the same but completely different," with a modern open kitchen being one of the key additions. But the gorgeous patio is still there, and chef Yang Peng's menu includes several nods to Bay Wolf classics — the seared duck breast, for instance. You can check out The Wolf's entire menu
here
.
2) A reader tipped us off that
Dan Nang Krungthep/Muang Thai
(905 San Pablo Ave., Albany), one of the better Thai restaurants in the Albany/Berkeley area, has closed suddenly after getting evicted from the space. Reached by phone, chef-owner Charlie Khamruang told What the Fork that after his lease ran out, the building owner wanted to double his rent. Khamruang said he has talked to a lawyer to see if he has any legal recourse. In the meantime, the restaurant has been closed for business since last week.
3) Also closed suddenly last week: Encuentro (550 2nd St., Oakland), the popular upscale vegetarian spot in the Jack London District. According to a statement from the owners posted on the restaurant's website, "The rising costs of doing business in an economy that is fraught with uncertainty has become overwhelmingly difficult. We love you and will miss you terribly but we have to think with our heads and not with our hearts."
Eater
reports that the restaurant has planned a couple of cash-only farewell pop-up events at the space. One featuring a "new creative menu" will take place on Friday, February 10, 5–9 p.m.
4) After a frustrating and ultimately failed attempt to
expand to Lakeshore Avenue
, it looks like Cholita Linda will be adding a second location after all:
Berkeleyside Nosh
reports that the owners have signed a lease on the former Flavors of India spot at 1337 Park Street in Alameda.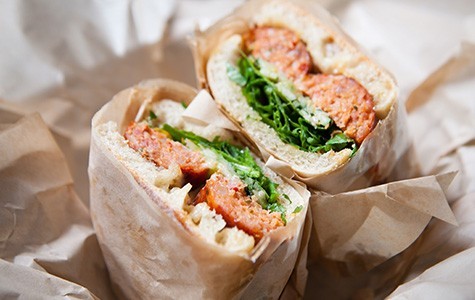 5) The
extraordinary sandwiches
of Pal's Takeaway will staying on permanently at the kitchen co-working space Forage Kitchen's on-site cafe (478 25th St.),
Berkeleyside Nosh
reports.
6) As part of the HOPE Collaborative's
Healthy Corner Store Project
, the Three Amigos Market & Deli (1554 13th Ave.) in East Oakland's Clinton neighborhood is having a grand reopening party on Saturday, February 11, 11 a.m.–2 p.m. The market's
revamped menu
features a variety of fresh-made sandwiches — e.g., Buffalo chicken with cranberry mayo, and several versions of grilled cheese.
7) Comal (2020 Shattuck Ave., Berkeley) joins the ranks of East Bay restaurants that are doing special events and fundraisers in response to President Trump's recent anti-immigrant executive orders. Every Monday and Tuesday in February, the restaurant will offer "Taco Bowls for Dreamers" — a riff on Trump's infamous taco bowl tweet. Comal's $15 version will be filled with rice, black beans, lettuce,
pico de gallo
, cheese,
crema
, guacamole, and a choice of beef
piquadillo
, rotisserie chicken, or seasonal vegetables. Net proceeds will be donated to the
East Bay Sanctuary Covenant
.
8) ICYMI, the Cambodian noodle pop-up Nyum Bai is doing a
long-term residency
at the Emeryville Public Market, and Javier Sandes, the Oakland-based empanada maestro, is taking over the kitchen at a
Hayward dive bar
.
Plus, the
Express
's beer issue is out just in time for SF Beer Week. Check out all our related
beer coverage
here.

Got tips or suggestions? Email me at Luke (dot) Tsai (at) EastBayExpress (dot) com. Otherwise, keep in touch by following me on Twitter @theluketsai, or simply by posting a comment. I'll read 'em all.