The spot prawns were still wiggling their little legs when our server dumped them onto the table's built-in steam tray.
This would be their final resting place: Just moments earlier, I'd remarked on how surprisingly quick these oversized shrimp were as they jetted around the live tank, evading capture. Now, they were being cooked alive right in front of us in the custom-designed, state-of-the-art steam chamber that's built into each table. Precisely five minutes later, the server lifted the lid up with a plume of steam and,
voila
, we were ready to eat.
Welcome to Tastee Steam Kitchen, a new kind of restaurant where nearly every item on the menu is steamed to order at your table, including several different varieties of live seafood. It's the splashiest seafood restaurant to hit Oakland Chinatown since, I don't know, maybe ever.
Open since late December, Tastee is a new venture from the proprietors of nearby Shooting Star Cafe, the Hong Kong-style tea restaurant best known for its gaudy purple-and-pink decor, late hours, and horoscope-themed boba drinks. It's arguably the most popular restaurant in Chinatown. Now, the owners appear to be in full-on expansion mode, with a poke bowl restaurant (next door to Tastee) also in the works.
Really, though, the only thing Tastee has in common with its sister restaurant are the distinctive-looking bejeweled purple dining chairs. This is the kind of shiny, modern, upscale Chinese restaurant that rules the roost in cities like Hong Kong, Taipei, and, say, San Mateo — but that has heretofore not found a foothold in Oakland Chinatown. It's the kind of place where the servers sport high-collared, gold-accented uniforms like the kind worn by flight attendants. It even serves local craft beer on tap, courtesy of Alameda Island Brewing Company.
Tastee Steam Kitchen is a "steam hot pot" restaurant, a relatively new genre of eatery that has become popular in Hong Kong and China in the past couple of years. The idea is that, instead of poaching or boiling the raw ingredients in a big pot of soup the way you would at a traditional hot pot restaurant, you cook the food in the aforementioned steamers. The method is touted as a healthier alternative to hot pot, and for the way it preserves the ingredients' natural flavors, particularly when it comes to fresh seafood. At Tastee, the servers take care of the cooking, so the overall experience is a little bit more low-key than your typical, cook-it-yourself hot pot meal, while retaining many of the communal, dinner-as-theater aspects.
To my knowledge, Tastee is the first restaurant of this kind to open in the East Bay, so a quick primer may be in order. You'll want to start by selecting one of several rice porridges — which run the gamut from a dried-oyster-and-black-moss number to a version made with Chinese yams — to be the base of your meal. We went with a porridge that featured pork spareribs and small pieces of pumpkin, which were placed raw, along with a scoop of broken rice, into a pot that sat underneath the steamer for the duration of the meal. The idea is for the steam to slowly cook the rice and other ingredients, transforming them into a thick congee with a texture similar to cream of wheat, and — most crucially — for the accumulated juices from the various steamed meats, vegetables and seafood to drip down into the porridge, which you eat at the very end.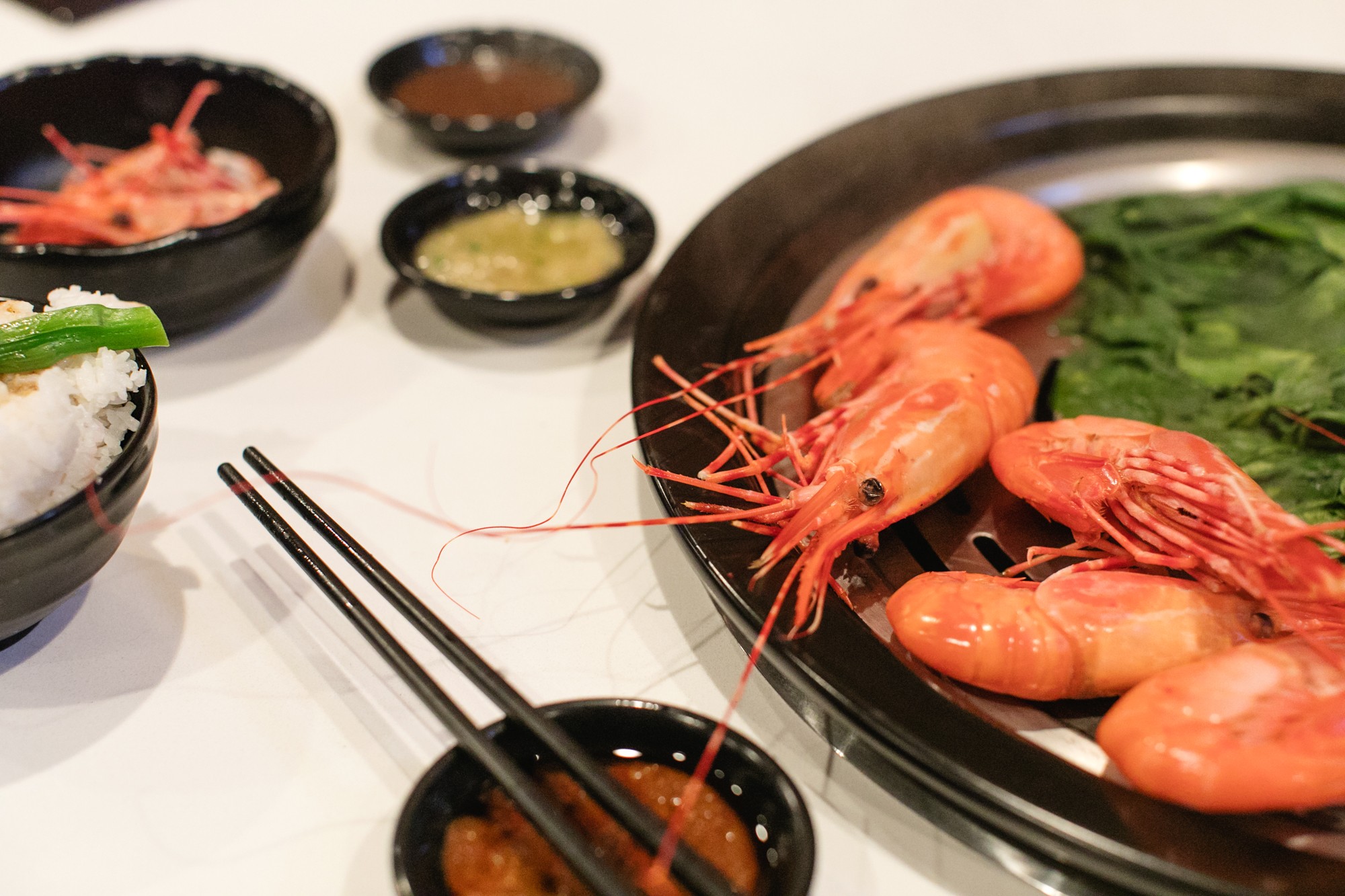 After you've selected your porridge, the rest is a matter of picking what else you want to steam, and the options consist more or less of any raw ingredient or prepared-food item that a Chinese restaurant might serve that
can
be cooked in a steamer. There are slices of marinated chicken and rolls of raw steak wrapped around bundles of enoki mushrooms. There are the kinds of things you would get in a steamer basket at a dim sum restaurant — assorted dumplings,
bao
, and rice noodle rolls. There are fifteen different vegetables, including okra, eggplant, and winter melon. And, most strikingly, there are dozens of seafood options, many of them steamed at the table while still alive — lobsters and crabs (one of which, I was told, was an 11-pound monster priced at $45 a pound); several kinds of whole fish; a slew of assorted clams, mussels, and other shellfish; and on and on and on.
Next to each item on the menu, a pink numeral indicates the recommended steaming time, which means that, for the most part, your server steams just one dish at a time to avoid overcooking anything. A savvy orderer might choose several different items that have the same cooking time in order to speed up the process, but in general, this is a leisurely dinner. Ours clocked in at around two hours.
Even more so than with a traditional hot pot meal, the dipping sauces are what really make the meal. Tastee offers six different sauces, many of which appeared to be made in-house, plus a variety of additional garnishes like fried garlic and slices of raw jalapeño. I enjoyed the umami punch and subtle chili kick of the "house" sauce (listed in Chinese as the "thousand-tastes secret sauce"), which seemed to have a fermented soybean base. The "ginger onion" sauce was a fine mash of ginger, scallions, and oil that was particularly delicious with the steamed shrimp. And the dried-seafood-spiked "satay" (aka "shacha") sauce will be a familiar favorite for anyone who has eaten at a Taiwanese hot pot restaurant.
But you are here to read about the murder shrimp. The spot prawns, several of which were mothers clutching a sac of briny, bright-orange roe to their abdomen, weren't the only shrimp on the menu. But, clocking in at a $35/pound market rate the night I ordered them, they were the most luxurious — and the only kind I was certain would be served live.
Chinese diners are more obsessed than most about eating seafood that's as fresh as possible, but here, the proof was in the pudding. These were outstanding — more like mini-lobsters than your run-of-the-mill shrimp, from their firm, toothsome flesh down to the salty, eggy bits that we got from sucking on the heads.
Another highlight was the plump razor clams, garnished with a ton of chopped garlic. The whole croaker — at $13, the least expensive of the whole-fish options — was wonderfully delicate and topped with a savory fermented soybean sauce.  And the best part of the XO sauce meatballs were the rounds of tender egg-custard tofu that they were steamed on top of.
Strange as it may sound to say, one of the things I appreciate about Tastee Steam Kitchen is that it is unapologetically an expensive, special-occasion type of place, despite existing preconceptions about restaurants in Chinatown that, like Tastee, primarily target a Chinese customer base. Who says Chinese food has to be cheap?
That said, solo diners will have a hard time cobbling together an appropriate meal here, and you'll have to do some mental math to stay on a budget. A selection of cumin-dusted grilled meat skewers, at $1.25–$4.50 a pop, are a good way to round out your meal for a relatively low cost.
Meanwhile, the rice porridge, if you recall, had been steaming away and building flavor the whole time. By the time we ate it, the pork was tender and the pumpkin had essentially melted into a soft mash. A dash of soy sauce was enough to bring all the meaty, oceanic flavors together. Forget dessert. This made for one of the most satisfying meal endings I've had in recent memory.