Welcome to the Mid-Week Menu, our roundup of East Bay food news.

1) The San Francisco Business Times reports that the San Francisco-based chocolate maker Tcho is moving to Berkeley, having signed a twelve-year lease on a space in the old Marchant Building at 3100 San Pablo Avenue. According to the SFBT article, Tcho outgrew its current production facility and wasn't able to find a suitable new spot in San Francisco.

[jump]
2) In other sweets-related news, What the Fork just got word that the new Rockridge location of Smitten Ice Cream (5800 College Ave., Oakland) — long delayed due to various regulatory challenges — is now slated to open on April 1, with a Lafayette location to follow later in the month. The hugely popular San Francisco-based business is known for its made-to-order liquid nitrogen ice cream.


Berkeleyside Nosh
reports that
Parliament
(811 Washington St.), an uber-clubby new bar, is now open in Old Oakland. House cocktails and
$350 bottles of Dom Perignon
seem to be the thing here, but there are also some $5
bar bites
— variations on a grilled cheese sandwich, mainly — available during happy hour.
4) Here's a great tip courtesy of
Berkeleyside Nosh
: The Oakland location of
Gregoire Restaurant
(4001B Piedmont Ave.) is now serving its full lunch menu all day. That's a huge boon for fans of the takeout specialist's selection of lunch-only sandwiches — especially since those options tend to be a full $5 to $10 less expensive than the restaurant's dinner entrées.
5)
Souley Vegan
(301 Broadway, Oakland), the vegan soul food restaurant, has launched a
crowdfunding campaign
to help launch expanded production for the chef Tamearra Dyson's line of packaged grab-and-go products, currently only available at Berkeley Bowl and a handful of other grocery stores. To put Souley Vegan products on supermarket shelves throughout the Bay Area — and, eventually, to go national — Dyson needs to build out a dedicated commercial kitchen.
Chip in
if you feel so inclined.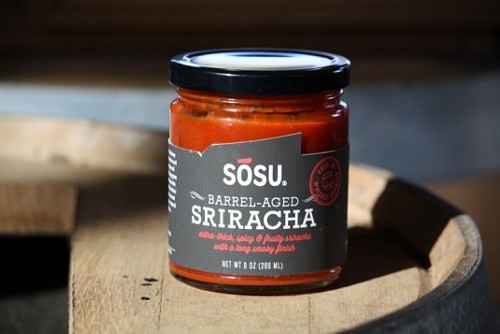 6) On Thursday, February 27, the mac-'n'-cheese specialist
Homeroom
(400 40th St., Oakland) is collaborating with Oakland-based hot sauce maker Sosu on a
special Sriracha event
. From 5:30 to 10 p.m. that night, Homeroom's Sriracha Mac (a regular menu item) will be made with Sosu's barrel-aged version of the Southeast Asian hot sauce. The event is a promotion for Sosu's barrel-aged Sriracha, a new product the company is launching. Check out the ongoing
Kickstarter campaign
.
7) Longtime breakfast favorite
Mama's Royal Cafe
(4012 Broadway, Oakland) is celebrating its
40th anniversary
all week with a series of giveaways, and it isn't too late to snag a
freebie
. Today, Wednesday, February 26, the third 40 customers (i.e., customers 81 through 120, assuming my math skills haven't failed me) who dine at the restaurant will receive a free drink (coffee, tea, or soda) with their order. For the grand finale, on Thursday and Friday this week, the fortieth customer, and every fortieth customer thereafter, will get a free meal, a T-shirt, and a mug.
8) Good news for critics of AB 1252, the so-called "glove law" that would have required California's bartenders and sushi chefs, among others, to don plastic gloves during food service. Yesterday, Assemblyman Richard Pan introduced a bill that would repeal the glove requirement, which many restaurant industry folks have deemed unhygienic and wasteful.
SFoodie
has a good run-down of the most recent development.
9) This fascinating
Smithsonian Magazine
piece on the history of the Lazy Susan has been making the rounds. Turns out the Chinese-restaurant standby has roots in San Francisco.
10) Finally, ICYMI, this week What the Fork revealed details about a new
Burmese cafe and corner store
(and source for rare Asian produce) that's coming to East Oakland, as well as Aunt Mary's Cafe's
impending move
(to just down the street).
Got tips or suggestions? Email me at Luke (dot) Tsai (at) EastBayExpress (dot) com. Otherwise, keep in touch by following me on Twitter @theluketsai, or simply by posting a comment. I'll read 'em all.