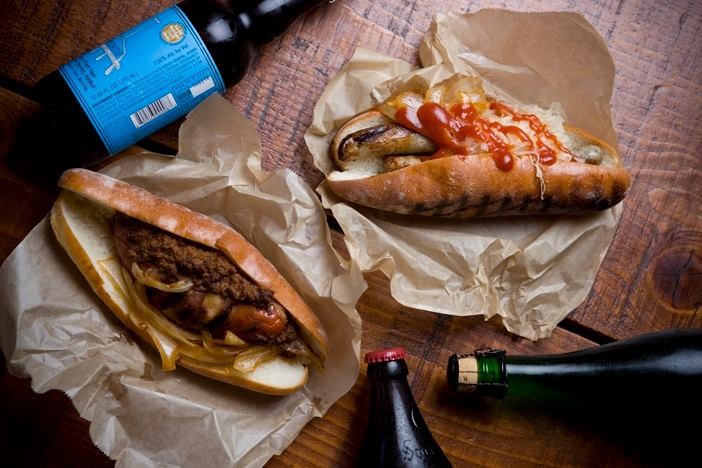 Welcome to the Mid-Week Menu, our roundup of East Bay food news.
1) Temescal's casual dining scene is getting another heavy hitter:
Rosamunde Sausage Grill
, the popular sausage-and-beer specialist, will open its second Oakland location at the just-shuttered Good Bellies Cafe location (4659 Telegraph Ave.),
Inside Scoop
reports. An outdoor seating area is tentatively in the works. Look for a mid-November opening.
[jump] 2) Could it be that the lines at Rockridge's ever popular
Ramen Shop
(5812 College Ave., Oakland) — where I've been quoted wait times as long as two hours — are about to get slightly shorter?
Tablehopper
reports that the restaurant is expanding into the former luggage shop next door, which the owners will turn into a cocktail bar. The upshot is that the current bar/waiting area in the main restaurant will be incorporated into the regular dining room, adding fifteen additional seats. Look for the new configuration to go into effect in late winter or early spring 2015, at which point the restaurant also plans to open seven days a week.
3) Augie's Montreal Smoke Meat, which I
profiled
last year, is starting up a new round of Monday pop-ups at Oakland's Beauty's Bagel Shop (3838 Telegraph Ave.), according to
Inside Scoop
. The lunchtime pop-ups, which should take place about twice a month, will serve smoke meat (a kind of Quebecois cross between pastrami and corned beef) on Wise Sons rye bread and a very traditional version of poutine (served with or without smoke meat on top). The next pop-up will take place on Monday, September 15.
4)
Communitē Table
, a prepared foods purveyor and occasional pop-up restaurant, has found a brick-and-mortar home in Oakland's Laurel District,
Berkeleyside Nosh
reports. The restaurant will be located at 4171 MacArthur Boulevard, very close to Fist of Flour's brick-and-mortar pizza shop. According to its website, Communitē Table is slated to open sometime mid-fall.
5)
Chowhound
scouts report that the long-departed Oakland Chinatown dim sum favorite, Tin's Tea House (which
moved to Walnut Creek
about ten years ago), has reemerged in Hayward:
Tin's Teapot Bistro
(320 Jackson St.) serves lunch and dinner daily.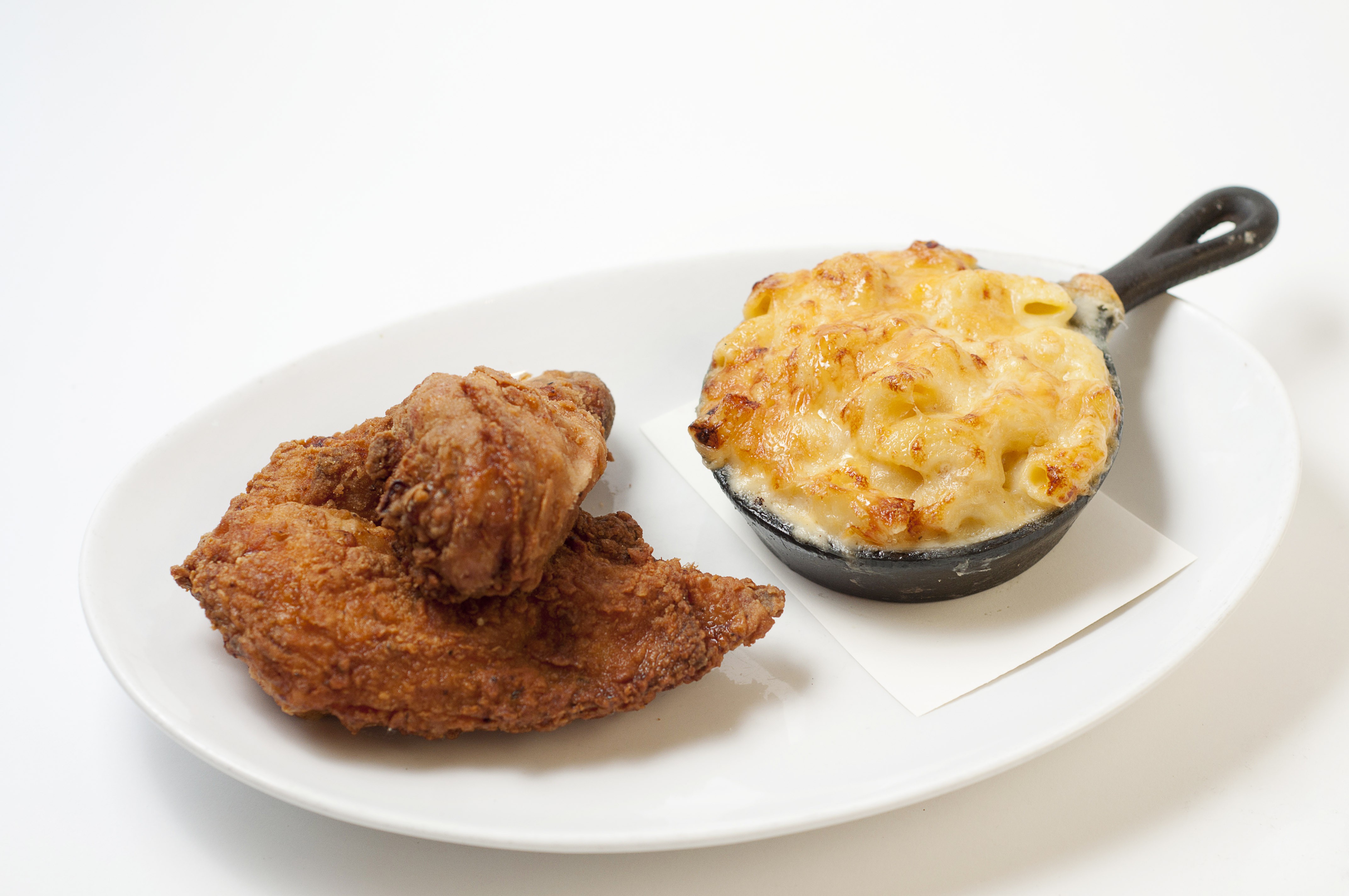 6) Tasting Table is hosting "
Bubbly Crunch
," a fried chicken and sparkling wine dinner, on Thursday, September 18, from 7 to 10 p.m., at West Oakland's American Steel Studios (1960 Mandela Parkway). A
$65 ticket
buys you access to as much bubbly as you care to drink and unlimited fried chicken from 10 Bay Area purveyors, including several East Bay representatives:
Grease Box
, Miss Ollie's, Picán, and
Abura-ya
. Part of the proceeds will go to Share Our Strength's
No Kid Hungry
campaign.
7) This Friday and Saturday, September 5-6,
Haven
(44 Webster St., Oakland) will be hosting guest chef Justin Severino of Pittsburgh's
Cure
— Severino and Haven chef Charlie Parker were kitchenmates at Manresa. The two chefs will alternate courses for the $80 six-course prix-fixe, which will feature seasonal ingredients and lots of house-made charcuterie. Check out the full menu
here
.
8) "Gluten-free is the new normal," says
Chow.com
, in an article that traces the mainstreaming of the now-pervasive food movement. Included is a look at a recently published gluten-free cookbook,
Yummy Supper
, by Berkeley's Erin Scott.
9) Just for fun, check out poet-of-the-moment Patricia Lockwood's diary of her week of eating, courtesy of
Grub Street
: "Everything about [breakfast] is baby food except for the vulgar American meats, which seem to have been carved straight off Paul Bunyan's own ass."
10) ICYMI, Oakland will be getting a branch of a
new fast food chain
helmed by super-chefs Roy Choi and Daniel Patterson,
Anula's
is serving meat again, and I wrote about three (now only two)
seasonal corn dishes
that you should try now before it's too late.
Got tips or suggestions? Email me at Luke (dot) Tsai (at) EastBayExpress (dot) com. Otherwise, keep in touch by following me on Twitter @theluketsai, or simply by posting a comment. I'll read 'em all.