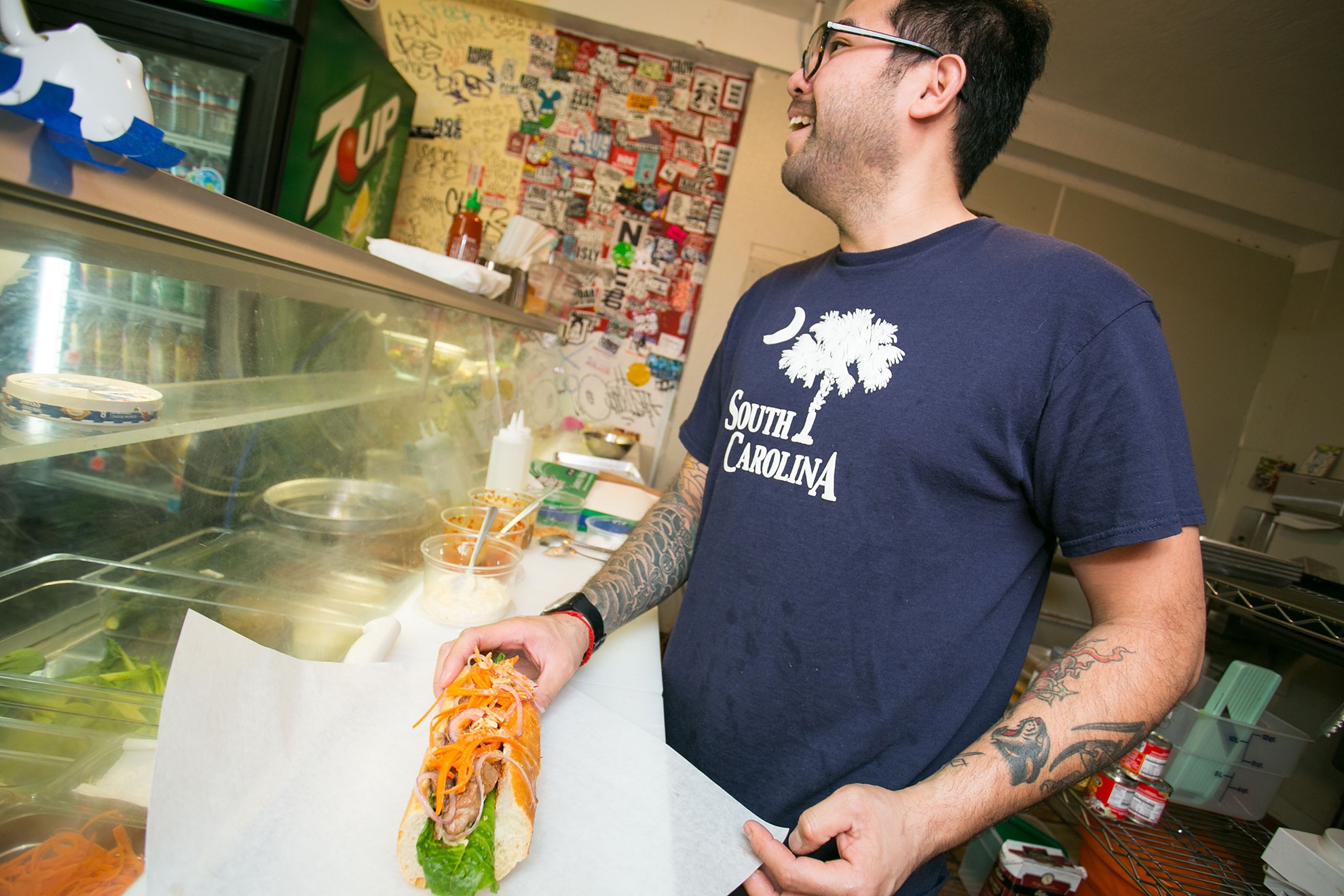 Welcome to the Mid-Week Menu, our roundup of East Bay food news.
1) It grieves me to deliver this piece of news: POP Sandwich (378 17th St.), my favorite
back-of-a-convenience-store sandwich pop-up
— whose banh mi-style sandwiches and low-key vibe I loved so much I included the place in my list of
quintessential Oakland restaurants
— is packing up and moving to San Francisco. Proprietor Ian De Leoz announced the news on
Instagram
. When I spoke to him by phone, he cited permitting challenges after a recent ownership change at the Chez Mado convenience store, which had forced him to table the pop-up indefinitely. De Leoz said that he wanted to stay in Oakland, but didn't have any luck finding a new location on short notice. So when a friend (a chef who is prominent in the San Francisco restaurant scene) asked him to bring his sandwich pop-up across the Bay, he couldn't pass up the opportunity.
[jump] De Leoz is keeping the details under wraps until the deal is finalized, but it sounds like he'll be bringing his lunch pop-up to a new bar — "not a convenience store," he said — that should open this summer near the
intersection of Bush and Sansome streets
in the Financial District. Still, De Leoz said he would love to bring the pop-up back to Oakland at some point if the right opportunity presents itself. Do you own a bar or other underutilized space with a kitchen permit in Oakland? Do us sandwich lovers a solid and
reach out to De Leoz
.
2)
Eater
reports the exciting news that the folks behind New York City's legendary
Halal Guys
street carts are bringing their Halal chicken and rice and their addictive "white sauce" to the Bay Area — including one location near the UC Berkeley campus. Could it be that the food gods
read this blog
, and deign to bestow their blessings on me? Now do Taiwanese breakfast, please.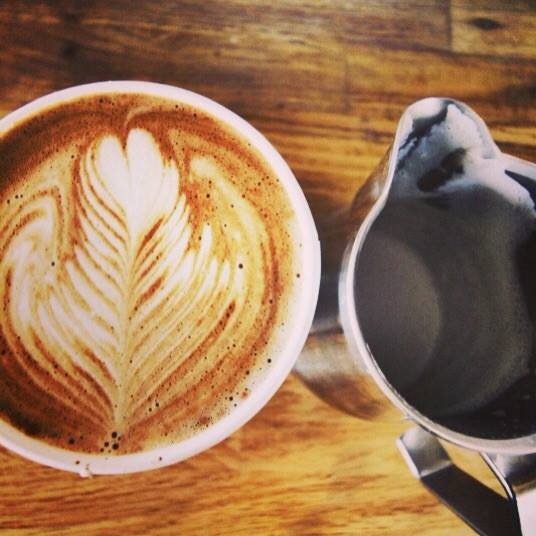 3)
Berkeleyside Nosh
reports that
Highwire Coffee Roasters
has reached an agreement to purchase the West Berkeley coffee shop Local 123 (2049 San Pablo Ave.). Local 123 owner Frieda Hoffman told Nosh that, wanting to pursue other projects, she reached out to the owners of the Emeryville-based roastery — which had already been searching for a second retail location — about a possible sale early this year. Open since 2009, Local 123 played a big part in helping the
"third wave" coffee movement become mainstream
in the East Bay. Via email, Hoffman said both the cafe and its affiliated coffee trailer at the Flowerland Nursery in Albany will change over to the Highwire brand name shortly after the transfer of ownership becomes official on March 1.
4) Meanwhile, mobile burger slinger extraordinaire Fivetenburger
recently announced
that its small fleet of trucks will be taking a break to retool — apparently in preparation for the opening of a long-awaited brick-and-mortar Fivetenburger shop. In the meantime, fans of owner Roland Robles' cooking can get their burger and tater tot fix at his West Berkeley watering hole
Handlebar
(984 University Ave.).
5) Inside Scoop reports on the arrival of two new restaurants in Uptown Oakland: First, the owner of the Uptown
Ethiopian coffee shop Anfilo
(35 Grand Ave.) has taken over the old Giant Burger spot at 2150 Telegraph Avenue — the place has been spruced up and
rebranded as Space Burger
, but the Fifties aesthetic and focus on burgers, fries, and shakes have stayed the same. Meanwhile, the vintage car dealership Classic Cars West (411 26th St.) is planning to open a
vegetarian sausage joint and beer garden
on site later this spring.
6) A quick update on
Grand Fare
, restaurateur Doug Washington's ambitious hybrid food market/coffee shop/beer garden project at 3265 Grand Avenue: Initially opened as just a coffee shop, the place has been closed for a while, but Washington tells me that construction is now going full-steam ahead, and that he anticipates a June 1 opening.
7) Happy new for fans of Japanese beer: The stylish Japanese barware/teaware store Umami Mart (815 Broadway) is now
a licensed bottle shop
, which means that the store is now offering what the owners say might be the largest selection of Japanese specialty beers that you'll find outside of Japan — 25 beers in all for now. The store will also sell sake and a small selection of Japanese wines.
8) Did you hear about the Berkeley rapper Lil B's new vegan emoji app?
Berkeleyside Nosh
has the scoop. (For the record, Lil B is not vegan, though he tells Nosh that he'd like to be.)
9) In other vegan news, the Vice
"Munchies"
series did an interview with the brother-and-sister owners of The Butcher's Son, the
forthcoming vegan New York-style deli and "butcher shop"
in Berkeley. The hook is that the two owners apparently
grew up in a Bay Area cult founded by their father
— though I was sad to discover that the interview was light on cult-y details: "It was just hippies over the age of 50."
10) Finally, ICYMI, check out my manifesto on the
quintessential Oakland restaurant
and Sascha Bos' account of
getting mildly high at Berkeley's new kava bar
.
Got tips or suggestions? Email me at Luke (dot) Tsai (at) EastBayExpress (dot) com. Otherwise, keep in touch by following me on Twitter @theluketsai, or simply by posting a comment. I'll read 'em all.