Welcome to the Mid-Week Menu, our weekly roundup of East Bay food news.

1) Berkeleyside Nosh has the scoop on a potential Off the Grid location at the North Berkeley BART station. If the BART deal goes through, eight to twelve food trucks would set up outside of the North Berkeley BART station each Sunday from 5-9 p.m. This would mark the insanely popular gourmet food truck rally's return to North Berkeley after the OtG's first East Bay location, in the Gourmet Ghetto, closed last year — at least in part because of complaints from nearby brick-and-mortar businesses.

[jump]
2) Over in Rockridge, a new upscale Chinese restaurant called Osmanthus (6048 College Ave., Oakland) is now open for dinner in the former Nan Yang spot. Inside Scoop reports that chef Julia Klein's menu focuses primarily on Sichuan dishes like ma po tofu, with a smattering of elements from other Asian cuisines — Asian cioppino with wakame, a pork chop with kimchi apples, and so on. Check out the full menu here.

3) As reported yesterday, Copan, a new Korean-Japanese fusion restaurant, is now open at 4869 Telegraph Ave. in Oakland, in the old Sura spot. Highlights include a wide selection of rice bowls (bibimbops, but also Japanese-inspired combinations) and a handful of raw fish and meat options, including a Korean take on beef tartare. We've got a scan of the full menu here.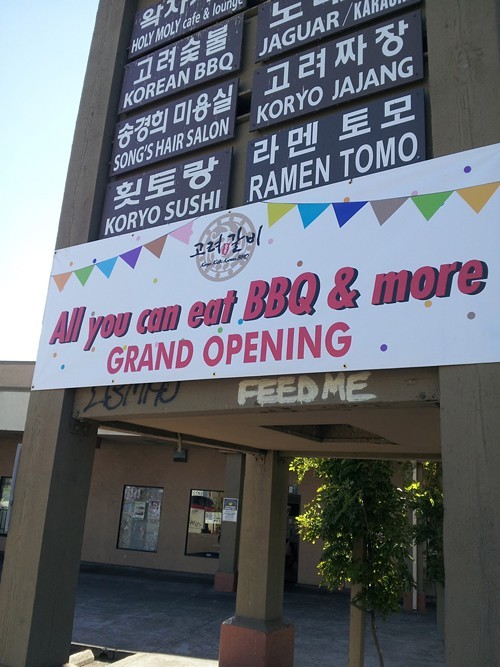 4) Meanwhile, in the plaza just down the street, the shuttered Korean barbecue joint Koryo
has reopened
as Koryo Kalbi Korean BBQ (4390 Telegraph Ave), with a remodeled dining room and a revamped menu focused on tabletop grilling and several all-you-can-eat options. The employee I spoke to gave a vague response when asked if there's been a change in ownership, but based on the new logo and the menu posted in the window, it appears that the reborn Koryo is the second location for
a restaurant of the same name
in Dallas, Texas. Koryo Kalbi Korean BBQ is open from 11 a.m. to 11 p.m. Sunday through Thursday, and stays open until midnight on weekends.
5)
Diablo Dish
reports that a new seafood-focused restaurant called
alaMar
is coming to the old Noble Cafe space (100 Grand Ave., Oakland) on the first floor of a luxury apartment building. Details are a bit scarce for now, but it sounds like a seafood boil will be a prominent feature of the dinner menu. ETA early 2014.
6) According to
East Bay Dish
, there's a new permanent morning pop-up at the East Oakland Filipino spot
Kain'bigan
(2101 14th Ave., Oakland):
Cafe Clinton
sells coffee, pastries, and organic cold-pressed juices from 6-10 a.m., Monday through Friday. The pop-up's proprietor is Janice Yenpasook, who owns
Uptown Juice Company
. This month's
special promotion
is a free cup of coffee with the purchase of a pastry.
7) In other coffee news,
Inside Scoop
reports that
Philz Coffee
is adding a second Berkeley shop at 1313 9th St. The new location will be part of the new Gilman District development project in West Berkeley.
The Mead Kitchen
, the Berkeley-based producer of that famed honey brew from days of yore, has
officially launched
. The company's mead is currently available on tap at the West Berkeley location of
Lanesplitter Pizza & Pub
(2033 San Pablo Ave.), and within the next two weeks it will also be available at Laneplitter's Oakland and Emeryville pub locations, at the
Albany Taproom
, and at San Francisco's Zeitgeist. For more information about The Mead Kitchen, check out the profile that
Berkeleyside Nosh
ran earlier this year.
9)
Berkeleyside Nosh
notes the opening of Bonita Fish Market (1941 University Ave.), a new seafood market in downtown Berkeley. The owners are running a 20% off promotion for the month of November.
10) Finally, ICYMI, a pop-up dinner this Sunday will highlight
Filipino-style ceviche
, and I discovered a great new burger in Alameda that's
50 percent bacon
.
Got tips or suggestions? Email me at Luke (dot) Tsai (at) EastBayExpress (dot) com. Otherwise, keep in touch by following me on Twitter @theluketsai, or simply by posting a comment. I'll read 'em all.