Welcome to the Mid-Week Menu, our roundup of East Bay food news.
1) Let's start with some great news for the Downtown Oakland lunch scene: Abura-ya, the
punk rock fried chicken pop-up
whose
karaage
and affordable izakaya side dishes have won a legion of fans, is expanding its operations to lunchtime.
[jump] Starting in mid-March, chef Adachi Hiroyuki and his crew will set up shop at
The Hatch
(402 15th St.) — just down the street from their usual pop-up at Garden House — from 11:30 a.m. to 2 or 2:30 p.m. Tuesday through Friday. The streamlined lunch menu will be limited to Japanese fried chicken, rice balls, and maybe a couple of other fried-chicken-centered items such as fried chicken curry or fried chicken ramen. Don't look now, but The Hatch is positioning itself as something of a
guilty-pleasure food destination
:
karaage
for lunch and bacon-wrapped hot dogs at night? Yes, please.
2) Event coordinator Karen Hester is launching a new
Bites Off Broadway
-style food truck pod on Sundays from 12 to 3 p.m. in the parking lot of the Lakeview library branch (550 El Embarcadero). This Sunday, February 15 will mark the debut of
Bites at the Lake
and the local gourmet street food scene's return to the eastern end of Lake Merritt, which hasn't had an official food truck event since the
Splash Pad Pod ended
its brief run a couple of years ago.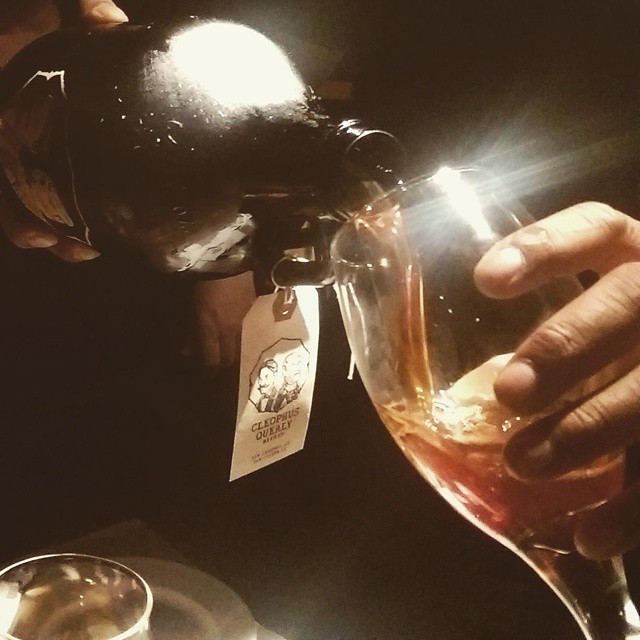 3) It's SF Beer Week, and over at Inside Scoop, our old friend
Jonathan Kauffman
is doing a great series of profiles of new Bay Area breweries, including San Leandro's
Cleophus Quealy Beer Co.
(whose origin story, as Kauffman put it, was "Google engineer meets Google engineer") and Berkeley's
Fieldwork Brewing Co.
(run by a couple of San Diego transplants). Meanwhile,
Berkeleyside Nosh
has a nice rundown of East Bay events for SF Beer Week.
4) A
Chowhound
poster notes the opening of
Hasnia
(1160 University Ave.), a new Algerian restaurant in Berkeley that's got lamb shank, couscous, and kebab sandwiches on the menu.
5) Free food alert! Inside Scoop reports that
A16 Rockridge
(5356 College Ave.) is adding an
Adesso
-style
apertivo
cocktail hour from 5 to 6:30 p.m. nightly that will feature drink specials and a selection of complimentary salumi and other snacks.
6)
Berkeleyside Nosh
reports on some controversy over the city of Berkeley's effort to move the Thursday North Berkeley farmers' market a few hundred feet away from its current site.
7) Finally, ICYMI, here's my guide to three East Bay restaurants where you can celebrate
Chinese New Year
.
Got tips or suggestions? Email me at Luke (dot) Tsai (at) EastBayExpress (dot) com. Otherwise, keep in touch by following me on Twitter @theluketsai, or simply by posting a comment. I'll read 'em all.