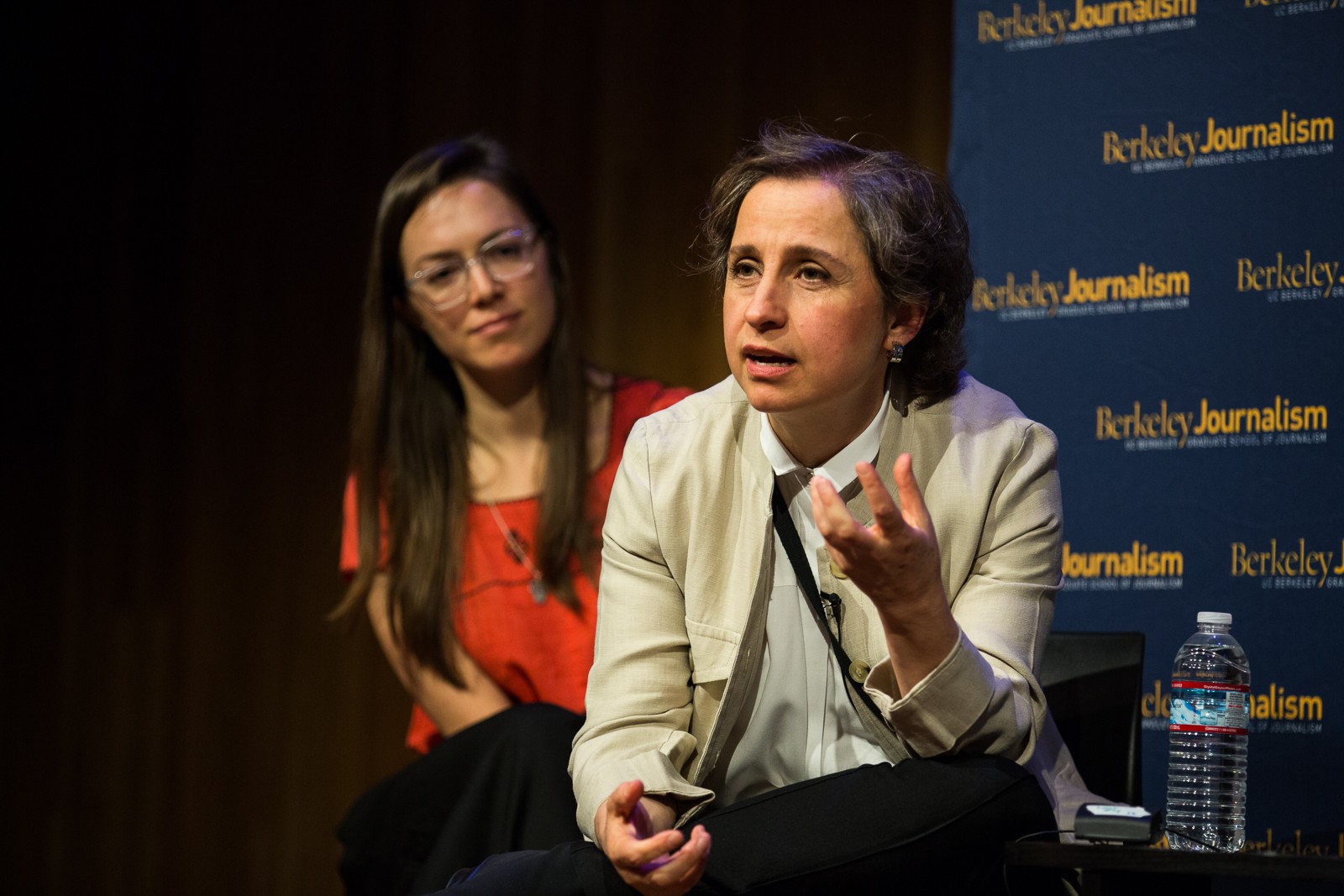 Forget Nazi protesters and Ann Coulter provoking the AntiFa and righteous Berkeley liberals. Serious political discussions still happen at UC Berkeley.
The renowned Mexican journalist Carmen Aristegui visited the campus last week to dissect the "alt right" and critique President Trump's isolationist politics to a standing room only audience.
Aristegui is known for her hard-hitting investigative reports exposing corruption within Mexican government.
Hosted by UC Berkeley's School of Journalism, Aristegui, in conversation with the equally renowned journalist Lowell Bergman, called Trump's proposed border wall a great offense toward Mexico and its people. She also said it would be a waste of money and reminded that funds for the wall would ultimately be paid by the United States.
No one from the Mexican government, not even Mexican President Peña Nieto, have supported Trump's wall, she pointed out.
"It is absurd to think that a wall will solve the problems between Mexico and the United States," she told the audience.
Aristegui argued that Latinos across the Americas must be firm with Trump: "Mexicans, Central Americans, and Latinos in the U.S. in general have the obligation to have a collective response to everything that Trump is doing," she said. She reminded the importance of having people stand up for what is right, even when their government turn a blind eye to what Trump's administration is doing.
Mexicans have already popularly and organically responded to Trump's xenophobia by avoiding the U.S. For example, a recent report from the research firm Tourism Economics indicated that Mexican citizens traveling to the United States has decreased by seven percent under Trump. This number is expected to rise by 2018. Canada is now the preferred destination for Mexicans on vacation.
Aristegui warned that Trump is not a lone-wolf, and that he and his followers threaten democracy and civilization. For instance, she cited his hatred toward the press. "His words evoke fascism," Aristegui argued.
She also is no stranger to the dangers of a national government that holds its journalists in contempt.
Aristegui and Bergman talked about the unresolved murders of journalists in Mexico at the hands of the cartels. In March alone, journalists Cecilio Pineda, Ricardo Monlui, and Miroslava Breach were the latest victims. "Mexico has become one of the most dangerous places to be a journalist."
She emphasized that although being a journalist in countries like Mexico is dangerous, it remains a vital career, one that holds corrupt politicians accountable. She said that, in the Trump era, journalism, the media, and freedom of speech are crucial. She also criticized figures like Milo Yiannopoulos, and Coulter, who choose Berkeley to come and speak only to provoke violence. Aristegui said that it was up to those in Berkeley to understand how to defeat those who come to incite violence.
Many journalists in the United States talk about the relationship between Mexico and the United States now that President Trump took office, but rarely do we get to hear what is discussed on the other side of the wall.