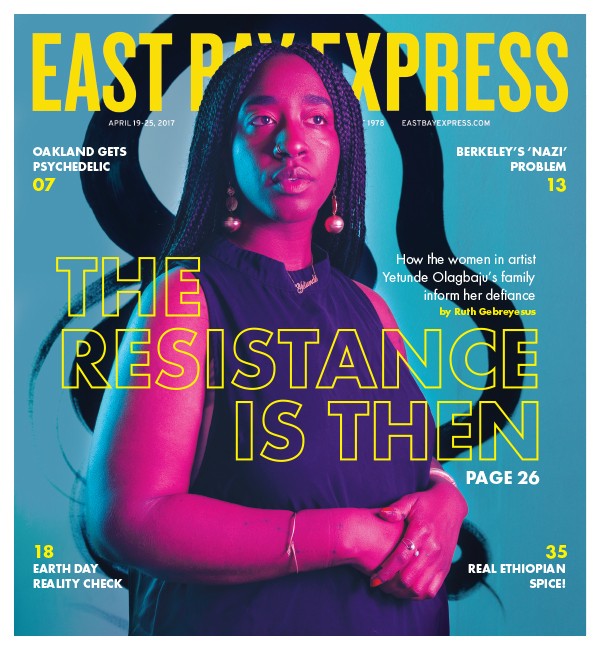 "Oakland Officials Want to Ban Flavored Blunt Wrappers, Two-Pack Cigars, And Vape Juice" by Darwin BondGraham, News, April 13:
Don't Kill Local Jobs

Vaping got me to quit my 25-year habit of two packs a day. My health and quality of life has improved to no end since making the switch. I wish people would see the difference between vaping and smoking! Additionally: All my vape juice comes from a local Oakland business, who hires locally and make everything themselves. This isn't gonna hurt "Big Tobacco," it's gonna kill local jobs and people's livelihoods. This needs to be addressed better.
Vaping Helps You Quit
It's a form of harm-reduction. Vaping is the only way I would ever have been able to quit smoking. I did both for over a year while tapering down. E-cigs saved me from a 20-year, pack-a-day, Newport 100 habit. I understand why we want to keep tobacco products out of young people's hands, and I agree. But the attempt to paint e-cigs as, "equally dangerous" as cigarettes is objectively false. There are literally hundreds of carcinogenic chemicals in the filters of cigarettes, and burning tobacco means particulate matter — ashes, tar, burning paper and tobacco — in your lungs. Nicotine is addictive and bad for your heart, but it's still better than nicotine plus hundreds more also addictive and also carcinogenic chemical, plus tar and particulate matter. I've managed to slowly step down my nicotine level using vape juices with progressively less nicotine. I have one more step before I'm at zero nic. I'm not the only one with a story like this. E-cigs are a cessation and harm-reduction method that worked for me when no other method did.
"Oakland's Poorest Neighborhoods Will Be The Most Susceptible to Flooding Due To Climate Change And Sea-Level Rise Subhead" by Jean Tepperman, News, April 19:
It Will Take All Of Us To Prepare
Excellent article. Tepperman's research on the hazards to the East Bay's most vulnerable communities is as disturbing as it is excellent. Luckily, there are many activists like Margaret Gordon and Brian Beveridge in these communities, aware of the threats and working to build sustainability. But it will take all of us in the East Bay to prepare for what's coming.
High Seas, Low Priority
I'm sure that the disadvantaged residents of those neighborhoods would place this important concern at about No. 147 on their list of potential problems they will have over the next sixty years.
Heck, by that time, nearly all of those neighborhoods will have been gentrified and re-gentrified. Thus, the number of poor in those neighborhoods will be reduced to near zero.
It will be entirely a upper-middle class or wealthy person's problem, not affecting more than a handful of poor people. As far as poor people go this rising sea level in Oakland neighborhoods is a non issue for decades to come.
Block Off The Golden Gate
As I have been saying since the 1970s, it's time to dike and lock the Golden Gate Bridge, protecting infrastructure and property all the way to Sacramento. The water from the Delta should be canaled back to the southland (not tunnels). It's cheaper and easier on the environment. Homeland security should be on board, as it protects our Bay from nefarious activity. Historically, the Bay was fresh until about 8,000 years ago, when the fading Ice Age caused enough ocean rise to wipe out the waterfall (comparable to Niagara) and made the Bay what it is today.
"Federal Judge Rules Against Oakland, Allows Coal Terminal Lawsuit to Proceed" by Darwin BondGraham, News, April 20:
Oakland Can't Fix Original Screwup
Good thing the eco orgs are joining the lawsuit, because Oakland doesn't have the deep pockets to fix it's original screwup on the contract. Stadium conracts, police and fire contracts, garbage contracts, port contracts — is there a pattern here?
"Radiohead Marvels Sold-Out Crowd, Comments on Coachella Hiccups And Saturday's Alt-Right Brawl, During Its First Night in Berkeley" by Nick Miller, Music, April 18:
Hundred Bucks?!
If Radiohead is as revolutionary as they claim to be, why is it cool to charge $100 for the show?