If you had to know only one thing about the singer Maya Songbird (Maya Ivy Benton), it's that she wears her heart on her shoulder — literally. The San Francisco native has an upside-down heart-shaped birthmark at the top her left arm — an image that appears in her promotional photographs and is the logo of her multimedia company, Wired Weird Entertainment, which she plans to launch on January 28. It's scrawled in chalk, silver gel pen, and paint on the walls of her East Oakland live-work space. And, it's a handy metaphor for the unabashed self-love she champions in her music.
Songbird is gearing up for the release show for her new EP, Queen of Darkness (Ratskin Records), which takes place on January 28 at an underground West Oakland venue and doubles as the launch party for her new business. Although she's been making music in the East Bay and San Francisco full-time since 2009, she said Queen of Darkness represents her unfiltered artistic expression and devotion to the occult, an identity she's cultivated since she was a teenager. She joked that if the "prince of darkness" is Satan, then that makes her Satan's mom, and indeed, she plans to enact a magic ritual at the beginning of the performance before taking the stage.
But despite Songbird's dark aesthetic, her three-track EP is surprisingly effervescent. Producer Oji mixes piano riffs and bass lines with spacey synth sounds as Songbird's voice glides over a disco-infused, infectiously danceable beat on "How the Sun Shines." "Wicked Attraction" offers ominous organ samples that loom over poppy snare drum snaps. And "Delicate Chemistry," which Songbird herself produced, is an explicitly sexual, thumping electropop tune with rich, velvety vocals that exude desire.
The EP is a buoyant departure from the down-tempo, neo-soul mixtape, Writing My Life, which debuted earlier this month on the Afrofuturist collective Bad Girl Confidence's website. On the tape, Songbird's viscous crooning drips like syrup over producer Trippy Sanders' expansive, galactic samples.
Songbird compared the two projects to her hair — half of which is dyed a white gold and, on the particular day I spoke to her, was tinged with streaks of aquamarine and purple. Writing My Life, she explained, is like the naturally dark brown, accessible side, while Queen of Darkness is like the colorful, rainbow side — a protest against oppression, fear, self-loathing, and hate.
"I'm standing up for a lot of things," she said of the EP. "I'm standing up for my right to be Black, my right to be dark Black, my right to be witchy, my right to somewhat be Satan's mom — you know, just being my artistic, crazy self."
And that's the other thing to know about Songbird — she's not afraid of contradictions. She acknowledges and accepts seemingly opposing beliefs, such as simultaneously praying to a monotheistic god and practicing witchcraft. But those polarities aren't paradoxical to Songbird. As she explained, "Without darkness, there is no light."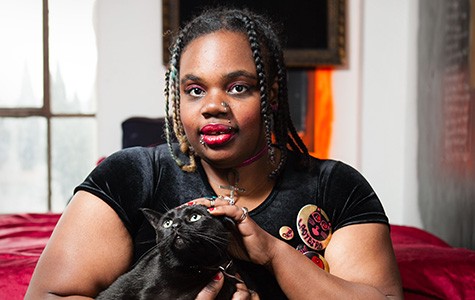 Songbird always felt like she was different. "My soul has lived on other planets," she said. "That's why I'm so weird on Earth." Growing up in San Francisco's Castro district, she said she spent her teenage years roaming the streets late at night, haunting clubs and other forbidden places. Her house was a refuge for neighborhood friends who felt ostracized at school or who were coming to terms with being queer. She's never been afraid to express herself and wants to inspire others to do the same. That's the message she wants to send in her songs: That it's okay to be different, a little crazy, wild, or weird.
Her entertainment company, Wired Weird Entertainment, will be her "platform to corrupt the planet," Songbird said, only half-jokingly. She plans to use its website to promote other artists, hawk wearable and visual art, and branch out into directing films and music videos, among other endeavors.
She has also teamed up with fellow musician and artist Amra Island for a collaborative album they're calling Polo Apachery, set to be released on Ratskin Records later this year. And Songbird is hoping the upside-down heart logo, which she calls her "weird stamp," can one day become a symbol of liberation, especially for young women.
"I'm so pussy powered," she said. "I'm excited to be a voice for the wild, weird women who are not afraid."