On Twitter, Jay Ant (Jay Anthony Fort) recently described himself as Mac Dre meets Disclosure, and he wasn't far from the truth. The rapper, singer, and producer — who is a member of the ultra-prolific music collective HBK Gang — deftly juxtaposes the hyperactive tempos of hyphy and house music with glassy synth melodies, alternating his vocal style from smooth, raspy crooning to Auto Tune-ed rap-singing and punchline-filled bars.
Jay Ant is currently mastering his next album, Blue Diamond Dreams, which he has been hinting about dropping for nearly a year now. But the fact that he's kept listeners waiting for the full-length project makes him anxious. So to make up for the delay, he recently released a new, seven-track mixtape — White Rabbit, a collection of saccharine, R&B-tinged songs that he said are solid but don't quite mesh with his vision for Dreams.
"The white rabbit was late for a very important date," he said, explaining the Alice in Wonderland reference in the mixtape's title. "And he was running into a dream. This project is pretty much gonna lead you into that."
Still, White Rabbit doesn't sound like a filler project by any means, and contains several earworms that attest to Jay Ant's skills as a hooksmith as well as a beatmaker with a gift for catchy yet challenging productions.
It bears pointing out that the members of HBK are at varying levels of regional and mainstream success. The group's founder, IAMSU, for instance, has garnered a national audience with his single with Dej Loaf, "Famous," and The FADER magazine and 106.1 KMEL have touted his new single, "Game Time" as anticipation builds for his next album, Kilt3. And Kehlani's self-released 2015 mixtape, You Should Be Here, is up for a Grammy. While many fans have come to know Jay Ant through his work with the more prominent members of HBK, on White Rabbit he carves out a genre-defying niche that sets him apart from his collaborators and demonstrates his pop star potential.
"Let Me Ball," the mixtape's standout track that Jay Ant co-produced with Tario and fellow HBK member P-Lo, is a breezy, mid-tempo bop that has the makings of a summer anthem despite its cold-weather release date. A thudding, staccato synth riff with a hyphy bounce to it drives the beat while a baby-voiced vocal sample and layers of metallic, twinkling keys imbue it with a shimmering quality.
The hook — I can't worry bout a bitch/I'm dipped, I'm too saucy — is infectious, and Jay Ant said his choice of vocabulary is significant. His lyrics are part of his larger mission to promote and preserve the singularities of Bay Area hip-hop culture, namely its slang. It's a widely held opinion in the local rap community that the region's innovations in production, flows, and vocabulary often go overlooked or unattributed in the mainstream music industry (see my feature, "Flow Jack City," 4/1/2015). When Texas rapper Post Malone popularized the word "saucin'" with his 2015 hit, "White Iverson," Jay Ant wasn't convinced it was entirely original. He saw it as an evolution of "saucy," which the godfather of hyphy, Mac Dre, had used as early as 2002 — a piece of hometown pride that Jay Ant sought to reclaim with "Let Me Ball."
"The Bay Area gets robbed of a lot of culture, not just musically, but in every arena," said the rapper, who grew up in Richmond and Hercules. "It doesn't seem like people notice or give the appreciation for it that they should. I'm not mad at people using it or liking it. … 'Saucin" is cool, I fuck with it, too. But people should be aware of where it came from."
We compared notes about useful words with East Bay origins. It's important to keep them in use, Jay Ant noted, especially as the Bay Area becomes increasingly gentrified and less of a hub for street culture. "I'm waiting for the rest of the world to start saying 'yee' and 'bootsy.' Those are up for grabs," he added, laughing.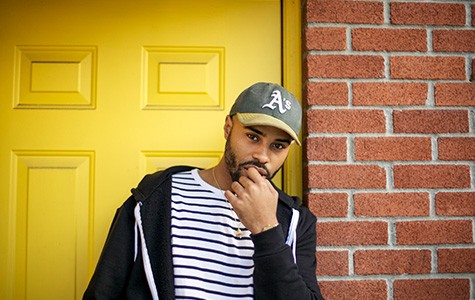 Despite the sunshine-y melody and boastful hook of "Let Me Ball," Jay Ant's lyrics occasionally touch upon more melancholic subjects as he contemplates how his pursuit of success has impacted his relationships. "If you have a girlfriend that's in a conventional workspace on a conventional paycheck and conventional everything — being an artist or a creative, that shit is crazy," he said. "It's hard to have structure all the time. If you're young and you're trying to get shit poppin', you gotta be places and just go. … You have to be in the moment and make things happen."
Navigating relationships with women with drastically different lifestyles has been a challenge, he continued. That idea also drives the plot of a forthcoming short film, also titled Blue Diamond Dreams, which Jay Ant scored, produced, and co-directed. He plans to release it around the same time as the album.
Blue Diamond Dreams, the movie, is part of Jay Ant's effort to foray into various other, more visual-oriented creative fields, including apparel design. He currently has design collaborations with indie street wear labels Pink Dolphin and Rare Panther in the works, and has been working to brand his music and online presence with visuals inspired by fashion editorials. Clean, minimalist photos of Jay Ant, his collaborators, as well as models — dressed to the nines in impeccably styled athleisure looks — have accompanied his latest musical releases. With Kanye West's Adidas collaboration, Rihanna's role as a creative director at PUMA, and A$AP Rocky's denim line with Guess, hip-hop and fashion are more intertwined than ever, and Jay Ant has his sights set on a similar partnership for himself.
"I like to do a little bit more than rap," he said, "I'm more of a creative. I just like to make tight shit, whether it's sound or visual or lyrics — creating experiences for people through art."