María José Montijo strummed her harp in Dimond Park as tree branches swayed in the breeze. Only a block away from her apartment, the park connects the East Oakland flatlands to vast expanses of redwoods.
This pocket of nature amid the urban sprawl is a refuge and source of inspiration for the singer-songwriter, whose work deals with themes of human connection to the land. On her 2014 EP, Estrellas, as well as the singles on her SoundCloud, Montijo sings in her native Spanish about the healing powers of water, herbal medicine, and love as a universal force.
Throughout Estrellas, her voice shifts between twangy crooning and the throaty timbre of a jazz soloist as she gently plucks her harp. The instrument's effervescence contrasts with her band's tense violin chords, minor-key electric guitar licks, and pitter-pattering hand drums. Together, these elements create a novel alchemy of sounds that evoke traditional Caribbean rhythms and experimental folk music alike.
Estrellas EP by María José Montijo
Montijo said her interest in writing lyrics about nature dates back to her childhood in Puerto Rico, where she developed an appreciation for the outdoors at a young age. Though she hasn't lived there for nearly ten years, she still has strong ties to the island and recently returned from a two-month stay there. She enthusiastically described swimming in the ocean and exploring the rainforest. These outings sparked ideas for a music video she shot there, as well as new tracks that she's currently working on.
Montijo is a classically trained vocalist who got her start singing in the San Juan Children's Choir when she was five years old. After high school, she enrolled in the Conservatory of Music of Puerto Rico, but dropped out after two years when she realized that she was more interested in the political singer-songwriters of the nueva canción movement (which emerged from social uprisings across Latin America in the Seventies and Eighties) than in opera.
After the conservatory, Montijo put her music career on pause and became a massage therapist. In the mid-Aughts, she left Puerto Rico to train in Thailand and eventually got a job at a Zen center in upstate New York. She ended up in the East Bay almost by happenstance: In 2007, she joined a co-worker on a trip to Berkeley and decided to stay here permanently.
Montijo's introduction to the harp was equally serendipitous. When she visited Puerto Rico in 2009, she ran into a friend from the music conservatory who was a lifeguard at the beach. "She was a violinist and she would bring her stuff to play in the lifeguard tower," Montijo laughed.
Montijo confessed that she was uncertain about the direction she wanted to take with her music. The next day, when she returned to swim, her friend handed her a harp and gave Montijo her first and only lesson.
Upon returning to California, Montijo began writing songs on the harp and collaborating with Dmitri Seals, her current band's violinist. She also enrolled in the American College of Traditional Chinese Medicine in San Francisco (she graduated earlier this year). While many musicians pursue other occupations as a means of survival, Montijo sees her healing work as interconnected with her music. "I think music heals; music is medicine," she said. "So I always regarded music in that aspect of how it can be ritualized and help [people] transform."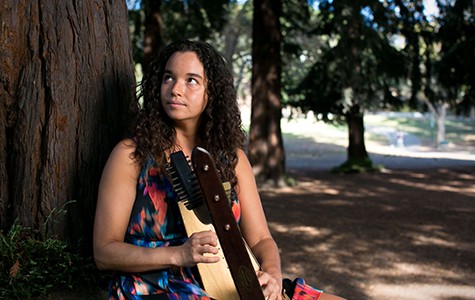 For instance, the title track of Estrellas came from a profound experience Montijo had in a biodynamic craniosacral therapy class, which is a practice that purports to relieve tension by manipulating the spinal fluid. "Basically you're working on being more present in your body so you can hold space for the intelligence of the [other] person's body to heal," she explained. "In doing that, you feel this very basic, natural love that is the basis of everything. And that song is about that. It's not romantic love."
For her upcoming live shows and releases, Montijo has been exploring the connections between healing practices and the Afro-Puerto Rican musical tradition bomba, a style that incorporates drum circles, chanting, and dance, and has long been a vehicle of Black resistance on the island. Montijo explained that bomba rhythm patterns are at the core of Puerto Rican music and work seamlessly with her own songwriting. But what she finds most compelling is that the bomba tradition provides a space for marginalized people to heal through community building and catharsis — which reflects Montijo's mission as a musician and healer.