East Bay dance pop duo Hi Scores rehearses in Emeryville's Vintage Synthesizer Museum, a dimly lit showroom of decades-old electronic instruments straight out of a gear nerd's fantasy. Jason Stinnett, the group's producer, is a co-curator at the obscure, appointment-only establishment, which also functions as a venue, music education center, and practice space.
Hi Scores is Stinnett's new music project with singer-songwriter Janaysa Lambert. Lambert's earthy vocals complement the old-school feel of Stinnett's production, which foregrounds fat, surging synth riffs and bouncy, four-to-the-floor beats. Stinnett is a veritable expert on underground dance music from different cities and time periods, but considers himself a disciple of garage, an influential house music subgenre that emerged from New York discotheques in the late Eighties.
"There's a lot of personality in these [synths] that a computer can't really emulate," he said, as he showed me around the vast collection of equipment. "They're analog, so they can be faulty and go out of tune and do weird things. That's what I like about them. … I love the hands-on approach to it as opposed to clicking a mouse."
Stinnett (who also performs under the names Jaysonik and CA510) is a longtime fixture of Oakland's electronic music scene and was involved in several notable music projects before starting Hi Scores with Lambert. At the start of the millennium, he made a name for himself as part of the DJ crew Concepts, which also included former KMEL DJ Joe Quixx and combined scratching on turntables with bass-heavy production.
In the mid-Aughts, Stinnett became the producer of Hottub, a rap group composed of MCs CoCo Machete (his romantic partner), Ambreezy BA, and Lolipop. Hottub's bubbly party anthems and infamously wild live shows earned it opening slots for big-name artists such as M.I.A. and 2 Live Crew, and the band toured with New Orleans bounce queen Big Freedia in 2012.
As Hottub's popularity grew, Stinnett founded the record label Le Heat in 2008 to distribute the group's material. The tightly curated label doubles as a promotional platform, with Stinnett also using the brand to throw shows. Over the years, it has become a purveyor of Bay Area dance music and includes in its roster electronic hip-hop duo Double Duchess (see "The Bay is Burning," 8/26/2015), producer Mega_Lo, and rapper MicahTron. Most recently, Le Heat released Hi Scores' debut single "Desire," a downcast yet danceable club track that the duo dropped this week.
Hi Scores began making music together not long after Hottub went on hiatus at the end of 2012. Stinnett met Lambert at one of her shows with her other band, the indie pop trio Mortar and Pestle. Enraptured by Lambert's smoky voice, he immediately invited her to collaborate. "I heard her sing live at the Uptown and I was like, I need to produce some house music with this girl," Stinnett recalled.
The bandmates agreed that their creative relationship has evolved into a symbiotic one. The two collaborate on all of Hi Scores' lyrics. And the raspy texture and wide range of Lambert's voice informs Stinnett's approach to production, which often involves sampling her vocals and integrating them with electronic elements.
"What I love about working with Jason is that he pushes me out of my comfort zone, whereas every other producer I've worked with in the past has always given me free reign," said Lambert. "There's a lot freedom in that, but there's also not a lot of room for growth. … Sometimes you can fall into a pattern with your own creativity."
While, lyrically speaking, Lambert and Stinnett consider R&B a major influence on their songwriting, they said that they are wary of rehashing the typical boy-meets-girl scenarios with which the genre is associated. Instead, they've found inspiration in the ways in which human interconnectivity has changed in the digital age and use their songs to delve into the nuances of 21st-century relationships.
"This is our last plea of hope for the love connection," said Stinnett. He and Lambert turned to one another and chatted about the ways in which interactions have changed because of dating apps and how birth rates are shrinking in Japan. "Maybe that's why R&B is coming back. It's [humankind's] last chance to make babies," he joked.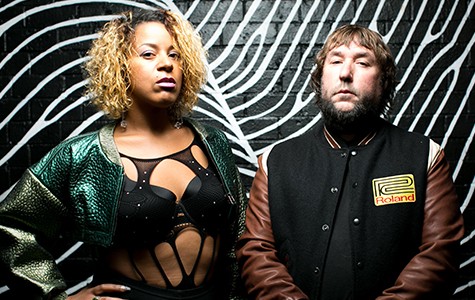 So far, Hi Scores has taken its songwriting at a slow pace, and as a result, fans have gotten to know its music only through live shows — though this will change soon with the release of the duo's debut album in early 2016. Though Lambert and Stinnett have been performing together for more than a year, it might come as a surprise that "Desire" is their first official release. After all, Hi Scores has played at widely attended events, including the 2014 Oakland Music Festival, and its live shows feature extensive set lists of original material.
Lambert and Stinnett said that their recording process has been deliberately slow because their goal is to create a body of work that will have long-term appeal as opposed to temporary hype, which was an issue with some of their previous projects. In hindsight, Stinnett said, he performed live with Hottub so frequently that it detracted from his time and energy to work in the studio. And now that the group hasn't made music together in years, he regrets not leaving more recorded material for posterity.
"It's fun to play live, but it's such a short-term high, as opposed to making music you can be happy with for a long time," said Stinnett. "With Hottub, it was always like, 'Say, 'yes,' to more shows,' which ultimately kept us from releasing music." To avoid the same pitfalls with Hi Scores, he and Lambert have developed some self-admittedly perfectionist tendencies when it comes to recording.
In an age when major label artists drop surprise mixtapes in between albums and independent artists vie for attention on social media by ramping up their musical output, Hi Scores' forthcoming album has taken what seems like eons to complete. But Lambert and Stinnett are confident that the time they've spent will be a worthwhile investment in the group's longevity.