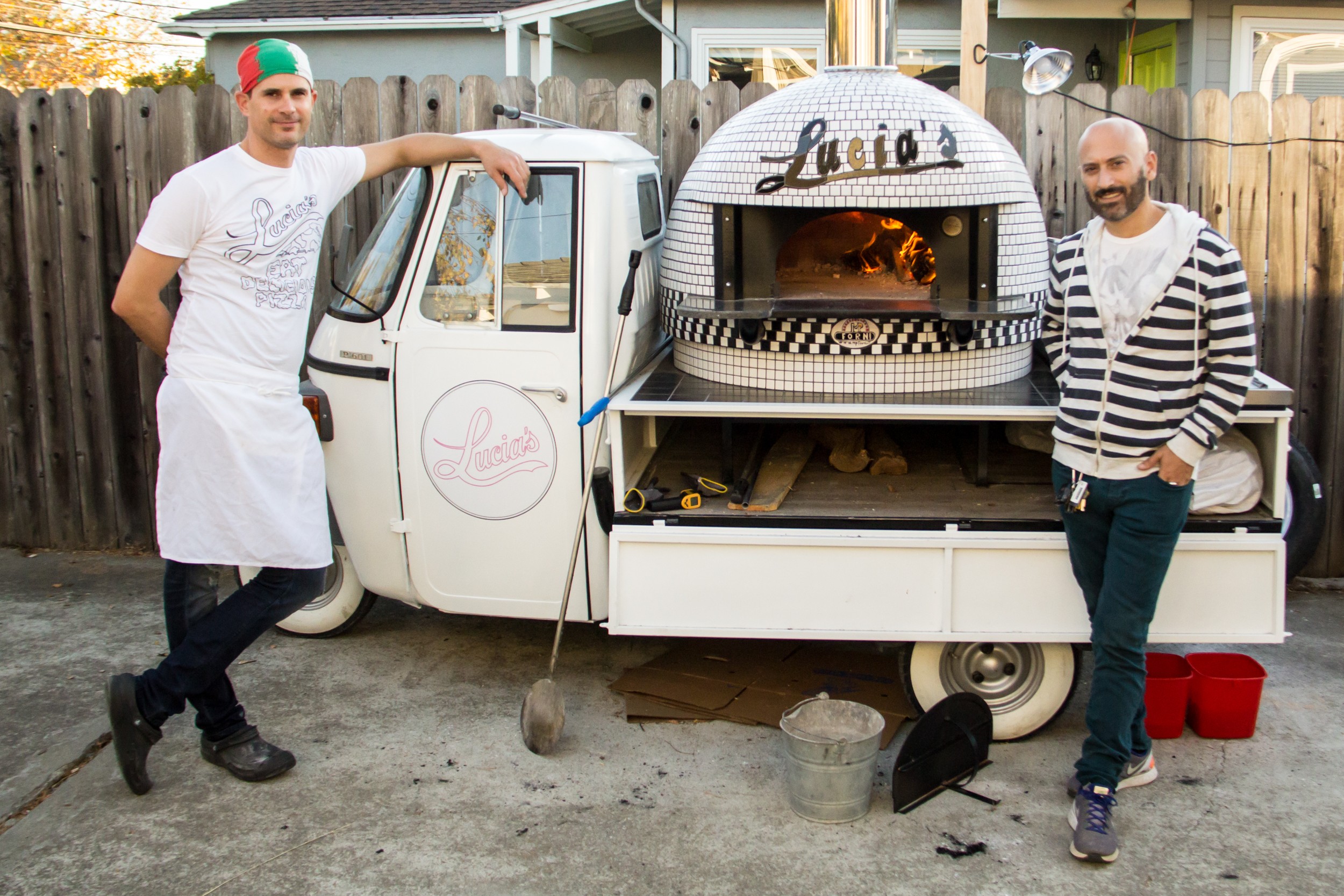 At Lucia's, there are pizzas for everyone, from breakfast pizza to classic margherita to vegetarian and vegan — and even gluten-free. And if you've never managed to make it out to Lucia's brick-and-mortar location in downtown Berkeley, you'll soon be able to sample their pizzas at the Grand Lake Farmers Market in Oakland and at Fieldwork Brewing in Berkeley.
Lucia's pizza is going mobile, thanks to a mobile pizza truck that was custom-built in Italy and designed by Lucia's owners Alessandro Uccelli and Steve Dumain. The truck is a modified 1981 Piaggio Ape — an iconic, petite three-wheeled Italian truck made by the same manufacturer as Vespa. The Ape gets great fuel economy and is designed for driving through narrow Italian cobblestone streets. As for the on-board pizza oven, it's a wood-fired brick oven designed especially for Neapolitan pizza, and can reach 900 degrees Fahrenheit.
Fans of Lucia's brunch pizzas will be glad to learn that many of the same options will be available at the truck. There'll be an American breakfast pizza with applewood smoked bacon, a farm egg, and basil. If your tastes tend toward the more Italian end of the breakfast spectrum, there's also the Specky Break, made with speck (Italian cured ham), crispy potatoes, beet confit, mozzarella, and a farm egg. The veggie breakfast pizza omits the speck from the Specky Break, and there's even the option for a vegan breakfast pizza.
As for lunch options, there are quite a few. Purists can opt for the margherita pizza, also available in a vegan version. For vegetarians, there's also the Shroomy, with mixed wild mushrooms, gorgonzola, fresh mozzarella, and thyme, and the quattro formaggi, a four-cheese pizza topped with smoked maple syrup. And for meat-eaters, there's the Pepe L'Pig, made with local sausage, pepperoncini, mozzarella, and oregano. For spice lovers, there's the Lips of Fire, with tomato, mozzarella, spicy sopressata, and a drizzle of fiery ghost pepper maple syrup.
Lucia's uses a combination of local and Italian ingredients in their pizza. They use Belfiore mozzarella cheese made in Berkeley and Miyoko cashew cheese made in Marin, while their mozzarella di bufala is produced in Battipaglia, near Naples. Meanwhile, the flour is milled from a single-source family mill in Salerno, Italy. That flour is used in Lucia's pizza dough, which is a high-hydration dough that undergoes a 24-hour fermentation process. There'll be limited quantities of gluten-free pizza dough at the truck, too.
Lucia's pizza truck will be at the Grand Lake Farmers Market on Saturdays, from 9 a.m.to 2 p.m., and they expect to begin service starting Nov. 24. Breakfast pizza is available until 11:30 a.m. Pizzas are 10 inches and will cost around $11. Details regarding the Fieldwork Brewing partnership are still in the works. The truck will also be available for private parties and events.