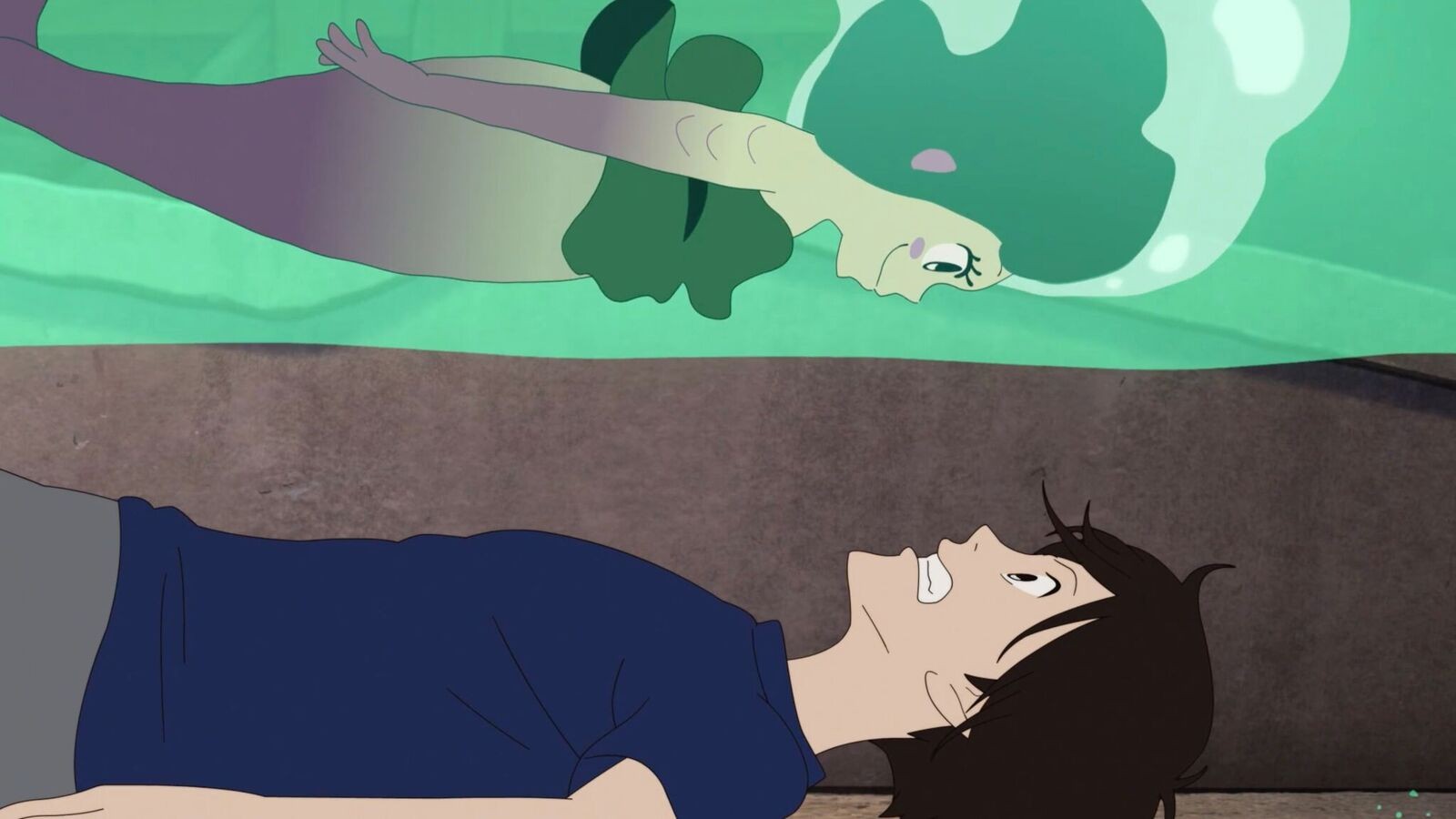 For the last decade, the New York City-based distributor GKIDS (Guerrilla Kids International Distribution Syndicate) has been importing unconventional, hand-drawn, adult-friendly animated features from across the world, including the final few releases from Studio Ghibli. They have already shepherded 10 features and one short that might have otherwise gone largely unseen in the United States to Academy Award nominations, and it is generally recognized that they're one of the rare forces for good in the film world.
That's why it's such a disappointment to report that the latest GKIDS release, director and co-writer Masaaki Yuasa's shrill and disorganized Japanese mermaid musical Lu Over the Wall, is a total stinker. There are a handful of lovely images and ideas scattered throughout the film, but for the most part, the character design is ghastly, the movements are amateur-hour herky-jerky, and the animation is annoyingly inconsistent.
Lu Over the Wall offers narrative and stylistic echoes of Studio Ghibli classics like My Neighbor Totoro and Ponyo, but it contains little of the charm and none of the elegant character design of those films. The titular Lu, a young mermaid attracted to the unlistenable music of human teen Kai, sports a wide, toothy, Totoro-like mouth, but instead of the stuff of childlike whimsy, it's the stuff of all-ages nightmares. 
The mopey Kai lives in a sleepy harbor town that all the kids dream about escaping. Humans and merfolk once co-existed in harmony there, until a curse inspired the humans to construct a wall that supposedly rendered the sea creatures extinct. However, the sound of Kai's shitty band attracts the impetuous Lu, whose fishlike tail transforms into two wobbly legs whenever she hears any music. Lu joins the band and bonds with Kai over their absent mothers, but a misunderstanding threatens to reignite the curse.  
There are a few moments of inspired weirdness in Lu Over the Wall, including a 30-foot-tall fish god who emerges from the sea in a fish-covered suit to teach sustainable fishing practices and lobby the local Chamber of Commerce, but they are consistently undermined by clunky animation, irritating voice performances, and a horrendous song score. A meandering, overstuffed plot that gets resolved by an incredibly dumb, "deus ex mermaid" ending certainly doesn't help matters.
[embed-1]