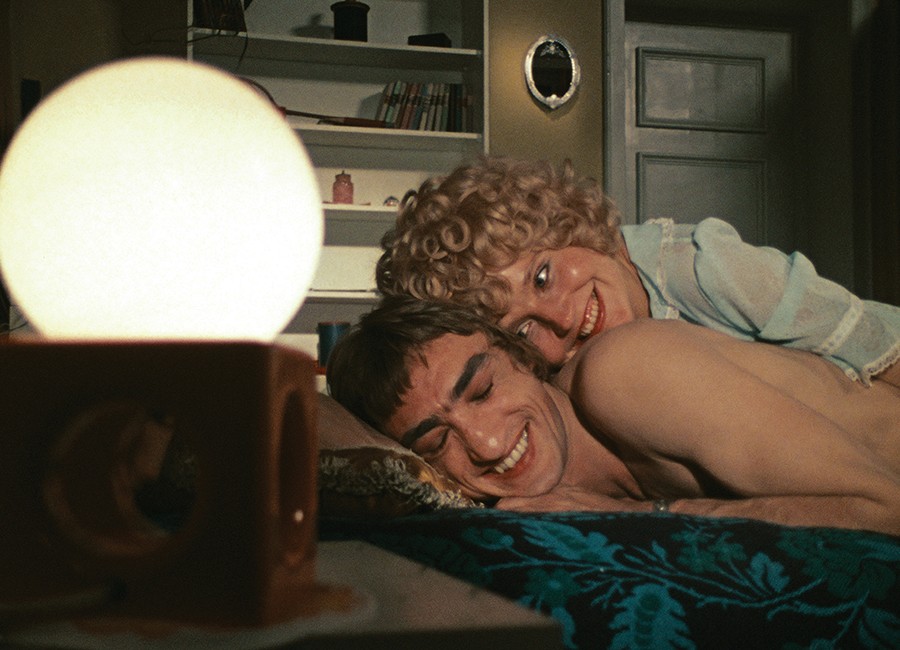 Rainer Werner Fassbinder burst onto the international film scene of the late 1960s as a brash new talent in German filmmaking: A politically motivated creator of talkative melodramas that reflected the social upheavals of their time, told in the vernacular of dissatisfied post-WWII West German youth. Armed with a dedicated stock company of actors — many of his screenplays originated on the stage — and a vaguely leftist, anti-authoritarian approach that paid homage to such artists as Bertolt Brecht and Douglas Sirk, Fassbinder's work not only shocked the squares, it influenced succeeding generations of cineastes and critics. He died in 1982 at the peak of his notoriety, but his impulse for pointed storytelling is still relevant.
That's why the rediscovery of Fassbinder's German television miniseries Eight Hours Don't Make a Day (Acht Stunden sind kein Tag) is such a cause for excitement. Made and broadcast in 1972-73 and now digitally restored by the Fassbinder Foundation, the series' five episodes follow the comings and goings of an extended working-class family in Cologne as they navigate West Germany's new prosperity, an elusive phenomenon not available to everyone. There are winners and losers, as we shall see when the Berkeley Art Museum and Pacific Film Archive screens it May 11-13.
Jochen Epp (Gottfried John), a factory worker, and Marion "Gabi" Andreas (Hanna Schygulla), a newspaper office clerk, "meet cute" and become lovers. Meanwhile at Jochen's crowded home, his Oma (Grandma, slyly portrayed by Luise Ullrich as an alcoholic manipulator of personalities) orders her retired son, Wolf (Wolfried Lier), and his wife, Käthe (Anita Bucher), around like marionettes. Pragmatic Oma is already divvying up her dim-bulb boyfriend Gregor's (Werner Finck) monthly income, and her nagging grates on Wolf's three-generation household. Fassbinder delights in making fun of routine social courtesies and rituals, the petty politeness that masks selfish motives.
Down at the factory, however, differences of opinion are laid along classic labor-versus-management lines. Machine toolmaker Jochen and his workmates have new, almost revolutionary suggestions on how to organize their job schedules, but the factory's under-boss (Rainer Hauer) is not amused. As the intertwined stories progress, scenes are set to a beguilingly Brechtian playlist of contemporary American rock and pop tunes by Leonard Cohen, Elvis Presley, and the Velvet Underground, among others. Everyone's arguing. And nothing, not even Oma's project to open an unused storefront as a community nursery school, goes unchallenged.

[embed-1]

Actor John, well remembered from such Fassbinder films as Berlin Alexanderplatz, turns in a finely nuanced performance as Jochen, the amiable Everyman who learns his political lessons as much from his bossy Oma as from the give-and-take on the machine shop floor. It's Ullrich's Oma who's the catalyst, a dynamo of willpower in her laughable "granny" hat — Fassbinder is never above resorting to burlesque stereotypes to make a point. Also worth noting in the huge cast: Kurt Raab as Harald, Jochen's hopelessly bourgeois brother-in-law; Irm Hermann as the frighteningly named Irmgard Erlkönig, Marion's office colleague; and Fassbinder superstar Margit Carstensen, in a bit role as a housewife.
Eight Hours Don't Make a Day is a soap opera, Fassbinder style — unhappy employees, unfaithful spouses, envious backbiting, and the one constant, work. Jean Gepoint's seemingly harmless, generic-sounding theme music may lull us into a stupor, but the film's conclusions are rock hard. "I've realized that when you work, that you only work partially for yourself," declares Jochen in his "aha!" moment. Simultaneously uproariously funny and sad as hell, the five-part series was originally intended to have seven episodes, but labor unions reportedly objected to the production's tone and the last two were shelved. Draw your own conclusions. Each episode will be shown twice. Visit BAMPFA.org to learn more.