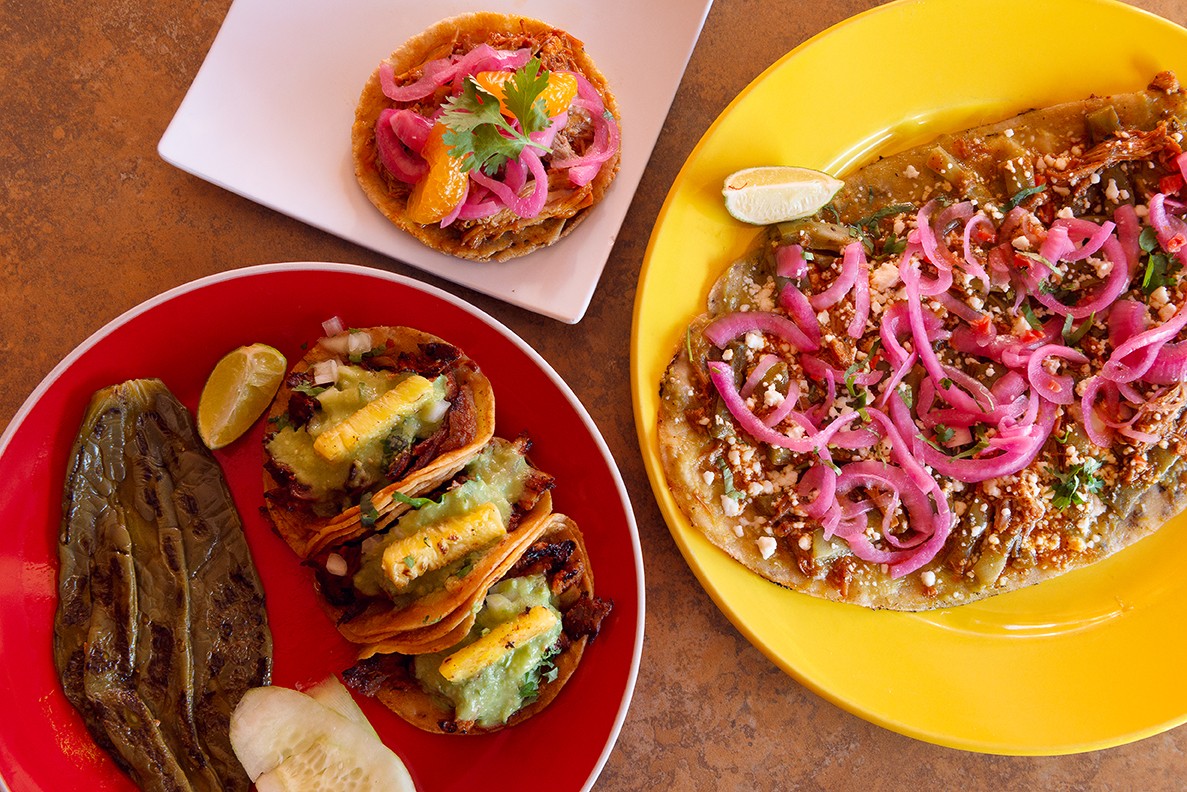 Craving a huarache con costilla or a quesadilla de huitlacoche? These foods are ubiquitous on the streets of Mexico City, but absent from the menus of many Mexican restaurants in the Bay Area. Loyal customers from all walks of life, from construction workers to office dwellers to families, drive from places as far away as Fresno to an unlikely destination to satisfy their cravings for Mexico City-style cuisine: a small restaurant called Los Carnalitos, located next in a Hayward strip mall.
"Carnalito" is a term popular in Mexico City meaning brother or friend. Co-owners, brothers, and carnalitos Luis and Alfredo Santos grew up in Mexico City, where they and their two sisters helped out in their mother's taqueria as kids. Most of the recipes at Los Carnalitos are their mother's homestyle variations on popular street foods. Alfredo stresses that Los Carnalitos strives to offer items that other Mexican restaurants don't. The food takes time to prepare. "Whatever you order goes to the plancha, order by order," said Luis. The owners go to great lengths to ensure that their food is as fresh and authentic as possible. Every morning, the brothers head to Redwood City to pick up fresh masa. They venture to San Jose for ingredients like flor de calabaza, a squash flower, and huitlacoche, a hard-to-find delicacy of inky black, earthy corn fungus also known as corn smut. They also spend an hour each day assembling the trompo, or spit, of al pastor, onions, and pineapple by hand. "I think other people take shortcuts on that," Luis said.
"We don't like to take shortcuts. We like to do everything the traditional way."
While it's hard to go wrong at Los Carnalitos, first-timers would do well to start by trying the huaraches. The huarache has a base of fresh masa, hand-formed into an oblong shape that loosely resembles a huarache sandal. It's stuffed with black beans, then topped with two types of salsa, queso fresco, onions, cilantro, your choice of meat, and optional nopales (cactus), for an additional charge. The huarache con costilla, or beef short rib, is especially good. Strips of tender flanken cut ribs, similar to Korean-style kalbi, are seasoned with their mother's secret blend of spices, which permeates into the marrow of the bones. No matter which meat you choose, it's worth the small upcharge to get the nopales, which lend an extra dimension of bitter, tangy flavor and succulent texture.
Another favorite is the quesadilla, with melted Oaxaca-style cheese, queso fresco, shredded lettuce, and tomatillo salsa enveloped within a handmade corn tortilla. Luis takes particular pride in these quesadillas. "We try to find the best cheese we can. The price is a lot higher … but we want to keep our cuisine authentic. Most Mexican places go for mozzarella," he said. A variety of vegetarian quesadilla fillings are available, including hongos (mushrooms) and the aforementioned flor de calabaza and huitlacoche. A hearty vegetarian option, the quesadilla azteca contains all three ingredients, along with those deliciously tart strips of nopales. The huitlacoche provides an umami flavor reminiscent of corn and mushrooms, while the squash flowers burst with bright yet delicate flavor.
One of the most impressive items is the panucho: a tostada fried and stuffed with black beans, topped with cochinita pibil (pork cooked with orange juice and achiote), and adorned with pickled red onion, mandarin orange wedges, and habanero. Luis said this is the most difficult item to make; once the tortilla puffs up, the cook only has about 30 seconds to stuff the tortilla with beans and then seal the edges before it's dropped into the deep fryer. The result is a perfectly crispy tostada with a creamy bean filling that provides respite from the spicy habanero, while the onions and orange slices balance out the richness of the pork. Although the panucho and cochinita pibil originate from Yucatán, Luis said that Yucatecan food has become popular in Mexico City. "In Mexico City, we have a little bit of everything."
Several other items on the menu deserve mentioning. The gordita consists of two crispy fried masa shells, with chicharron, queso fresco, salsa, and lettuce sandwiched in between. The taco al pastor features juicy slices of pork, rotated all day on the trompo and topped with avocado salsa and a tiny slice of pineapple. Lastly, it would be a mistake not to save room for dessert. Try the flan napolitano, which is perfectly smooth and eggy. Or get the churros, which are stuffed with cajeta (caramel) and drizzled with chocolate sauce and condensed milk.
What keeps customers coming back to Los Carnalitos time and time again? Part of it is that despite the menu's wide variety of offerings, every option is so consistently outstanding that it's impossible to order all of your favorites in one sitting. And the occasional specials like lamb tacos, shrimp empanadas, and enchiladas suizas offer plenty of incentive to drop in and see what the carnalitos are serving up that day.
But another part of the appeal is the pride you can sense in every aspect of the restaurant's operations. This is truly a family-run business. "Behind the counter there, that's my brother-in-law, my cousin, and my younger sister," Luis said. The bright-orange walls are even decorated with Luis' paintings. One work features a woman with hair made of an ear of corn. Another depicts an Aztec warrior, which Luis made for Alfredo to commemorate his victory in his battle with cancer. "That painting shouldn't be here," Luis said. Alfredo put it up to fill an empty spot on the wall. Luis plans to finish another painting soon so they can take down the painting and put it in Alfredo's home where it belongs. But the painting is proof of the close relationship between these brothers, and the sacrifices they make to ensure that their customers have the best Mexico City-style dining experience possible.
"I hope people enjoy it and see the difference," Luis said.
Los Carnalitos Restaurant
30200 Industrial Parkway SW, Hayward
510-324-8125
Hours: Mon.-Thurs. 9 a.m.-9 p.m. Fri.-Sat. 9 a.m.-10 p.m.
Cash, all major credit cards
Sample Menu
Huarache with costilla and nopales … $11
Quesadilla azteca … $9
Panucho … $6
Gordita … $7
Taco al pastor … $2
Churros … $6