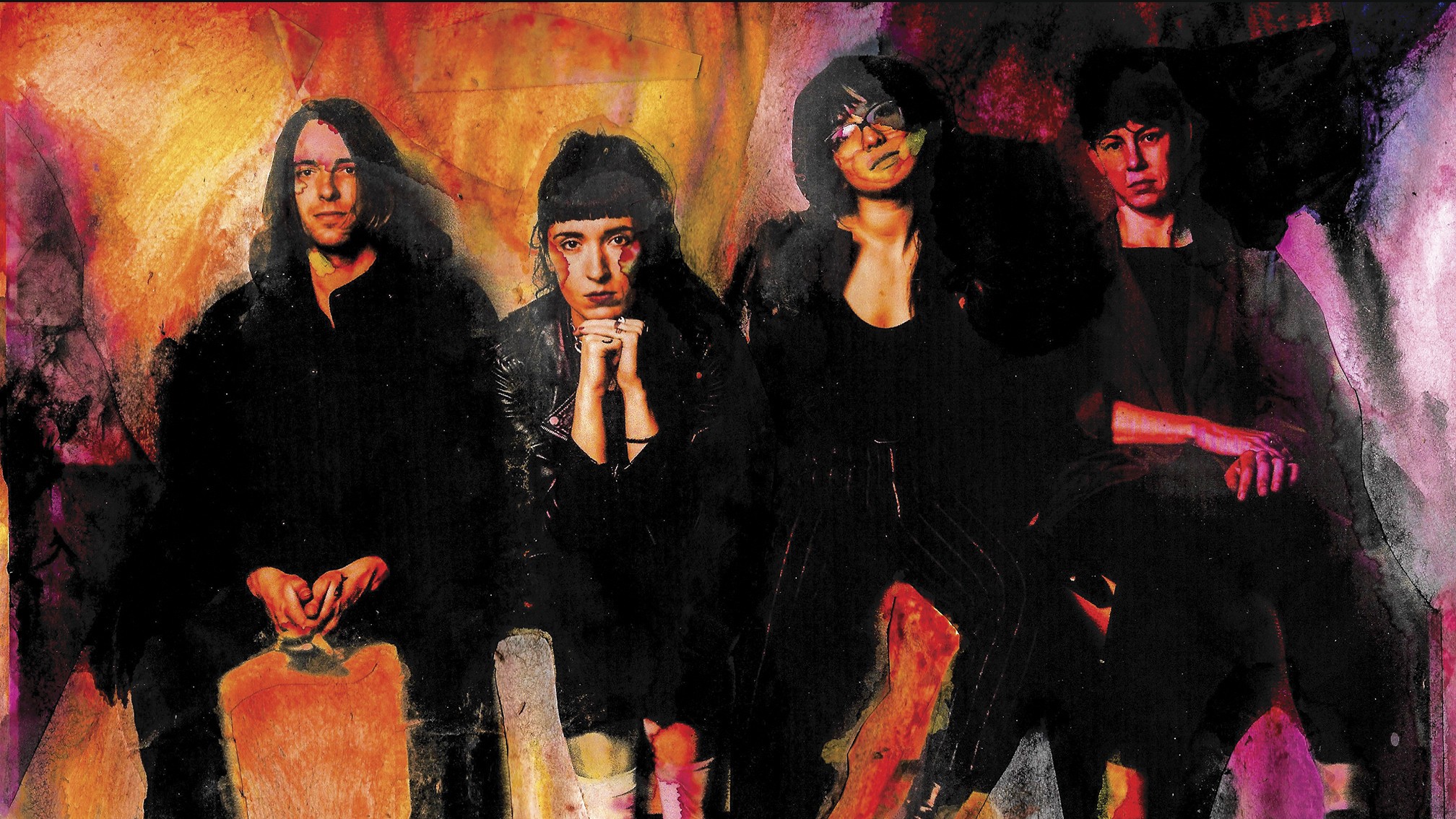 Wax Idols, Happy Ending (Etruscan Gold)
Wax Idols bandleader Hether Fortune has said Happy Ending follows a woman's posthumous consciousness, a mind relieved of body. This sense of transformation, or spiritual disentanglement, seems to guide the album's thematic arc — from its opening vigor through ruminative centerpiece "123" and on to the lovely, bittersweet denouement of closer "Missed Call." The theme casts death optimistically, as release from embodied trauma, which Fortune confronts in "Mausoleum," a catalog highlight: I'm a walking mausoleum/I've organized my grief by numbers/Would you like to come inside?
Fortune, who founded Wax Idols in Oakland in 2011, has helmed the group through various lineups and locales. The goth and post-punk influence evident on No Future, Wax Idols' 2011 debut, assumed the foreground on Discipline + Desire and American Tragic. The latter, inspired by a whirlwind divorce, appeared on Collect Records in 2015, shortly after the New York label was found to be quietly underwritten by pharma-villain Martin Shkreli, prompting Fortune to form her own label, Etruscan Gold. Happy Ending, released May 16, seems like Fortune launching Wax Idols anew, jettisoning the past along with the body.
Happy Ending's songwriting is lean and straightforward, and it connects not least because Wax Idols know how to make transitioning from a verse to a chorus feel like passing through a portal: Opener "Heaven Knows" turns on a turgid, knotty bass line set to drum-machine patter before cascading guitar chords suddenly lend it lift, while crystalline leads suit featherweight drumming on the brisk "Belong." The last song, though, "Missed Call," finds Fortune alone with a guitar, singing a spare ballad like it's a voicemail for someone at the end of this life, reminding us what's left behind when we move along.
Catch the band's first hometown show with the new album on Friday, June 15, at Eli's Mile High Club (3629 Martin Luther King Jr. Way, Oakland).
Allblack, Outcalls (Empire)
The setup of "P's and Q's," a highlight from Allblack's second album, Outcalls, is textbook strip-club bravado, with the narrator effortlessly persuading a couple of women to hail an Uber and decamp to the AirBnB. Already, though, the skittering high-hats and ominous bass foreshadow some sort of trickery, and the chorus is about sussing fakes. Soon, Allblack and his friend are pants-less and alone, feeling foolish: I walked over to my nigga like ha! We got played/That Uber driver was her boyfriend slash getaway.
Instead of the layered adlibs prevalent in contemporary rap, where the point is more mood than story, Allblack excels in a slightly throwback, narrative mode. He has a low, steady voice that sometimes rises to a shout, and he tends to write conversations, stuffing verses with names and places. To local listeners, they're familiar places: Taqueria Sinaloa, for instance, or the nearby intersection of 22nd Avenue and Foothill Boulevard. His lyrics, which he calls his diary, seem like dispatches from that small swatch of East Oakland, capturing the charming inanities as well as the treachery in verse-long vignettes.
Outcalls bests its buzzy predecessor, KimSon, largely due to detailed production from DTB (note the passage of snaps and nastily gurgling, subtly descending keys on "Big Shit"). It also has a different mood; while pimping is central to both albums, KimSon had a self-hating streak; on it, Allblack repeatedly calls himself "scum." (He recently said of the album, "If you didn't know me, you'd be like, 'Ooh, he about to go kill his self. Who let him in the studio?'") Outcalls, named for a sex-trade term and released last month, lacks that self-doubt, instead touting Allblack's managerial gamesmanship. That's why "P's and Q's sticks out: It's the only song that recognizes another character's agency — the hallmark of a real story.
Allblack performs at Complex Oakland (420 14th St.) on Saturday, June 2.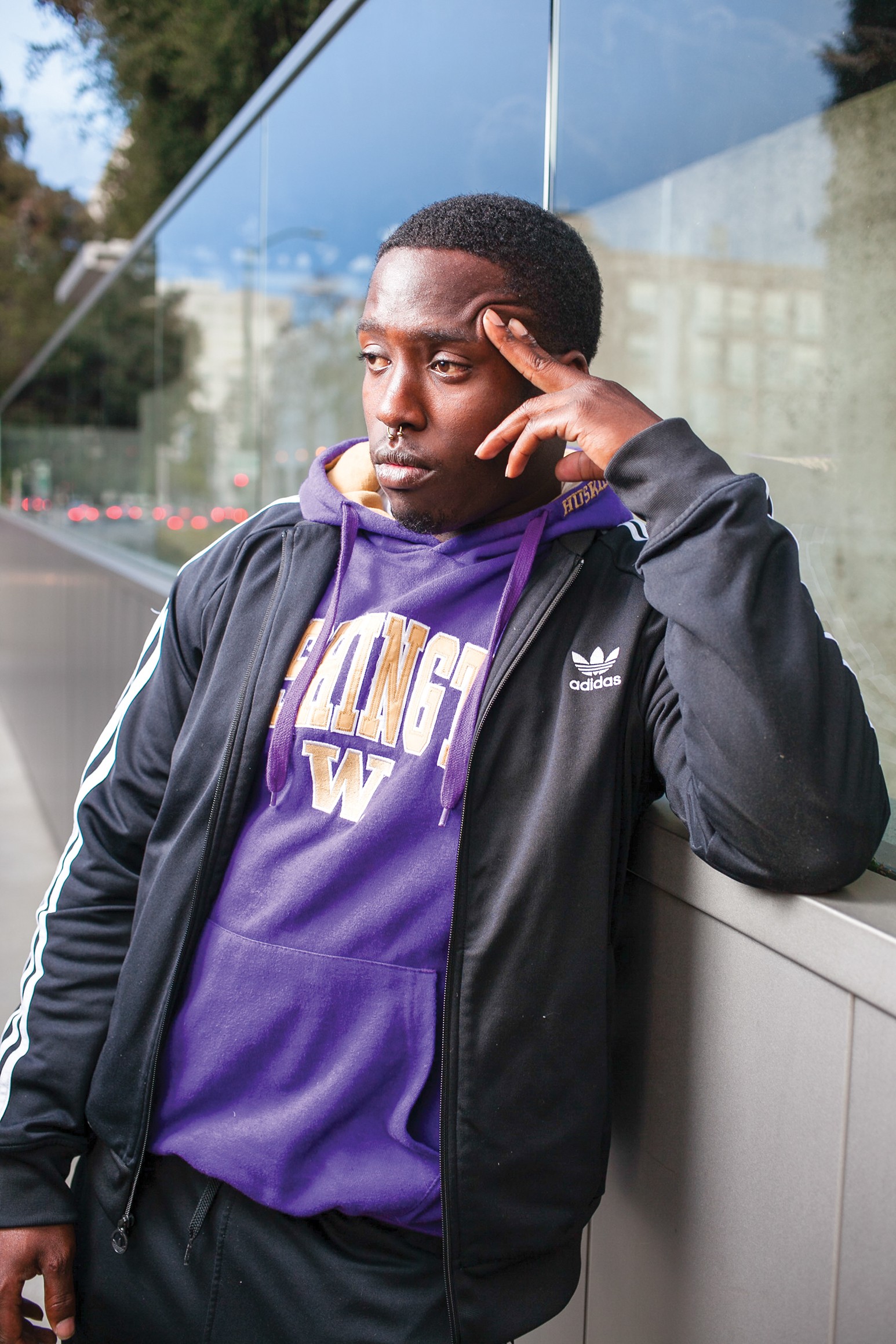 Drama, Drama (Self)
Upstart San Francisco punk trio Drama does a lot with a little, marshaling one-two thumps and squirrely guitar into thrilling pileups with the might of a maelstrom. The group is two-thirds first-timers. While Aimee Belden was previously vocalist of the sadly defunct Quaaludes, she plays drums for the first time here, and it's the first-ever band for bassist Krista de Los Reyes. Drama, a six-song demo recently self-released on cassette, captures the band's first batch of songs as they sound live. There's the slow, slinky "Kink Shop," wherein vocalist and guitarist Ramos seethes with palpable disgust, while the tumbling "Parking Meter" finds her barking like it's all she can do not to retch. And "Classic Beat," a tape highlight, alternates between serrated noise and a drooping beat, perhaps anticipating more formal experimentation. Drama emerged last year with a gripping live set, one of few punk bands bearing the unkempt urgency of newness in San Francisco (and, not coincidentally, one of few bands avidly arranging DIY shows in San Francisco).