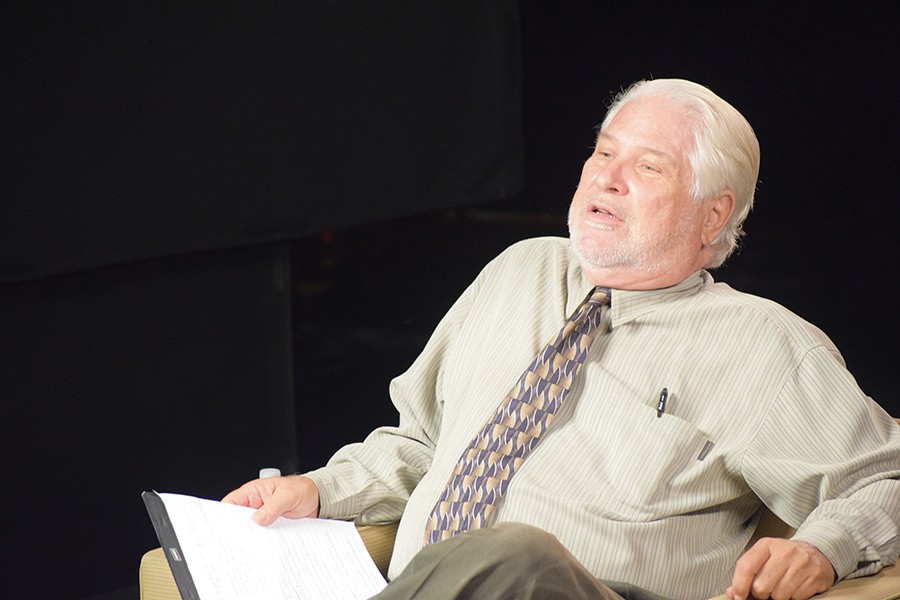 For nearly 50 years, from 1968 until he was slowed by a stroke in November 2017, Lee Hildebrand was the East Bay's foremost music critic covering a full range of blues, gospel, R&B, and jazz. Now, Hildebrand lives alone with his cat in Modesto while he recovers and goes through the final stages of a divorce.
"I've lost about 20 percent of my memory — but I can remember who played drums on what record," Hildebrand, an accomplished drummer himself, said with a chuckle. "And I've lost about 20 percent of my vision, so I can't legally drive."
It's also left him in a financially challenging situation. He has some Social Security income, but he expects his savings to run out in June. And he's scheduled for cataract surgery in July. "I haven't done any writing because it's hard for me to type and to think as clearly as I need to," he said.
As a testament to his importance in the music community, the Bay Area Jazz Society has launched a $25,000 GoFundMe campaign for Hildebrand and will stage a fundraising concert at Geoffrey's Inner Circle in Oakland on Thursday, May 24. Performers on two stages are projected to include Lenny Williams of Tower of Power, saxophonist John Handy, guitarist Calvin Keys, trumpeter David Hardiman, and D'wayne Wiggins of Tony! Toni! Toné!, plus singers Faye Carol and Sugar Pie DeSanto; Terrance Kelly and members of the Oakland Interfaith Gospel Choir; and many others.
Drummer and record producer Paul Tillman Smith, who founded the Bay Area Jazz Society in 2016, is organizing the benefits. "Lee was one of the first to write about me in the late '70s," Smith said. "He wrote nice things, but not always. Reviewing a jam session with [pianist] Ed Kelly at Mr. Major's in East Oakland, he said that when I sat in, the tempo dropped."
Hildebrand's writing has appeared in Living Blues magazine, the San Francisco Bay Guardian, the Oakland Post, and the San Francisco Chronicle. He has written and edited several books, including Hammertime; Bay Area Blues (with photographer Michelle Vignes); Colors and Chords: The Art of Johnny Otis; and Images of the Blues (with photographer Lee Tanner). And he produced a single by vocalist Maxine Howard and co-produced reissues by Johnnie Taylor, Rance Allen, the Swan Silvertones, Five Blind Boys of Alabama, and others.
But Hildebrand's biggest impact was probably in the pages of the East Bay Express. Founding editor John Raeside remembered bringing Hildebrand aboard in the summer of 1978. "My partner, Nancy Banks, and I were just weeks away from publishing the first issue," Raeside explained in an email. "We spread the word of our project to the local arts community, hoping that it would produce the voices that we would need to fulfill our mission. That our call produced a visit from Lee was among the luckiest breaks our paper ever experienced. Lee's influence on this paper in its original development was inestimable. For more than two decades, as an editor, listings annotator, critic, and feature writer, Lee was one of this paper's core editorial architects."
Jim Moore, who manages Filipino-American R&B singer Sugar Pie DeSanto, has known Hildebrand for decades. "He's always been one who would write about our community when other people stayed away," Moore said. "There aren't too many critics around who really understand blues, jazz, and R&B as art forms. Ralph Gleason was one, Lee is another." Moore recently talked Hildebrand into writing 300 words of liner notes for the forthcoming DeSanto album Sugar's Suite, which Hildebrand said is about as much as he can handle these days.
Hildebrand's goal is to return to Oakland and, with assistance from the Department of Veterans Affairs, find affordable housing, hence the name of the fundraising campaign: "Bring Lee Hildebrand Home."
Benefit Concert for Lee Hildebrand: Thursday, May 24, 7 p.m., Geoffrey's Inner Circle, 410 14th St., Oakland, 510-839-4644, GeoffreysLive.com, GoFundMe.com/Bring-Lee-Hildebrand-Home