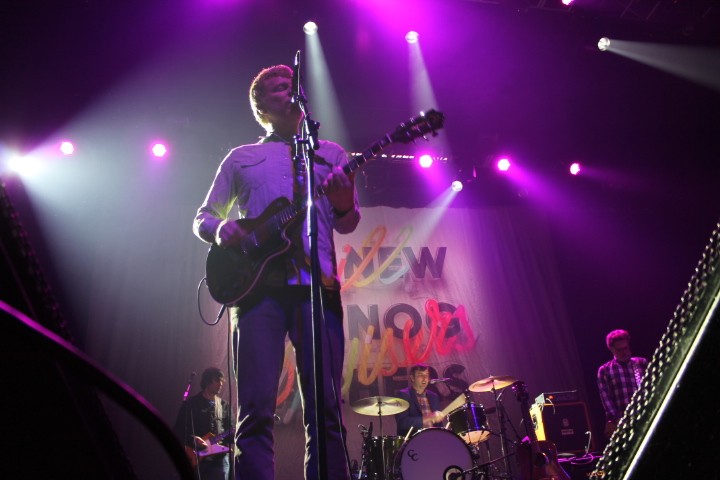 Three gifted songwriters, all with their own successful solo careers, rarely share stages or studios without ego. The New Pornographers, however, have done that for six albums, carving out a unique legacy as a Canadian indie-rock super group whose members never hog the ball for too long.
[jump] On Saturday night at The Fox, Carl Newman, Dan Bejar, Kathryn Calder, and crew put on a clinic in power pop—we're talking churning rhythms, Wall of Sound lushness, and infectious melodies that bury themselves in weird nooks and crannies of your noggin.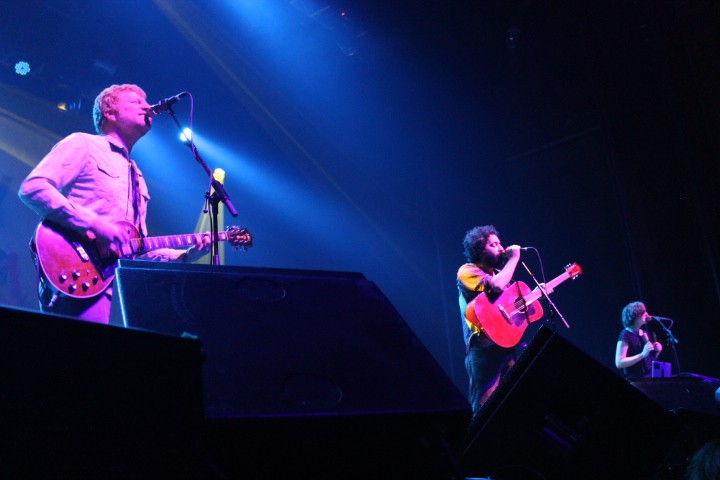 Before the New Pornos came on, How To Dress Well got the crowd going with their unique brand of ambient R&B. Dressed in all white, the group looked Gap commercial fresh. The band is led by singer Tom Krell, who's backed up by drums, a cellist, extra percussion, and a utility player who adds violin, sample, and guitar shredding— a little bit of everything. It's hard to take your eyes off of Krell though, as he wails and slithers languidly across the stage.
HTDW tore through jams from their solid LP "What Is This Heart?", with standouts like "Repeat Pleasure" and "Words I Don't Remember" bookending their set. Throughout, Krell sang into two mics—one that was crystal clear and turned up, and one lower in the mix, laden with ambient echo effects that enabled him to sing intensely and add textural touches.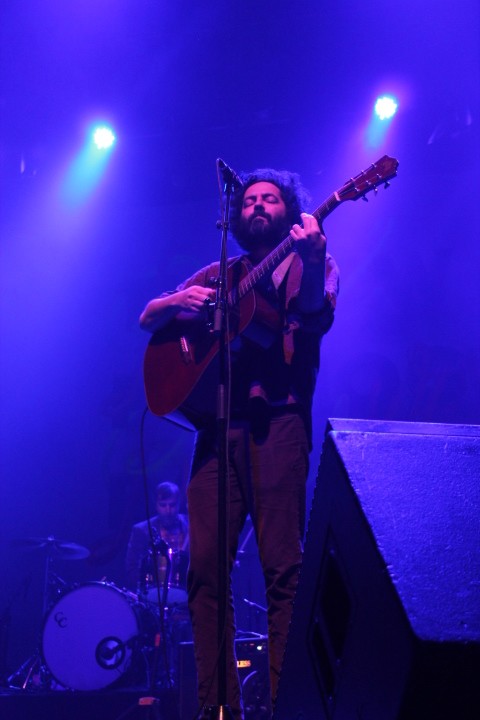 After the alt R&B warm-up, the New Pornos got down to biz. Backed by the neon hued cover art from their recent album,
Brill Bruisers
, the core three took stage with their tight backup band. They tore into the title track from
Brill Bruisers
, setting in motion a night of sweet vocal harmonies and dynamic tonal shifts.
During the first song, Bejar was on the stage with the band, but with his back facing the audience. As soon as the band launched into "Myriad Harbor" from
Challengers
, a song he penned, Bejar turned around and killed the lead vocal. Throughout the night, he would leave the stage whenever it wasn't one of his songs—doing a proper curtsy before—and then scurry back on when it was his time to grab the mic again, always bringing a noticeable intensity with him. Clearly Bejar isn't much for standing around idly.
Bejar's absences gave Newman and Calder the space to harmonize and stretch out a bit. On "Dancehall Domine," Calder's crystalline soprano shone through, impossible to miss. Later, it was Newman's turn on "Adventures in Solitude," filling gaps in the drum break with a sweet, finger picked acoustic riff.
Carl Newman acted as the MC throughout the night, offering sparse bits of banter here and there. "It's changed around here," he said. "I remember coming to Oakland in the 90s and thinking, 'This is the day I die.'"
Together, the New Pornos make some of the most exuberant live music in indie rock. They may have their own solo projects, but that never gets in the way of the fun they have as a group—and it's on full display in their live show. There's a youthful glee, despite their growing years.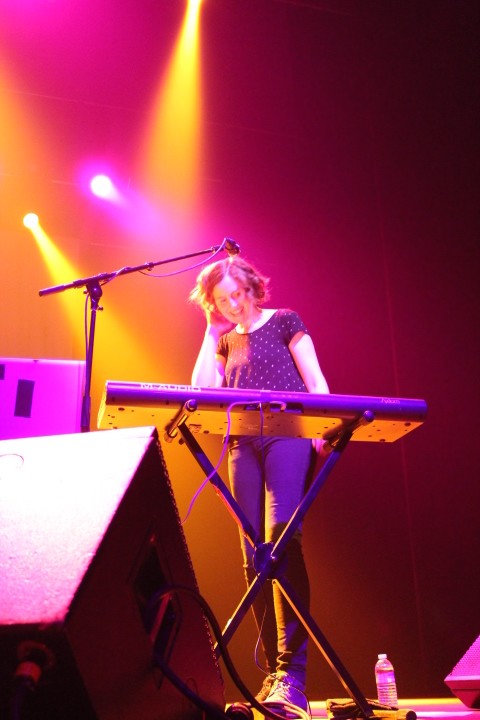 They closed with a triple encore. Sandwiched in the middle was "Sing Me Spanish Techno," a tune from
Twin Cinema
that's emblematic of the Pornos' undeniable power. It's weird, propulsive and catchy as fuck—a perfect trifecta for a live rock show.
If the New Pornographers were cast like
Seinfeld
, Newman's affability makes him Jerry. Case, when she's on tour, is a sweeter, ginger version of Elaine. And then there's Bejar, a blend of Kramer and George, a composite that is both crazily eccentric, with song titles like "Jackie, Dressed in Cobras"—and also a bit neurotically Costanza. But you can't take your eyes off him.
Over the years, the Pornos have proved to have staying power, much like an indie
Seinfeld
—and they're not even into the reruns phase yet.
Correction: This post earlier misidentified Kathryn Calder as Neko Case. It's since been edited for accuracy.