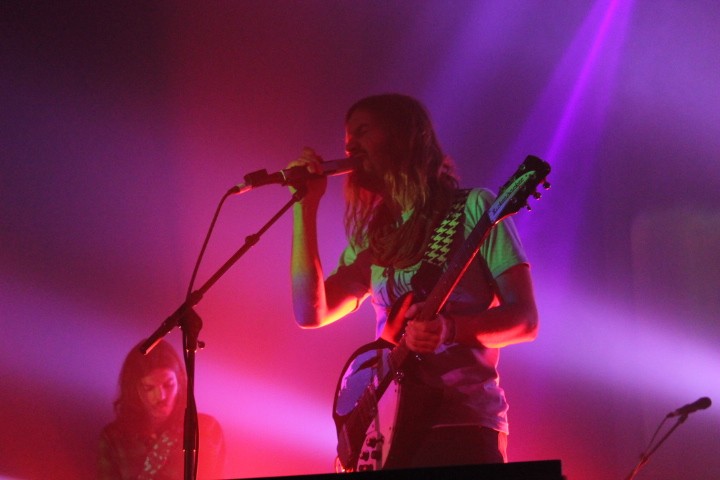 It's been two years since Tame Impala's last record, but there's barely a whiff of staleness in its live show. The Australian rock band has tightened up while getting looser, switching up arrangements to keep things fresh and featuring longer jam sessions. On Saturday night at the Fox Theater in Oakland, it showed that the time has been mostly well spent by honing a psychedelic spectacle and bringing it to life with mind-bending visuals.
[jump] The refined aesthetic started before Kevin Parker and crew even took the stage. The roadies were decked out in matching white coats, looking more like members of the medical profession than dudes tuning guitars. They were surgical with their skills—and took a bit loo long getting ready—but it was a cue that this was a different band than what I'd seen in Boston back when
Lonerism
first came out in 2012.
The weirdness didn't stop with medical coats. Once the lights went dark, the band walked onstage as a slowed down, bedroom-friendly version of "Can You Feel the Love Tonight?" played over the speakers. Elton would've dug it.
Using the sexy beats as a launching pad, the boys from Perth started slow, dipping their toes into "Gotta Be Above It" to get it going. They were awash in purples and oranges, an indication that the light show would play a larger role than before. It was more like a Phish show than your typical low-key, indie-rock evening—the colors and patterns could change the energy in the blink of a bloodshot eye.
Tame Impala kept the crowd subdued early on. They followed a mellow opener with a new song—some people bobbed along, but others were waiting for a familiar riff to jump start the night.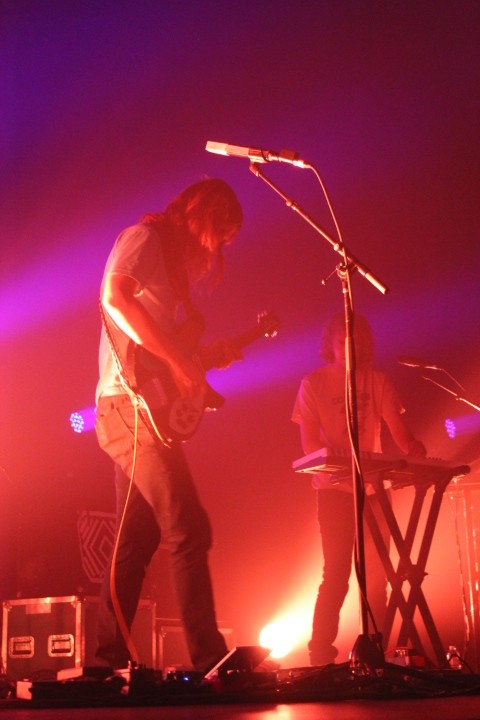 It came soon enough with "Solitude Is Bliss," the reverb-heavy banger from 2010's 
Innerspeaker
. The jam was exactly what the room was fiending for. While the song is strong as it is, this version was accompanied by a blissful, extended solo that helped it reach another level. Parker was on, and it helped take familiar-ish songs into new territories.
To get a bit higher octane, Tame Impala ripped into "Elephant," the raw rocker that brings to mind early, Syd Barrett-era Pink Floyd. The song chugged along with its overdriven, bluesy backbone, underscored by the visuals—pulsating, concentric circles that matched up with every note. It was as if Windows Media Player had made the leap to 2014, but looked even more on-point.
One of the highlights of the night came up next. "Mind Mischief," a standout track from
Lonerism
, gave the band a chance to stretch out. It went to a darker place than the album version. Keyboardist Dominic Simper laid down a tight solo, and Parker piggybacked off of it for a gorgeous, extended outro. This was Tame at the top of its game.
While the set had its moments, it also started to sag towards the latter part. The momentum hit a lull, and the monotony of the songs started to run together.
When the propulsive blues groove of "Half Full Glass of Wine" hit, the crowd reawakened. It took a deep cut off the band's self-titled debut to get the blood flowing again.
For an encore, Tame Impala busted out a re-worked rendition of "Feels Like We Only Go Backwards," tweaking it just slightly so it was more askew than expected.
Tame Impala sent the sold-out crowd back to Telegraph Ave. with the oddly fitting "Nothing That Has Happened So Far Has Been Anything We Could Control." While succinct song titles aren't the band's strong suit, they're much better at giving well-tread songs new life.
It's a subtle art form, and Tame Impala is well on its way to mastery.