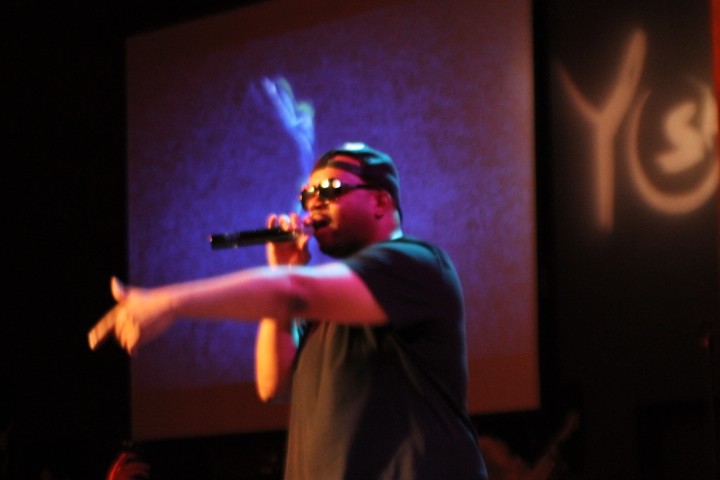 You know it's a hip-hop party at Yoshi's when they clear out tables.
On Sunday night, with Slum Village and Pete Rock on the bill, providing more room to dance was a smart move. SV spit their fantastic classics over Dilla beats, and PR held down the wheels of steel, representing for 90's-era NYC boom-bap as only he can.
See also: 
Live Review: Nas Brings Illmatic to the Fox 
Interview: Booker T. on Oakland, Stax, and Impressing CCR
[jump] To get the place lit, Slum Village, comprised of T3 and Young RJ, took the stage. They opened with "Look of Love," a classic joint produced by Jay Dee from their debut album Fantastic Vol. 1. With black-and-white snapbacks emblazoned with "SLUM," T3 and Young RJ traded verses, leisurely pacing the smallish stage and relishing in the fact that most of the crowd—especially the teens packed into the front rows—knew every word.
In true hip-hop form, the smell of Backwoods drifted by every now and then like the Forest Gump feather. "Oakland, you feeling this SV shit or what?" asked T3, before launching into "Get Dis Money." The crowd chanted right along, peaking in energy for the first of several times throughout the night. The fact that SV followed it with "Selfish," their collab with Kanye and John Legend, only heightened the vibe.
After finishing with a rendition of "Raise It Up" that featured an a cappella segment, SV took and bow and made way for PR. Oddly, they didn't rip through "Once Upon A Time," their collaboration on Fantastic Vol. 2. It's a rare instance of PR working with Dilla, and it could have been dope to see a live duet. Oh well.
Regardless of missed opportunities, Rock carried the show with his deep musical knowledge and killer taste in beats and rhymes. He started by going in on his favorite Dilla joints—clearly, the spirit of Jay Dee was in Jack London Square—including the slaptastic "Beej-N-Dem Pt. 2" and future funk of "E=MC2."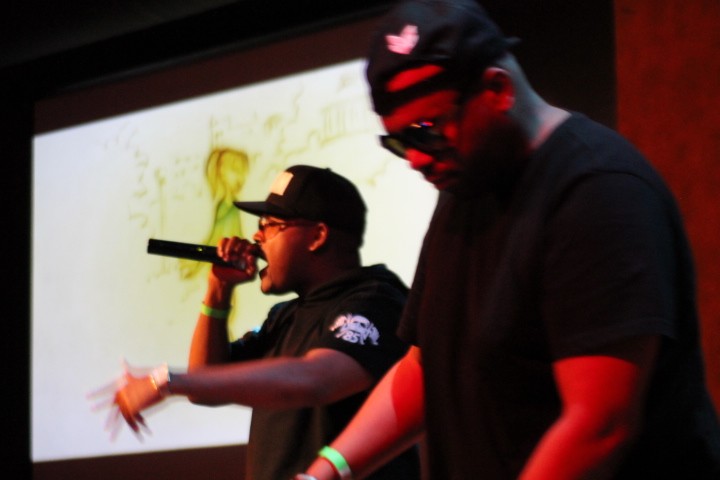 PR finished with the Dilla suite and then transformed into Professor Chocolate Boy Wonder mode. He took us all to school, playing snippets and fragments of samples, with deft flicks of the wrist smoothly transitioning into their hip-hop counterparts. This was a game to PR. "Y'all see what I'm doing right here?" he'd say, cluing everyone in.
He teed up Michael Jackson's "Human Nature," before dropping the needle on Nas's "It Ain't Hard to Tell." From there, he went into the interstellar jazz of Ahmad Jamal Trio's "I Love Music" before keying into an obscure piano line—familiar to Nas nerds—which formed the basis of "The World Is Yours," a beat PR happened to produce. He's one of the most iconic producers in the game, and he proved on Sunday night that he's a hell of a DJ too, fully capable of referential loops that leave the listener with a better sense of music history.  He's also a solid MC. PR hopped out from behind the decks and ripped "The Creator," a popular Pete Rock and CL Smooth track that was recently featured in an Android spot.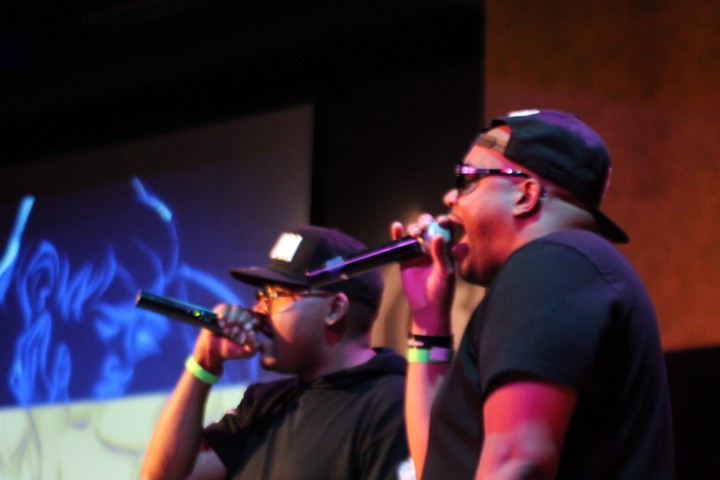 To close the show, he dropped Tom Scott and The California Dreamers' "Today." Usually, that song would fail to impress, except it contains some of the most famous horns in hip-hop: the sample to "They Reminisce Over You."
PR teased the theme, before getting the crowd to sing the horns a cappella—a first for me in live music. This was like the hip-hop version of mouthing the "Freebird" solo, but way more fun.
After finishing his set, Pete Rock dapped everyone that stayed around. He may be hip-hop royalty, but he carries himself like a humble dude, a true everyday head.