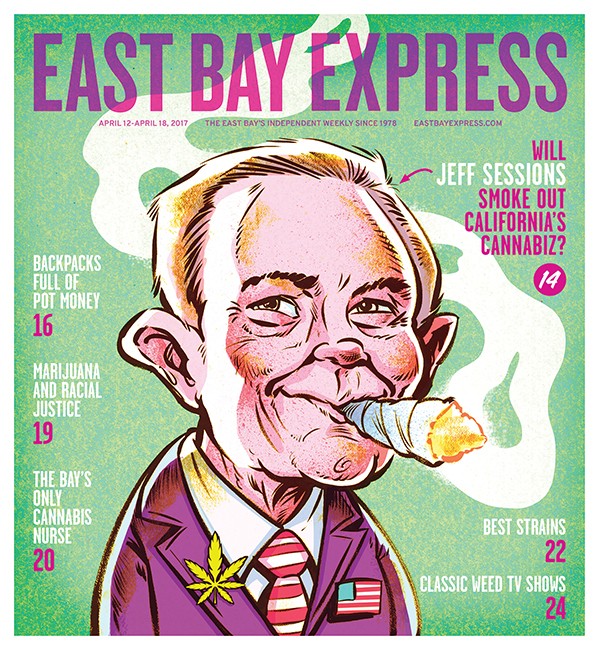 "Berkeley Police Basically MIA At Saturday's Violent Pro-Trump Vs. AntiFa Brawl" by Gabrielle Canon, News, April 16:

Conservatives 'Whining Like Chumps'
They call it "Berzerkely." Well, what is clearly goofy is that we just had a widely gathered group of "libertarians" come to town to demand more government intervention in the daily lives of citizens. Huh!?!
I for one find it extremely funny that the "libertarians," who came from far and wide to descend upon this city, are crying and moaning about the lack of police intervention, when some of their kind caught a beat down yesterday in the running street battles of Berkeley. These out-of-towners came to to Berkeley solely to provoke people with violence and offensive ideas, and the cops did their job by confiscating the weapons they showed up with. Once the cops knew that people weren't killing one another, and the M-80s started flying, they withdrew and let people engage in mutual combat, which was the right choice.
Cops are not babysitters, and it is the captain's responsibility is not to leave his guys out there to get hurt for, frankly, some unimportant people.
These provocateurs are leaving town, and I need my hometown police healthy to protect my city. I really thought conservatives would be the first to know this. I was just shocked to hear all these conservatives whining like chumps. I heard one conservative commentator saying things like, "Stop hurting people!! Stop throwing things!!" I wanted to say, "Yeah, dude, stop hurting people, you should take that one to heart, representing the War party and all."
What a bunch of slags repping the "War" party. Unimpressive to say the least.
Nathan Duffy
Berkeley Not Inclusive
Berkeley prides itself to be all inclusive. Restaurants advertise that they want to be a sanctuary and all people are welcome. I happen to be severely visually impaired and read Braille. Most restaurants do not have menus in braille, and do not think it necessary to even try to get menus in Braille. If I go to one of those restaurants, I have to ask the staff to read the menu to me. Many times, the staff is too busy, or ask me what I want to eat. I usually have to ask them about what there is. Many times, I am being asked what kind of food I want. I literally have to force the staff to read what they have. At those times, I do not feel very welcome.
On another note: I am very concerned about the riots in Berkeley, and the lack of free speech. I do not like hateful speech, either. However, I believe in people's right to express their opinion, even if I strongly disagree. If we deny people's free speech-rights, and sometimes even use violence against those people, we become what we accuse the other side of, namely fascism.
So, I suggest that we let people with unpopular views speak. We should then try to understand the other side and find commonality in issues. Only then can we fight hate.
Marianne Haas
"AC Transit to Cancel Supplemental OUSD School Bus Routes" by Darwin BondGraham, News, April 11:

All About Gentrification
I suspect terminating some buses to some public schools (while, outrageously, providing bus service to private schools — how can this be legal?) is really about gentrification. The poor-kid families are supposed to leave Oakland so more rich folks can move in. Then the buses will return. And the schools themselves will improve.
Tree Fitzpatick
"Oakland Officials Want to Ban Flavored Blunt Wrappers, Two-Pack Cigars, And Vape Juice" by Darwin BondGraham, News, April 13:

Enforce The Laws
Oakland councilmembers need to focus their efforts on a lot of others things besides tobacco and vaping. And how about enforcing the laws and consequences already on the books? Fining, revoking business licenses, etc.
Nick Parker
"Sen. Nancy Skinner Asks Contra Costa Supervisors to Cancel $95 Million Jail Expansion" by Darwin BondGraham, News, April 14:

Services Not Cells!
Thank you Sen. Skinner! We need more leadership like this! #ServicesNotCells! Contra Costa County residents need youth services, social services, health care and mental health services, not jails.
Gabriel Haaland
"City Of Oakland's Top Budget Expert Says Trump's Threat To $130 Million in Federal Funding 'Should Not Be Taken Lightly'" by Gabrielle Canon, April 12:

Right-wing BS!
Nobody is OK with crazy roaming the streets! It is a complete exaggeration to place the blame of "craziness on the streets" on people who are not here legally! That is right-wing BS! Get rid of people who are here illegally — watch the price of that tomato on your table go up a dollar! So sad that right-wing, heartless morons don't get that!
Sage Feldemeyer