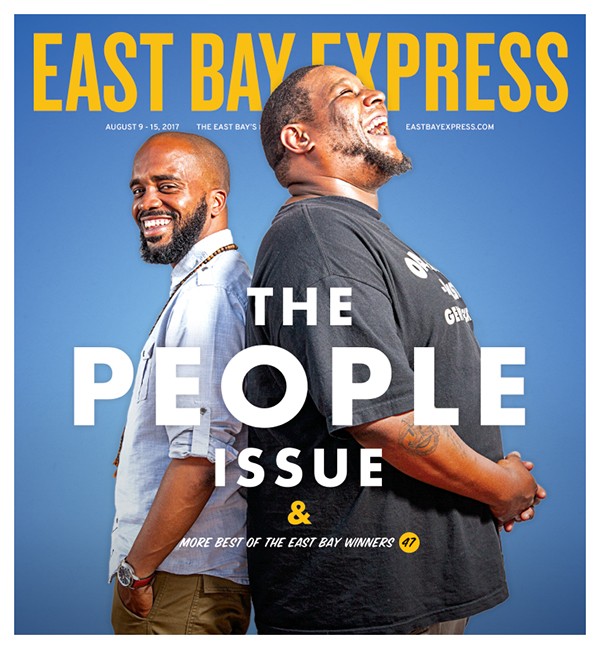 "Uptown Oakland Rents Continue to Rise" by Janelle Bitker, Food, August 11:
Oakland Getting Stripped Away
As someone who grew up and lived in Oakland for more than twenty years, I am dying inside. My city is becoming stripped away by gentrification and greed, and techies that think Oakland is so "cool." These are the same people that wouldn't dare step foot in Oakland ten years ago, because it was "too dangerous" and "disgusting." Locals know that Oakland has always been cool, diverse, immersive, and an incredible place for food and entertainment.
Annastasia Cavagnaro
via Facebook
A Travesty!
You know, I'm so sick of longstanding businesses closing because they can't afford rent! This is a travesty! I'm so sad. This was a place that meant a lot to many of us for so long. My heart hurts as we now have to say good-bye to another thing that was a intimate part of our youth.
Dena Kathleen Cruz
via Facebook
Rent-Gouging
Too many longtime small businesses are getting pushed out. Too many longtime residents getting pushed out, too. We need a way to prevent rent-gouging.
Terri Phelan
via Facebook
"Oakland Police Commission Candidates Face Questions of Experience, Bias, and Conflicts" by Darwin BondGraham, News, August 9:
Free from Politics
Any commission should be completely autonomous and free from politics and business interests. The commission should be from and by community members affected by police and policies. This commission will do nothing to help the Black and brown people affected by police violence.
No Secrecy
Why the secrecy? If the cops are innocent, then a little daylight helps. Secrecy agreements just make the cops look guilty.
"Group Calls for Oakland Animal Services to Lower Euthanasia Rate, But Administrators and Allies Say Shelter is Best it's Been in Years" by Laurel Hennen Vigil, News, August 7:
This is Disappointing
As a former volunteer whose plans to return have been dashed due to current mismanagement, I am heartbroken. The OAS director showed great promise upon her arrival, and this makes the current irresponsible conduct that much harder to swallow. I don't doubt that cats and smaller dogs are being rescued at a quick pace, but big dogs, especially pit bulls, do not seem to be given a fair shot. Expert behaviorists and evaluators should be a core element in a shelter; they literally make life-or-death decisions. A robust foster program and support for foster parents is also a key element that is missing. I am disappointed, disgusted, and heartbroken and hope the director will quickly shake off her shocking negligence of Oakland's homeless dogs and engage in constructive dialogue with critics.
The Team is Committed to do the Right Thing
I pull dogs from OAS for rescues and have seen a huge improvement in the dogs from OAS coming out of the shelter in much better condition during Rebecca Katz's tenure. Three to five years ago, almost every dog I pulled from OAS was very sick with kennel cough, Giardia, pneumonia, or worse — it was awful. The last year has gotten so much better, almost every dog I pull has been healthy. Last weekend, I helped pull 24 dogs to go on transport up to Embrace a Discarded Animal Society in Washington, and none of the dogs were sick. That would have never been the case three years ago.
In my opinion, while the shelter is still not perfect, it's much better than it has ever been in the past seven years that I have been involved. The entire management team and all of the current volunteers seem very committed to doing right by the animals and improving the conditions for the animals while they are in their care.