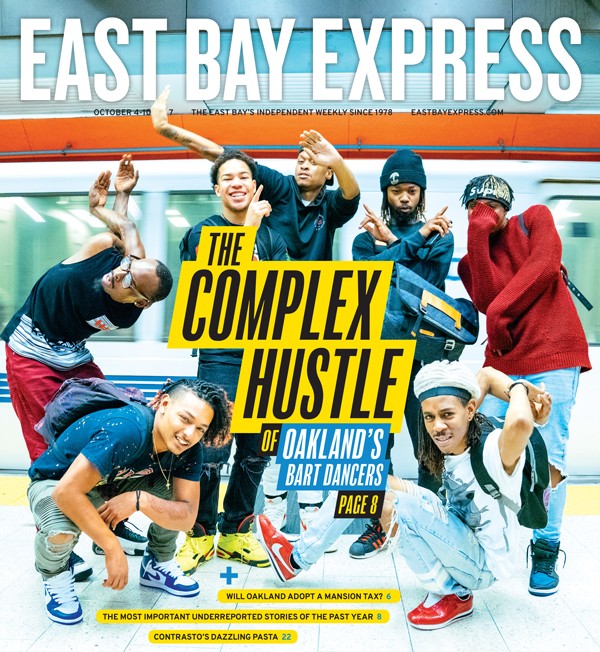 "The Complex Hustle of Oakland's BART Dancers," Arts Feature, 10/4
Incredible Dance Moves
I love it when I'm on a train and these folks are dancing! I throw them some cash every time I see these folks perform. They're incredible and have intense control over their bodies.
Asher Brumberger via Facebook
The Dancing Is Bothersome
I find them annoying. If I wanted to see a dance show, I'd go to one. It's inconsiderate to expect BART riders to want to be bothered with your dance routine and music, especially after a long day at work.
Sumayyah Z. Abdul-Haqq via Facebook
"Project Censored," Feature, 10/4
Depressing List
It seemed apropos to turn from the final item in your depressing list of underreported issues and find on the next page an ad featuring a photo of a beautiful bud of highly potent marijuana. Our culture, and technology, have put us so deeply asleep that we need "oh my god" THC potency to wake us the fuck up.
Willi Brown
"Tia Katrina Taruc Canlas Holds Domestic Abusers Accountable," Feature, 9/13
Concise Journalism
Firstly, I want to thank Scott Morris for his in-depth and concise journalism. It is on a high level that I appreciate and am sure will see again and again.
Tia Katrina Taruc is a role model for all. She is strong, willing, and able. I like this lady. She speaks directly for her clients and is comfortable telling truth to power. I believe that we need more like her, and if others read this marvelous piece, we will get them.
Lasana
"Brown Sugar Kitchen Earns Michelin Nod," What the Fork, 10/5
Well Deserved Nod
Good things just keep on happening, and for good reasons! You give your all and do your BEST. Congratulations!
Carolyne Mcallister via Facebook
Clarification
"Getting Rich Off Low-Income Housing," our September 20 news story contrasting the plight of residents at E.C. Reems Gardens apartments with the wealth of housing builder Charles Brumbaugh, should have stated clearly that the paper uncovered no evidence that the Southern California housing executive is personally responsible for conditions at the East Oakland housing complex.
Public records show that Brumbaugh was intimately involved in CBH's purchase of E.C. Reems Gardens. At the time CBH took over the complex in 1996, Brumbaugh was the president of CBH, and his name and signature appear on the Certificate of Limited Partnership creating "2700 Alvingroom Court, LP," the legal entity that purchased and still owns the property. Corporate records for 2700 Alvingroom Court, LP from 1999 identify Brumbaugh as the "President and Managing General Partner for the Corporation for Better Housing." Co-signing the corporate certificate for 2700 Alvingroom Court, LP was Ernestine C. Reems, the Oakland pastor with whom CBH partnered to purchase the Oakland housing project.
Yet the most recently filed certificate of limited partnership for 2700 Alvingroom Court, LP does not list Brumbaugh in any role. Nonetheless, the partnership's mailing address is 1741 Cheatham Avenue, Bakersfield, CA — the same address as one of CBH's offices, and the same address as Brumbaugh's construction company, BLH Construction. It also happens to be an apartment complex owned and managed by another LLC controlled by CBH. Additionally, public records and CBH's website show that BLH has applied for tax credits to build housing for CBH in multiple projects.
Thus, while ample evidence links Brumbaugh to the Corporation for Better Housing, Brumbaugh's current connection to E.C. Reems Gardens is unclear. Some readers may have inferred that Brumbaugh is personally responsible for the mismanagement under which E.C. Reems Gardens was ranked third worst of 2,024 federal subsidized housing projects in California. That was not the Express' intent.