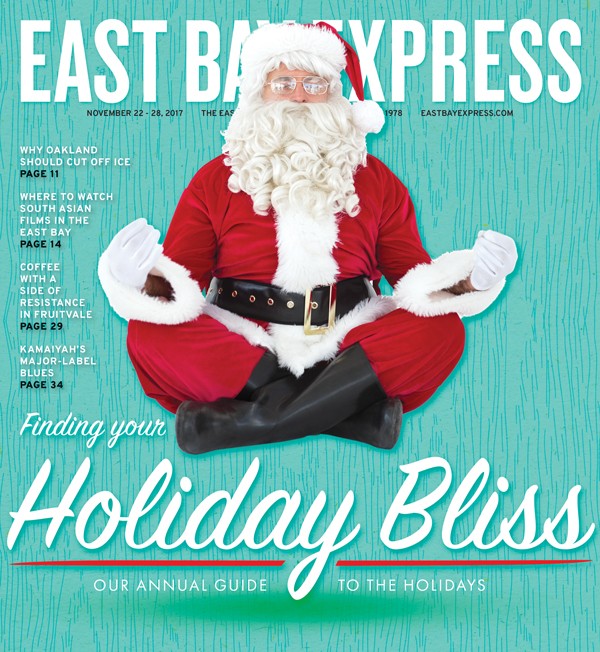 "Plaid Friday Weekend 2017 Guide," Ad, 11/15
Get Your Facts Straight
Greetings to whomever is responsible for promoting Plaid Friday. If you are going to mention the origin of Plaid Friday, you need to state the facts. Plaid Friday was not founded by Kerri Johnson. It was founded by Kerri Johnson and Matt and Lena Reynoso of The Compound Gallery. The Compound Gallery also received an Indie Award for creating Plaid Friday, and we also created the first website, graphics, etc. for Plaid Friday. It would be fine with us if you just continued to promote the event with no mention of origin, but if you are going to mention the founders, you need to get your facts straight. It is completely unacceptable (considering you act as a champion for small businesses) to intentionally dismiss our contribution in creating the concept and name.
Matt and Lena Reynoso
"Highland Hospital Surveillance Stirs Concerns," News 11/22
Why Just Highland?
We don't have a license plate reader scanning every plate and sending them to the Department of Homeland Security in the parking lot at the Alta Bates or Eden Medical Center emergency rooms. Why is that? The rabble has a right to be roused.
Tracy Rosenberg
"Cap-and-Trade Isn't Working," EcoWatch, 11/22
REDD Is the Problem
The article convincingly presented the ineffectiveness of California's cap-and-trade (AB 398). But it only begins to present the global suffering, dislocation, and acculturation that is likely to be caused by the proposed trading of developing country carbon offsets through REDD+ (REDD).
REDD is an acronym for a program that stands for the reducing emissions due to deforestation and forest degradation. These destructive forest processes emit around 20 percent of the world's greenhouse gases — more than those emitted by all global transportation. One of the REDD program's main methods is to biologically sequester carbon in forests and create carbon credits for sale and trading. But the REDD agreement text only "requests" that REDD participants "address … forest governance," "safeguards," and "participation" for marginalized and traditional forest people. Would REDD promoters or Gov. Brown sign an agreement that only "addressed" their family's property rights or human rights without the legal requirement to enforce those rights? And what if those supporters also lived in a remote forest in Papua New Guinea, without legal means to enforce those rights?
Jorge Furagaro Kuetgaje, climate coordinator for COICA, the Indigenous People of the Amazon Basin, stated, "For us to continue to conserve the tropical forests … we need to have strong rights to those forests. Death should not be the price we pay for playing our part in preventing the emissions that fuel climate change."
The human rights and land ownership enforcement record of tropical forested countries is alarming. "At least 640 land and environmental activists have been killed since the 2009 climate negotiations in Copenhagen — some shot by police during protests, others gunned down by hired assassins," according to a Global Witness Nov. 30, 2015 press release.
Norman Lippman
"Why Oakland Should Cut Off ICE," Seven Days, 11/22
ICE Is Not Protecting Me
I have lived in Oakland for 30 years. I have been the subject of four crimes, all of them minor. None of the criminals was an undocumented immigrant; all of them were born in the United States. Don't tell me that ICE is protecting me.
Mike Elwin
"The Wrong Path?" Online Feature, 11/22
Thank You
Thanks for taking such an in-depth look at the issues surrounding Paideia and Oakland Tech in general. I benefited enormously from the program and use what I learned there every day, but I also recognize how privileged I was to have that experience. Bottom line: If every educator was able to devote as much time and effort to their students as Ms. Wolfe, the world would be a better place.
Luke Bowyer via Facebook