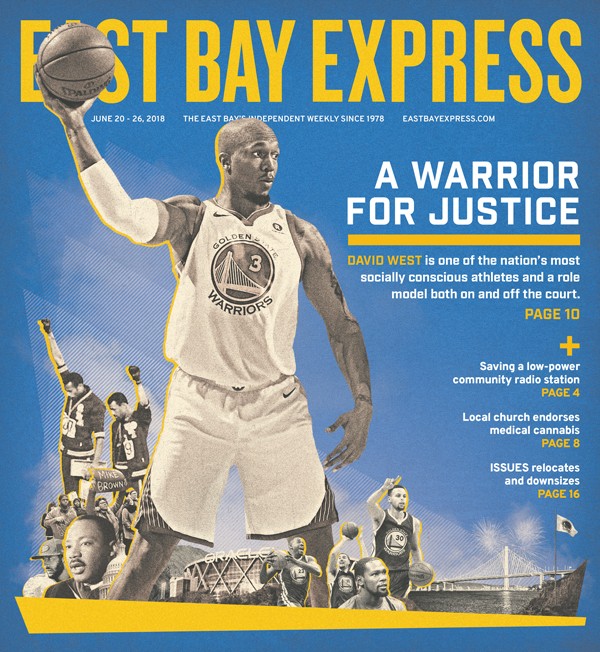 "Justice Denied?" News, 6/20
He Should Be Sued and Jailed
They should contact Attorney John Burris to get justice for this young man. The boy was injured by the car because of the man's action. If the child had been killed would they still have let him go??? The man was WRONG and his actions and his alone caused the child to be injured. He needs to be sued and jailed for reckless driving and child endangerment!!!
Paul Merr
Of Course
This is INFURIATING and typical of Berkeley cops. Is it about race? HELL YES IT'S ABOUT RACE !
Vicki Riggin via Facebook
"More Than College Radio," News, 6/20
Please Carry On
I love the "East Bay Oldies"! I look forward to hearing each and every show! Bob White is an awesome artist. His voice is perfect, his smooth roll into each song so professional and best choices of music!
I sure hope the funding continues, so Bob's music will be here for us that love his show! I've been listening since it was 9th Floor Radio!
Thank you, it's been great! Please carry on….
Lady Bug
"ISSUES Relocates and Downsizes," Arts Feature, 6/20
Sigh
Great store. Will miss its presence off of Piedmont. Such is life in America…now!
Sage Feldemeyer
"OP-ED: Our Love for Our Children Will Cause a Revolution," News Blog, 6/20 
Frightening
It is seriously disgusting. There is a slow, creeping genocide occurring in this country against the poor, the powerless, the unprotected. Meanwhile, thousands of Americans applaud these actions. It is frightening. We were warned Trump would do this in March 2017.
CNN, NBC, Democratic Party: no response.
Vincent Blafard
First They Came…
Thanks so much for writing this article. It brings to mind the famous Martin Niemöller quote: "First they came for …" You have captured the essence of the selfish moral decay of the United States of Amnesia. "Those who do not remember the past are condemned to repeat it." — George Santayana Perhaps it is worth recalling the words of Chris Hedges: "The fundamental lesson of the Holocaust, which is not that Jews are unique or eternal victims, but that when you have the capacity to stop genocide, and you do not, you are culpable."  "I do not fight fascists because I will win. I fight fascists because they are fascists."
James McFadden
A Mother's Scream
Reading this, and being deeply inside my own feelings about these events, brings tears. Thank you for writing this and voicing the scream that comes from all mothers mouths when they feel the pain that those parents must be enduring. The only good thing to come of this is a momentary glimpse of the soul of our people in action … truly a sight for sore eyes.
Ursula Yahya
"City of Oakland to Pay $12 Million to Motorcyclist Hit by Police Car," News Blog, 6/19
Who's the Officer?
Was the anonymous officer involved issued a citation for running the light? If not, why not? If so, that should be a matter of public record and the officer's name should be available.
Allen Paxton
"Oakland Officials Wrestle for Control Over New Police Commission Staff Positions," News Blog, 6/20
We Already Voted
Measure LL, the subject of which is creation of an INDEPENDENT Citizens Police Review Board, was passed by 83 percent of Oakland voters. I would argue that the voters have already de facto changed, or overridden, any contrary charter language. Obviously, the city attorney cannot exercise such control as hiring, firing, and evaluating the commission's legal staff.
Margaret Cunningham