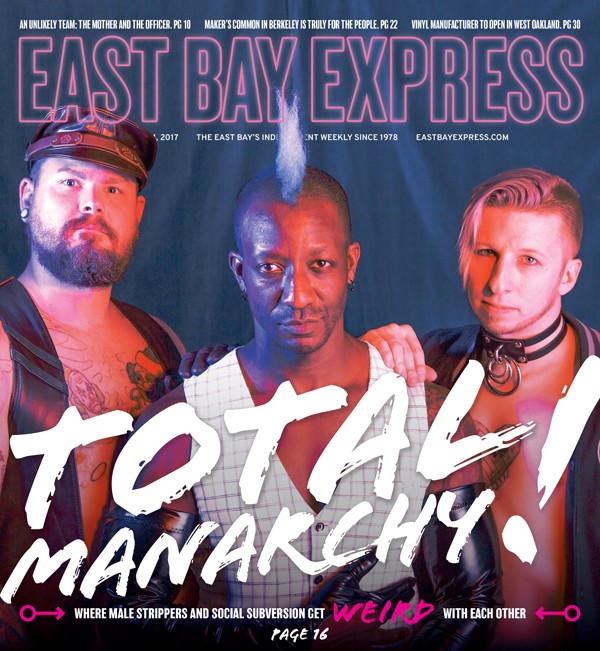 "The Mother and the Officer," Feature 10/18
Cloud Over the Cops
I don't understand why there was a cover-up. There isn't a jury in the world that would convict a cop for shooting someone in a stolen car with a gun in it, who tried to flee the police. Now there is a cloud over the cops for the rest of their lives, due to the cover-up. The victim's mom can't get closure, due to the cover-up. And Oakland trusts the people who covered up with our children.
Holly Harwood
"A Slow-Moving Crisis," News, 10/18
Land-Use Issues
Forty campers? Are they kidding? The objective should be to get massive numbers of campers off the sidewalks — where they don't belong (and where there should be Zero Tolerance enforcement of health and safety codes). Ultimately, the goal should be to build massive amounts of low-income housing.
So-called "services"? Lance Caruthers, himself a camper, speaking without the patronizing and politicized (and self-serving!) attitude of social workers, politicians, and "homeless advocates," hits the nail on the head: "'They wanna keep track of our whereabouts.' 24-hour management and controlled access, which will likely involve fences and sign-ins, though no curfews, is infantilizing."
It's also costly, which in turn, limits "safe refuge" to a tiny proportion of the huge population in need of a place to camp and siphons off precious funds needed to build brick-and mortar housing. The mentally ill and substance users have long been with us, but this is a housing crisis! "Transition"? Build it, and those in need will come — and at that point, let them build their own lives. The "services" our citizens need — housed and unhoused alike — don't require a social work degree or a paid bureaucracy. On all sides, they're called common decency and mutual respect.
I enthusiastically support the creation of sanctioned campgrounds ("safe havens") as an alternative to encampments on our streets for the (temporarily or permanently) nomadic local population — in conjunction with a crash program to build permanent, low-income housing. The point is to remain focused on housing and land-use issues, and not become mired in other agendas.
Mitchell Halberstadt
Commend the Efforts
I commend Assistant City Administrator Joe DeVries and Needa Bee, with Feed the People, for partnering to address the effects of the free-market housing crisis. Giving the community "the agency to solve a crisis the city can't" is an important opportunity for the city to demonstrate compassion, commitment, and patience as the decision for a safe haven site moves forward. This decision, however, is just the beginning.
Peter Marcuse, Columbia University professor emeritus and 1972 UC Berkeley City and Regional Planning, Ph.D., writes about homelessness and recently reminded us that homelessness persists because it is expensive to remedy; requires coordination between separated fields like criminal justice, health care, and education, and demands controversial policies such as raising minimum wages or raising taxes at the top. "Lack of knowledge or tools is not the problem; the problem is implementing our knowledge."
City officials must present progressive policies, like land trusts, rent control, and inclusionary housing requirements, to increase access to housing for community members who want to be housed; establishing sites for shelter is only one tool in our box.
Robin Pearce
"Housing Rehab or Rent Control Loophole?" News, 9/13
No 'There' Here ?
There was no "there, there" because when Gertrude Stein visited her family home in Oakland the structure had been demolished.
Moving away willingly is one thing but moving away involuntarily is a different matter. Such is the state of nostalgia for many who have been forced from their family homes of 50 to 60 years because of wrongful evictions, greed, and laws that do not protect the city long-term and its most vulnerable citizens.
I live in West Oakland, a neighborhood rich in history that blossomed during World War II, where war-related industry was prevalent, as was a thriving music scene. The Oakland Walk of Fame that parallels West Oakland's BART Station on 7th Street is a testament to the vibrancy of the neighborhood. Five doors down from my house was the Black Panther Party's headquarters where the first organized school breakfast food program in this country was born.
As a child, the award-winning journalist Belva Davis went to the school across the street from me. Some of my neighbors have lived here for over 60 years. But the winds of change are not hospitable now.
A few months ago, I encountered two boys peering through my front gate. They were looking at the property as though they knew it by heart. And they did. One of the houses on the property was the home of their parents and grandparents. The boys played on the swing that hung on the 300-year-old oak tree in the garden. The tree and the house are still here but where are the parents and grandparents? Why did they leave? Why can't three generations be as firmly rooted as the oak tree?
In the 1950s and '60s, a large swath of West Oakland was demolished to build the Nimitz Freeway and the Cypress Viaduct. Then came the massive post office facility, followed by BART. What would happen if these civic projects took place in the more affluent districts in Oakland? Would that ever happen? I doubt it.
Eighty-five percent of West Oakland's 40,000 residents are people of color and are of low- to moderate-income, disabled, or retired. For decades, they have faced the brunt of economic development projects. Yes, big money gets funneled to West Oakland, but very little is reinvested in the community. And now, a more sinister venture is again taking place in the form of loopholes in rent laws as well as under-enforced rent laws such as owner move-in.
Currently, the most disruptive and ambiguous loophole in Oakland's rent law is the substantial rehabilitation exemption that states, "In order to obtain an exemption based on substantial rehabilitation, an owner must have spent a minimum of fifty (50) percent of the average basic cost for new construction for a rehabilitation project."
In 1989, the Los Angeles City Council voted unanimously to close the substantial rehabilitation loophole because the provision was used by landlords to raise rents by an inflated amount that forced out tenants who could not afford the increase. It was determined that a majority of the exemption requests involved "unit in acceptable condition" in areas of the city undergoing gentrification.
Many Oakland renters will face hardship and even homelessness if a poorly executed and loosely worded section of Oakland's Rent Arbitration Ordinance is not eliminated. This loophole needs to be closed so all citizens can enjoy the benefits of their community.
Gentrification is not a bad thing if it shares the benefits with the neighborhood's stalwart residents. There will be no "there" here if the city does not act to protect these at-risk Oakland residents.
Hilda Chen