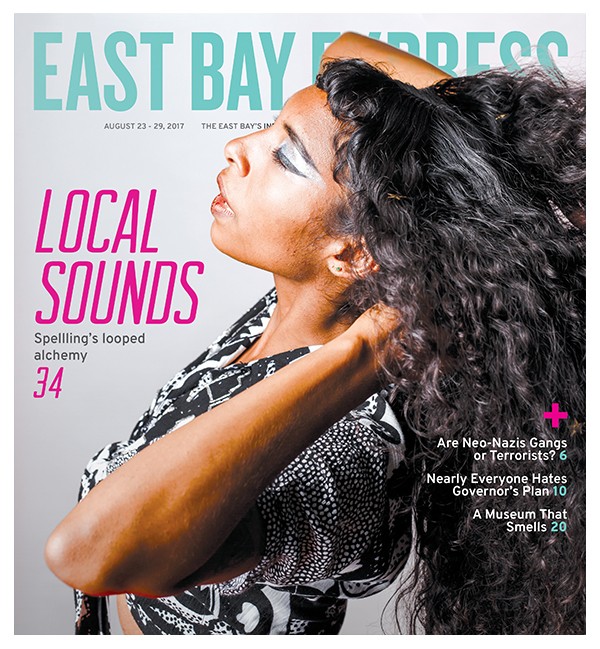 "Blast Local Baker" by Janelle Bitker, What the Fork, Aug. 25:
Don't Feed Into Their Trap
This is the wrong approach — feeds right into their trap — and then they can blame normal people for causing all the violence.
David Ernst via Facebook
No Time for Bigots!
Ashley Shotwell is a magical talented cake wizard who ain't got time for bigoted BS!
Ali Lazarus via Facebook
"Kyle 'Based Stickman' Chapman Jailed, Barred from Possessing Sticks and Other Weapons" by Darwin BondGraham and Ali Winston, News, Aug. 25:
Chapman Is a Bully and a Coward
Looks like this clown's career as a violent hater might falter if he can't have any weapons on his person. He's a bully and, like all bullies, a coward.
People like to hate on lawyers and judges: Please take note that lawyers are responsible for the charges against this mope, and the judge who banned him from Berkeley's Civic Center Park is also a lawyer.
Tree Fitzpatrick
"Are Police Taking the Violent White Supremacist Gang Threat Seriously?" by Darwin BondGraham and Ali Winston, News, Aug. 23:
Outlaw the KKK Already!
My question is why the government has not outlawed the KKK, which for over 200 years has existed as fronts for wealthy white businessmen. They came into existence prior to the Civil War as white militias. They have lynched Black men, women, and children with impunity. They gleefully stood over the bodies and had pictures taken with their wives and children. There is evidence of their atrocities but they are still in existence. They are a terrorist organization and a threat to the peace and well-being of American citizens. The police and government are not taking it seriously because these are their children and/or neighbors, and they are white. They see Black Lives Matter, an organization founded in 2014, as more of a threat than the KKK. Yet the reason BLM exists is because of the KKK and white nationalists.
Anita Wills
Neo-Nazis Are Still Roaming Our Streets
Yet people will still blame anti-fascists for instigating violence — a very Orwellian occurrence. Good is bad and bad is good as long as we say it enough. And to do so aligns one with white supremacy, neo-Naziism, and good ol' fashioned fascism.
What was WWII all about when we have creeps like these roaming the streets? White male victimhood has to be one of the most pathetic sociopolitical phenomenons on the planet.
Vincent Blafard
"East Bay Oil Terminal Expansion Stokes Fears of Air and Water Pollution" by Jean Tepperman, News, Aug. 23:
Other Cities Are Next
So, since Oakland did not permit oil or coal unloading, move up river. Contra Costa by Martinez offers other locations for Phillips 66, watch those locations for other covert activities. Also spill and diesel emissions will occur at night, because no one can see them or the source and no one will report until after the fact, when people are sick. Pittsburg, Antioch, even Stockton may be next. Follow the docking ports for oil and coal ships.
Gordon Hopkins
Clean Air and Water Is a Basic Human Right
Thank you for writing of our fight for clean air and water. Clean air and water is a basic human right. The county of Solano does not have an emergency alert system that works! My friend in the richer city of Danville got an IPAWS alert on his phone as a part of Contra Costa County. But Vallejo! No calls. No TV. Not even the old-fashioned air raid siren warning to shelter in place and close the windows.
Boudicca Todi
Correction
In our Aug. 23 Backbeat column, "Poems in Motion," we mistakenly credited the cover art of Las Sucias' Chúpate Estas to Colpa Press. The printmaking outfit did the layout; Puerto Rican artist Chaveli Sifre is responsible for the art.