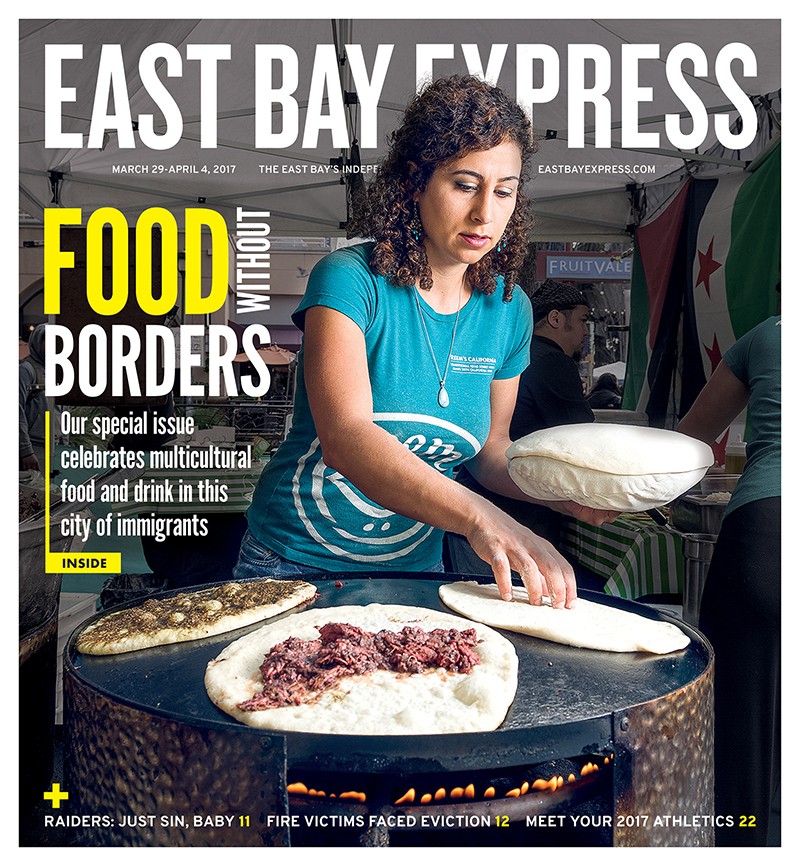 "General Electric Plans To Demolish East Oakland Factory. But Residents Want More Than A Polluted, Vacant Lot" by Brian Krans, News, March 29:


Make GE Clean It

I don't care if General Electric wants to tear down the building. Make them clean up their mess. Keep them in court until they do. People should be able to be safe anywhere on the property after GE is gone. A concrete cap is GE's way of disparaging Oakland and leaving pollution to float through the aquifer. GE's final "screw you!"
Concrete Not A Fix

There is no question that this historically significant building should not be demolished. A concrete cap as a solution to site contamination is a 50-year-old, cheap fix that should not be an option in this case. If any company in America has the resources to save the building and clean up the site, it is General Electric.
In addition, the potential importance of this building's retention to a long-neglected neighborhood is also significant. Given new investment by AC Transit of the BART project along International Boulevard, adaptive reuse of this iconic building is a rare opportunity.
Beyond that, I am confused by the city's process and question why this is before the Planning Commission without any replacement project to consider. In order to demolish the building, I believe that local codes require that the replacement use of the site is a factor to be considered prior to issuance of a demolition permit.
Also, demolition of this important building would be a significant impact under CEQA. In order to approve the EIR, the city will need to adopt a Statement of Overriding Consideration. In order to adopt the SOC, the city will need to find that the public benefit of approving the "project" (demolition of the building) outweighs the benefit of retaining the resource. I don't know how you can make that finding without evaluating some reuse of the site. Without a replacement project to consider, the city and GE would be open to legal challenge of the environmental document.
"Huzzah to Oakland Mayor Libby Schaaf For Standing Up To Craven NFL Greed, Raiders Owner Mark Davis" by Nick Miller, Opinion, March 29:


Declare War Against Raiders

As Warriors head coach Steve Kerr said, "[i]n my opinion, sports franchises belong to the community." I guess Mark Davis didn't get that memo.
But seriously, that's the problem: sports teams should be owned by their cities like the Green Bay Packers are (the Packers are not literally owned by the city of Green Bay, but the situation is substantially similar), not by private owners. If Oakland owned the Raiders, they wouldn't be leaving unless the citizens of Oakland voted them out. Once again, the everyone-for-themselves and uber greedy attitudes in this country that worship private ownership of what should be a public resource cause a situation that hurts most people. In this case, it's the people of Oakland and Bay Area Raiders fans in general. …
In response to the Raiders disgusting move to Las Vegas, local Raiders fans should boycott their remaining games here, burn their Raiders clothing and other paraphernalia, and not root for the Raiders ever again. Davis has declared war on Oakland and the rest of Raider Nation in the Bay Area, and we should respond in kind.
"Letters of the Week," March 21:


No Place For Racist Letters

The racist comment given by one of the writers expressing their "opinion" is an example of how much education is needed in today's political times. The writer was complaining about the mayor of Berkeley not supporting a wall between the United States and Mexico, yet doesn't understand that blocking Milo Yiannopoulo's hate speech in Berkeley is about stopping racial violence. He then goes on to suggest that "parents and professors should do a better job raising your kids to think critically and with reason, not with emotion like some black female." That comment is not only rude and unprofessional, but it is also not true. We have plenty of African-American articulate, educated women, such as former first lady Michelle Obama. (A graduate from Harvard Law School). While everyone has the right to express their opinions, they should do so without insulting a race or gender. We hope readers will pay attention to the more important articles and opinions in the Express such as ways to stop racism and help the environment.