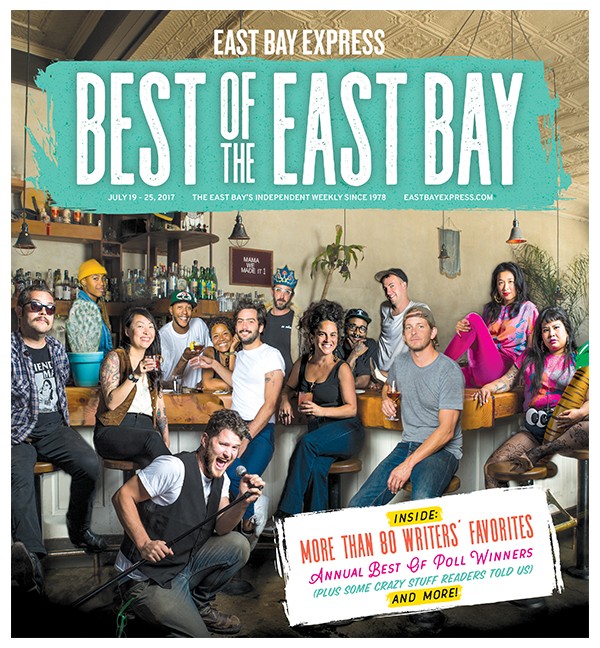 Re our "Best of the East Bay" issue:
We're Thrilled
On behalf of Magnolia Wellness: Thank you to all who voted for us! We are thrilled to be recognized as the dispensary with the best customer service! And to come in second for best flower selection and second for best dispensary is also wonderful.
Barbara Blaser
via Facebook
Veryyyyyy Sick!!!!
I didn't even think Express knew Bad Luck of The Draw Club existed. There's some real ass shit in that write-up. Appreciate it!
Chris Micro
via Instagram
Huge Thanks to All
A good day to work at the best dispensary in the world! Harborside recently just pulled a sweep. It feels good to see a level of recognition for everything the team does here. Go Harborside!
Rober Quesada
via Instagram
Very Grateful
Thanks to everyone who voted for us for Best Pop Up. Excited to continue feeding peeps and making them happy on a more-regular basis. And, excited to raise money for causes that I find near and dear to my heart and my community. Thanks, Oakland!
Oscar Michel of Tacos Oscar
via Instagram
Awareness Brings Action
As an abolitionist, I know for sure that any lil' bit (or medium bit) of awareness regarding the fight against human trafficking goes a long way. Grateful! I'm honored!
Such an Honor!
Shout out to the Express for naming TRAPSoul "Best Thursday Night Party." I'm super thankful to everyone that supports our events. It's really your vibes than make it a success each and every event.
Olive Oyl of TRAPSoul
via Instagram
"Young Professionals Only? Housemates Accuse Landlord of Rejecting Subtenant Applications in Hopes of Vacating Rent-Controlled Unit" by Sam Lefebvre, News:
Thank You for Reporting This
City officials such as this landlord need to be closely monitored.
Maureen Corps
via Facebook
Owner Has the Right
The owner of the property has every right to say who can or cannot live in her building. Some folks who took too many sociology courses are the one's thinking that private property is the cause of income inequality (Marx!). Well, it's not true. What is true is that many (not all) people have made bad choices, or no choices, in life, and are now stuck thinking that a minimum-wage job, a struggling-artist position, or especially the lack of education makes no difference, and that they are entitled to live where they want for the price they want to pay. That is true if they have the money. All this garbage about housing rights is nonsense.
"Report: Berkeley Police Six-Times More Likely to Use Force Against Black People" by Darwin BondGraham and Ashley Wong, News:
Cops Don't Trust People of Color
They needed a poll? Simple: Cops don't trust people of color. Even cops who are Black or brown don't trust their own race. It's sad. A white person on their worse behavior will still be treated better then a Black person on their best. They should do a "What Would You Do?" TV show on cops. And see what they really do in real situations. Then, right before they start shooting people that guy can walk out and say, "You're on an TV show."
Correction
Last week, we awarded the wrong winner for "Best Place for a Medical Cannabis Rec." The winner is 420 MD (2633 Telegraph Ave., Ste. 109, Oakland, 510-832-5000, 420MD.com). Apologies! Congrats!