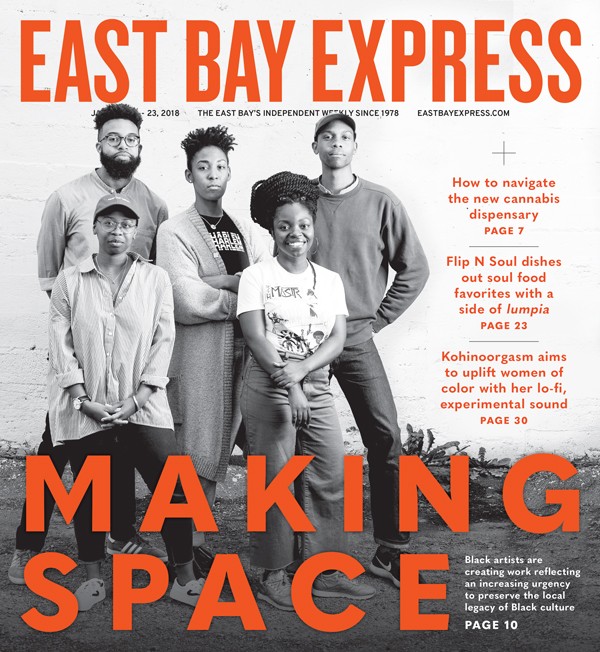 "Oakland City Council Should Censure Desley Brooks," Seven Days, 1/17
Lock Her Up
Why isn't this woman in jail? Any other person who assaulted someone in this way would have been arrested and put in jail! She's a criminal and should be treated as such.
I'd imagine that a felony conviction would resolve the problem of her being an elected official — that would probably call for immediate dismissal.
Rebecca Magdaleno Rankins
Brooks Is Effective
Desley Brooks is the only council person who consistently and effectively pushes the most difficult and anti-racist policies — the department of Race and Equity is just one example.
We need to pay more attention to the few people who actually produce on policies that can to any extent reduce the 13-to-1 racial wealth gap. All the other stuff is just Oakland's version of reality TV.
Kitty Kelly Epstein
She's Just Like Trump
Ms. Brooks is part of the new wave of leaders across the country, like President Trump, who behave rudely, unprofessionally, and without regard for decency and responsibility. I have watched city council meetings and been so embarrassed by the way she bullies and is abusive to citizens and her fellow councilmembers. She, like Donald Trump, makes accusations and points fingers when concern is raised about her mishandling of funds, brawling in the chambers, etc. Now, her bad behavior is going to hurt all of us even more.
We need to demand higher standards from our leaders, starting now, here, at home: grassroots promotion of a better nation and government.
TB Gunther
She Went Too Far
There are plenty of Oakland community activists who could "push the most difficult and anti-racist policies" without being an abusive bully (which Desley Brooks has been as long as she's been in the limelight) who attacks small, elderly people (even tough, fiery ones like Elaine Brown).
Brooks is very smart — and has used her intellect to ride roughshod over some of the less bright bulbs on the city council — but she has gone too far this time. Hopefully, the voters of her district have seen enough.
John Seal
She's Why I Ran for Council
I ran for Oakland City Council against Rebecca Kaplan last time around because I was so angry that the rest of the council wouldn't stand up to Desley Brooks. I was bullied as a child. I find those who allow the bully to exist are in some ways more disgusting than the bully herself.
Matt Hummel
It's All About Desley
Desley Brooks routinely talks up racial disparity in Oakland when she is under attack. Very little has improved during her 16-year tenure. In fact, the overwhelming increase of the newly homeless are African-American amongst continued discriminatory city policies, SRO shortages, and school closures.
Above all, she has no interest in Oakland other than what can be bartered to her benefit, and her office reflects that: no policy or legislative analyst — just Desley.
We will be better served with anyone else in office. Bye Desley!
Mari Jones
"United Nations Expert Describes Oakland and California's Homeless Crisis as 'Cruel,'" News-Online, 1/21
Here, Too
It's just as bad if not worse in San Diego. El Cajon made it illegal to feed the homeless, and San Diego has battled a Hep A outbreak due to lack of facilities for the homeless.
Colleen Prentice
Express Cover, 12/17/17
We're Disappointed
A few weeks ago, our organization, Bay Area Girls Rock Camp, was featured on the cover of East Bay Express. This letter is to publicly voice our disapproval of the photo chosen for the cover. We did not immediately release this letter to allow time to talk to the youth involved, who are also disappointed and frustrated by the cover photo.
While we love and support the individual pictured on the cover and deeply value her committed involvement with BAGRC, no one person can embody our entire community, nor should they. We are disappointed at your choice to feature a photo of one camper, a white cis-gendered camper, when there were also photos available to you of the pictured camper alongside her bandmate, who is Black and trans. These two bandmates are a team (in their words a "package deal"), and it is unfair to remove one of them from the hard work they do together as musicians and collaborators. Your choice to omit this student shows your lack of responsibility and care for Bay Area youth. Our participants are not flattened images, they are real people. Please reflect heavily on the damaging ways you use youth in your magazine. Additionally, while she was alluded to in the article, the name of our co-executive director and most senior staff member, Shawna Scroggins, who is Black, was also disincluded.
We are frustrated that, during a time of rapid gentrification where Black and Brown people are being pushed out of Oakland and the Bay Area, you chose Whiteness over inclusivity, further invisibilizing these communities. We are frustrated that you chose to cling to White Feminism, which again is not representative of our community. The Rock Camp Movement is not single-faceted by any stretch of the imagination, and portraying it as so is harmful and erases the work and joy of our community.
This photo is not only misrepresentative of the BAGRC family, but also is contradictory to information presented in the article describing our organization and what we are about. We can only guess that the editors or publisher did not even read the article featured on the front page, which amounts to careless production practices.
We are frustrated that after addressing this issue to you the night that the online edition went live, you refused to change the online cover to represent both campers and refused to take the as-is cover down online as well.
While we appreciate that you worked with us to adjust the online article in adding a picture of both campers together, as well as adding the name of our co-executive director, it feels like too little too late. Please review your publishing practices to ensure that this cannot happen to other communities in the future.
Bay Area Girls Rock Camp Staff
Express Editor-in-Chief Kathleen Richards Responds
First off, I want to apologize for any disappointment, frustration, and pain that our cover caused Bay Area Girls Rock Camp — its staff, campers, and families. It's clear that our choice of photo hurt those in your community and made the camper who wasn't included on the cover and others feel excluded. That was the opposite of our intention, and as a female drummer of color myself, I can say that the last thing I would ever want to do is make girls of color or trans people feel excluded from the music community.
As I explained to Jaime Clark, the operations manager and co-executive director of Bay Area Girls Rock Camp who emailed me to express concerns about the cover immediately after its publication, this was partially a case of miscommunication. Jaime arranged to have our photographer shoot the two bandmates at an event, and he had about fifteen minutes to do so. Unfortunately, neither Jaime nor anyone else at your organization conveyed to our photographer or to the Express the desire that the two be featured together. We simply received three photos from the photographer. Of the three, two featured both of the bandmates, and one had only one bandmate. Both the Express' creative director and I preferred to feature both of the bandmates on the cover, especially because it was more appropriate with the theme of the story, which was all about inclusivity. However, in one photo the two bandmates appeared sullen, and this didn't seem to accurately reflect the joy of your community. We felt its publication would run counter to your message. The other photo was not composed in a way that was suitable for the cover. In essence, while the photo of the one bandmate, who is white, was not ideal, we felt it was our best option. Had we known the pain and anguish that this decision would cause your organization and its members, we definitely would not have published it.
As for the failure to mention that Shawna Scroggins is co-executive director, it was not an intentional omission. Scroggins was not at the interview with our reporter, nor did any of the four staffers or two board members whom our reporter quoted in the 800-word story emphasize her importance to the organization. Additionally, we do not change covers after they've been published. The online version of our cover is the official record of what we published in print.
I think Bay Area Girls Rock Camp is doing important work, and we featured your organization in the paper and on the cover because of this. But to say the Express's decision shows a "lack of care and responsibility for Bay Area youth" or that "we chose Whiteness over inclusivity" is unmerited and frankly false. As editor, I strive to create coverage that accurately reflects our community and is actively inclusive of those who've been historically marginalized and silenced. If you read our paper regularly, you'll see ample evidence of this. Perhaps in the future, your concerns and priorities can be better communicated to the photographers, reporters, and editors whom you interact with.