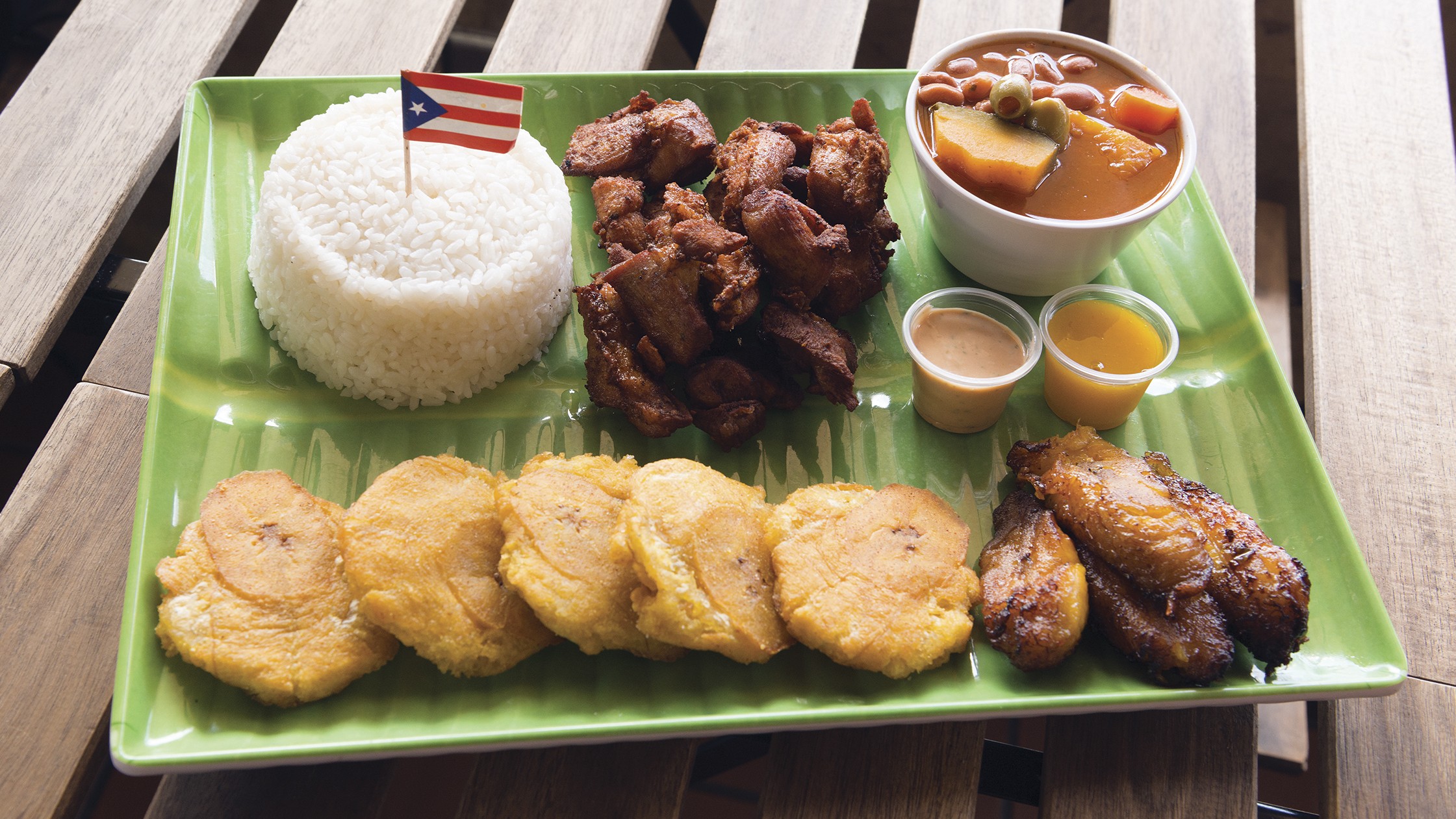 As soon as Jose Ortiz heard I ordered fish, he retrieved the slippery, whole red snapper and held it proudly in front of his chest. "It's not some goldfish," he quipped, laughing. Indeed, it was a substantial and meaty, 2.5-pound beast, which came with two sides and easily fed two people for about $20.
At Ortiz's restaurant, La Perla, the portions are generous, the hospitality is warm, and the flavors are straight-up, old-school Puerto Rican.
For years, Ortiz was the chef at Borinquen Soul, which was the East Bay's only Puerto Rican eatery up until fall 2017, when its owner, Eric Rivera, launched WEPA! at Brix 581 and closed Borinquen Soul in the process. At that point, Ortiz had already decided to take a break from the kitchen — and soon after, Hurricane Maria ravaged Puerto Rico. Ortiz flew back to the place he was born to help his family sift through the rubble of their new life. When he returned to Oakland, he found Borinquen Soul shuttered, and the landlord asked Ortiz if he'd be interested in taking over the space to continue the newfound tradition of Puerto Rican food in the Dimond district. Ortiz jumped at the opportunity to have his own restaurant, and La Perla debuted in December.
If you loved Borinquen Soul, you will also likely appreciate La Perla — and not just because it's in the exact same, counter-service setup inside the same liquor store, Two Star Market. It's also because of Ortiz, who is usually there, just as he was at Borinquen Soul. And some of the recipes are the same, because they originally belonged to Ortiz.
He introduced some new dishes, too, including the snapper. Served on a platter with roughly chopped tomatoes, cucumbers, and corn, the bronzed fish offered the ideal duo of crispy skin and delicate meat, and felt like a bountiful feast. More often, though, Ortiz added an extra flourish that he learned from his parents back in Puerto Rico. His dad was the chef at one of Puerto Rico's top hotel restaurants for 30 years while his mom worked to feed Ortiz and his seven siblings at home. Now, when he makes a batch of Puerto Rican rice for La Perla, he crumbles up a whole green plantain on top to impart a subtle perfume. While he passed his mom's technique for making chicharrones — salty, crunchy chicken skin that still clings to bits of tender meat — to Borinquen Soul, he saved other things for his future restaurant. "You have to keep your own secrets," he said.
It's perhaps easiest to see this next-level craftsmanship with La Perla's mofongo, the Puerto Rican mash traditionally made with fried green plantains. While Ortiz will make traditional mofongo for folks, he actually defaults to trifongo, which is all the rage in Puerto Rico right now. In addition to green plantains, it also features sweet plantains and yucca. This combo makes the mash softer and creamier while also giving it a mélange of sweet and salty flavors — all basked under the glory of a tangy tomato sauce.
My favorite dish is the pasteles, savory meat pouches similar to tamales. Ortiz uses a mix of green plantains, squash, and yautia, which is similar to taro root, for the starchy base. They're stuffed with savory shreds of chicken and green olives, and then steamed in banana leaves until soft and slick. And I never grew tired of La Perla's maduros, sweet plantains caramelized to the point of blackening.
The crispy, fried empanadillas were also excellent. I especially loved the beef version, which was juicy, generous on olives, and bursting with sofrito flavor. (Sofrito, a combination of garlic, onion, cilantro, and peppers, is the foundation of Puerto Rican cuisine.) The sofrito is what made the simple stewed red beans so soulful — served over fluffy white rice with chunks of soft kabocha squash, the side dish quickly felt like a second meal. But I wished the arroz con gandules, the orange-hued Puerto Rican rice dish, actually tasted more strongly of sofrito — or perhaps, it just needed more salt. (Ask for Ortiz's homemade mango hot sauce, which packs an assertive punch.)
Across the board, I felt that most of La Perla's dishes could have used a heavier hand with salt. In some cases, like the tostones — green plantains pounded thin and fried to a golden crisp — or the red snapper, I only wanted a finishing sprinkle. But the pernil, the slowly roasted pork only served on Saturdays, was stunningly bland despite being so beautifully cooked. The biggest offender was the bistec encebollado, a thin cube steak marinated in vinegar and topped with onions. The vinegar is supposed to impart some flavor but also tenderize the meat before it cooks. Unfortunately, my steak tasted oddly like nothing and also felt strangely mealy.
Let's go back to that pork, though. Despite needing more seasoning, it was still a delight to see Ortiz pore over it so lovingly. After I ordered it, he called me over to look at his work toward the back of the kitchen, striking the meat — which had already been roasted for 12 hours — with his tongs to show off the thick, formidable crust. "That's how you know," he said knowingly. After I got halfway through my meal, he came around and dropped off strips of crispy, fatty, delicious skin onto folks' half-eaten plates — in other words, he gave away extras of the best part. At La Perla, Ortiz plays host, even though it's inside a liquor store and there's hardly any seating and most people order food to-go. It doesn't matter — he makes do.
That said, the process of actually getting your food can be frustratingly slow. I was the first guest one afternoon and waited almost an hour to finally eat. It helps to call ahead — expect about 30 minutes for most orders.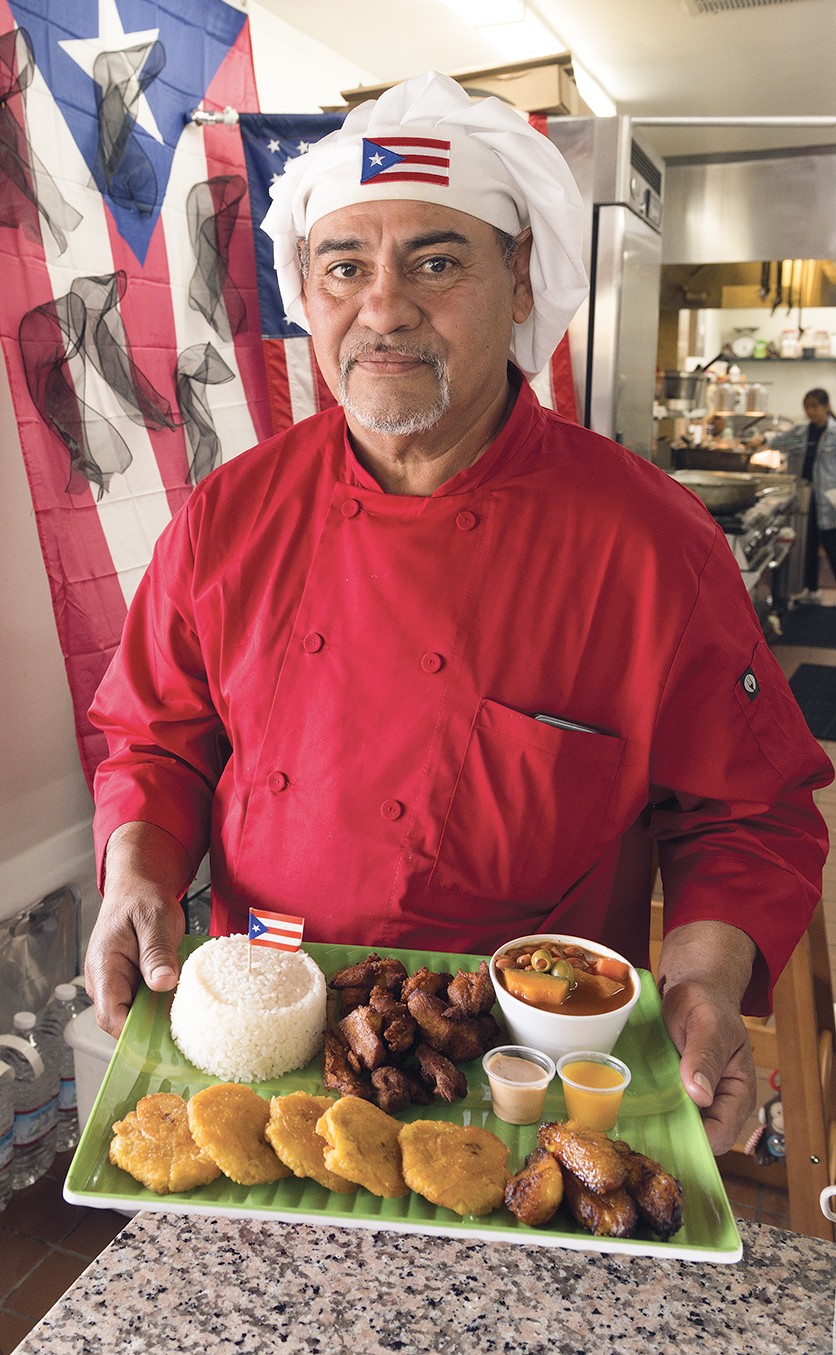 Looking toward summer, Ortiz wants to take advantage of La Perla's small patio — basically, a couple of tables along the parking lot — and offer more specials. Already, especially on the weekends, you can count on seeing a couple of specials written on the chalkboard, such as sandwiches, fried pork chops, or these little meat-filled potato balls that I kept hoping I'd see but never did. Soon, he's lowering the prices of his menu by $3-$4 per entrée during lunch in the hopes of increasing daytime business. But he's also thinking a lot about Puerto Rico. La Perla's grand opening party in February was a fundraiser for his own relief efforts in Puerto Rico. He was supposed to go soon after with a generator, other supplies, and big plans to help his family's community, but he couldn't find an airline willing to actually ship everything over. Recently, he found the answer: A boat. He's excited to go back, and perhaps return to Oakland with his niece, who is apparently an impressive cook, to help expand La Perla's menu even more.  
La Perla
2020 MacArthur Blvd., Oakland
510-482-2674
FindLaPerla.com
Hours: Tue.–Sat. noon–8 p.m., Sun. noon–6 p.m.
Cash, all major credit cards
Sample Menu
Pasteles
combination … $14.95
Mofongo
with
chicharrones
… $19.95
Pernil
… $15.95
Empanadilla
… $3.95