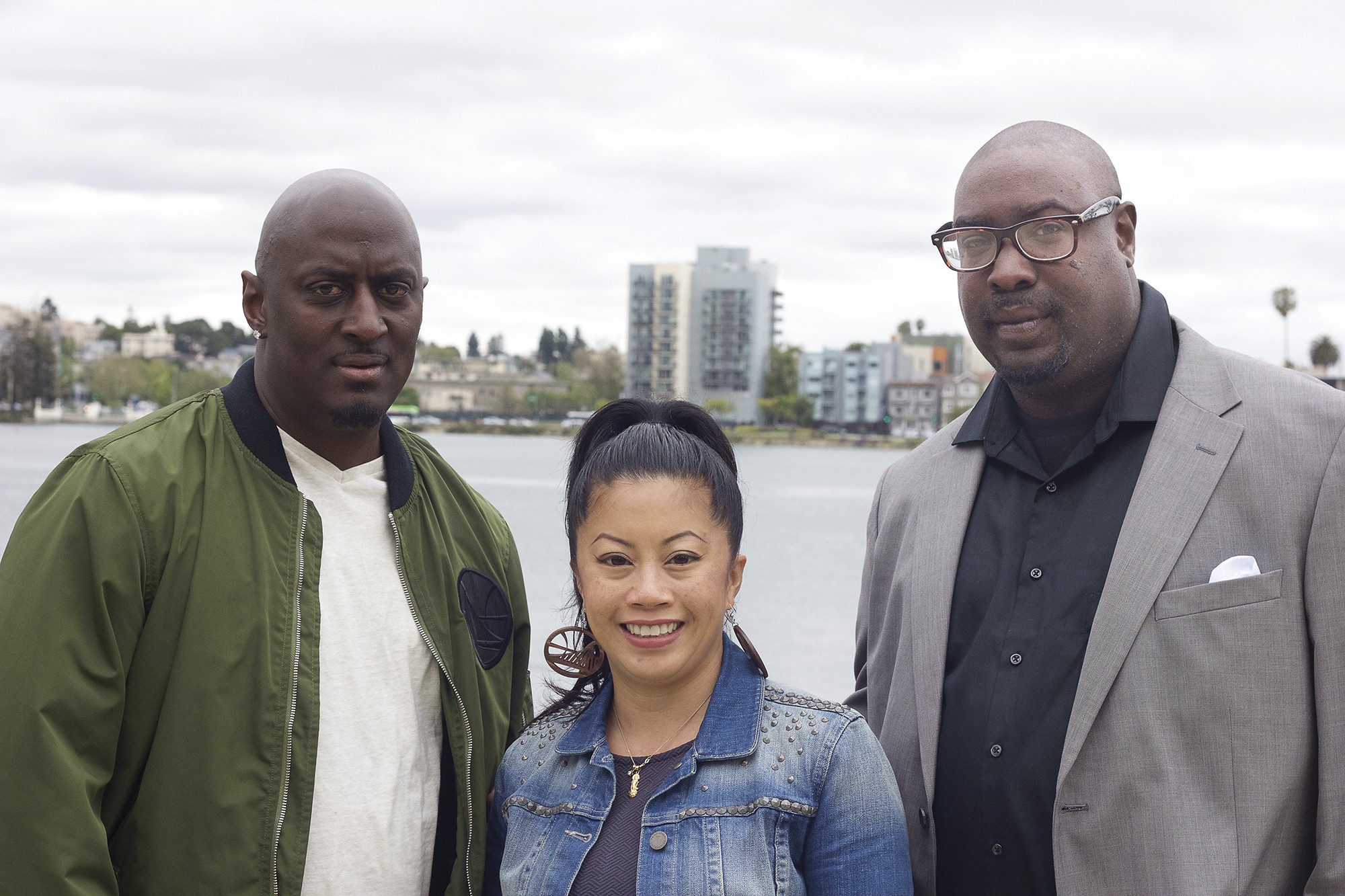 One of the Black men at the center of a barbecue incident at Oakland's Lake Merritt that made national headlines says he was fearful he would go to jail — or worse — when a woman called the police on them.
On the morning of Sunday, April 29, Kenzie Smith and his friend Onsayo Abram (who goes by the nickname "Deacon") set out to have a small barbecue on the east side of Lake Merritt in Oakland. Abram grew up by Lake Merritt and attended many barbecues as a kid. He said he hadn't barbecued in a while, and saw the previous Sunday that people were by the lake, having fun. He had the idea of inviting friends for a small barbecue that Sunday.
Little did he know the barbecue would turn into a national news story. In an interview, Smith said he left briefly to change his clothes, and when he returned, he noticed a woman — who has since been identified as Jennifer Schulte — on the sidewalk nearby. (The Express tried unsuccessfully to reach out to Schulte.)
"I noticed Deacon's body language was like defensive," said Smith, the founder and owner of Dope Era Magazine and brother of rapper Mistah F.A.B.
"So I was like, 'What's goin' on bro?' And he was like, 'We about to go jail.' I was like, 'We about to go to jail?' He was like, 'yeah.' I said, 'for what?' He said, 'for charcoal.' I was like, 'what?' He said, 'for charcoal.' I started cracking up laughing."
Although the two men initially found the situation humorous, things took a more serious turn. According to a police report, Schulte first called police at 11:22 a.m. that morning. Abram said Schulte told him and Smith that they were "all going to go to jail." He also said that when Smith returned to Lake Merritt, Schulte said, "Oh good, another [n-word]." Smith said he also heard her use the racial slur. He added that she told Smith and Abram they were trespassing and that she "owned the lake." "It was a lot of things that she said to us within a three-hour time frame," said Smith.
Smith said he took a picture of Schulte and sent it to his wife, Michelle Snider, who was nearby at Rolling Dunes, a restaurant on Lakeshore Avenue. When Snider asked why he was sending the picture, Smith responded, "If I go to jail, this is the reason why."
Snider arrived at the scene shortly after and began filming Schulte. Snider, who is white, said she lived in West Oakland in the '90s during the Riders era and saw police arrest people for no apparent reason. She said she decided to film Schulte and ultimately share it because "people need to know what's going on."
What happened next is now well known. But while the memes of "BBQ Becky" have gone viral, to Smith and Abram, the experience became as serious as life or death. "Everyone sees this video and doesn't understand," said Smith. "We were scared like we were about to get killed."
The police report shows that Schulte called 911 twice; the first time, the report listed it as level 3, or low priority. And the "weapon" was listed as the charcoal grill. On the second call, the call was elevated to 1, which is the highest level and usually when police show up with weapons. But the officer who arrived handled the situation peacefully. Schulte was evaluated for a 5150 psychiatric hold, but "she did not fit the criteria," according to the police report. The officer advised Abram and Smith that they could not use a charcoal grill and they agreed to pack up and leave.
But the incident galvanized the community. After the video began to go viral, Oakland residents gathered at Lake Merritt in defiant celebration on May 10, or "510 Day." (A video of folks doing the electric slide was widely shared.) While "510 Day" had been planned months in advance, this year's event turned into a community response to the incident.
"A lot of people think it's about this 'BBQ Becky' person," said Leon "DNas" Sykes, one of the organizers of 510 Day. "Her being on camera showed what a lot of us have been enduring for years."
Lake Merritt has long been a contentious public space. Longtime area resident, DJ, and community activist Davey D said the "BBQ Becky" incident didn't happen in isolation. He has been in neighborhood online forums where residents urge others to look up the city's municipal codes and to call police. "I saw the vitriol that has come from a handful of people," he said. "When you take a step back, you can't separate what you saw in the video from what happened at Starbucks. You can't separate it from Tamir Rice. The list goes on, where people call the police and exaggerate a situation, where it becomes a specific tactic."
510 Day, organized by youth leadership organization Urban Peace Movement, was similarly a response to rising gentrification and pushing out of Black residents. In the '80s, Black people made up nearly half of Oakland's population. Now, it's estimated to be about 25 percent. Nicole Lee, executive director of Urban Peace Movement, said the event reminded her of the Oakland she experienced growing up.
"It turned into this huge dance party," said Lee about 510 Day, whose family has lived in Oakland for four generations. "It had the vibe of a family reunion. People were literally having the time of their lives. This was so interesting because it was an act of resistance and reclaiming space in the face of someone's racist actions. But it happened in the most celebratory way possible. It was sort of poetic justice."
On May 20, the community came out in bigger force. Initially, a small group of friends decided to hold a barbecue called "BBQing While Black." The cookout ended up drawing a diverse crowd of more than 2,000 people, including activist Angela Davis, sprawled on the Lakeshore side across from Cleveland Cascades — the location where the initial incident took place. BBQing While Black organizer Logan Cortez said the idea was intended for her friends, and as a way to deal with her lack of shock around the incident.
"My intention was to have a barbecue with five to seven of my friends," Cortez said. One of the friends she invited was Jhamel Robinson, founder of The Real Oakland clothing line, who is also a graphic designer. He created a flyer for the event, and it started going viral. "Then, we realized we had to get the proper permits," Robinson said. "At the end of the day, if we don't do this, what are we really doing to celebrate our brothers and say, 'We're glad you're alive. We're glad it didn't go another way.'"
Early that morning of the event, people already began setting up — including Smith. "When I got to the lake, I cried," he recalled. "'Cause at 9:30 in the morning … people were already up, settin' up, had their barbecue pits, everything."
As hundreds more people showed up, the crowd swelled to several thousand. "This was more than just Oakland residents sayin' this," said Smith. "It was Richmond residents, Berkeley residents. I had people come out here from Seattle, Washington. People from Compton actually drove out here and actually just wanted to shake my hand and take a picture. It was like the most weirdest thing ever, but at the same time, it was exciting."
"When I saw that many people, I was speechless," Abram said. "I saw friends I hadn't seen in years. I saw friends from elementary school. I was literally high for two days off the positive energy."
There were ribs, hot dogs, chicken, burgers, links, mac 'n' cheese, and potato salad. Everett & Jones and Kid Creole Soul Food set up areas and gave away free food. The barbecue ran all day, with folks hanging around until well after dark.
"Everyone was excited about having this barbecue," Cortez said. "It was a reminder and a rebirthing of who we are as a city. We're about love, light, fun, food, and we're all about family. It was full of Black people and our allies. We had elders, we had babies, we had moms nursing while they were eating ribs."
Make no mistake, while the barbecue was a joyous celebration centering the Black community and culture in Oakland, there is palpable anger.
Davey D notes that there's been a pattern of over-policing by the lake, including citing people for cruising or playing music too loudly — and mostly targeting Black people. "They have zero tolerance of large gatherings of Black people enjoying the lake," he said about some neighbors in online forums. "All this stems from a dislike of Black folks who have lived here. Like, 'we don't like you in our neighborhood.' I don't want it to be reduced to just folks going to a barbecue."
Lee also notes that the barbecue doesn't halt or reverse the tide of gentrification. But it provided hope.
"It's a moment where, in the face of gentrification and displacement, the people of Oakland are saying, this is who we are," said Lee, who is also a friend of Smith. "You can't erase us off the face of the map. We have the right to be here, and be who we really are, and to assert our integrity and culture as a city."
The organizers of BBQing While Black hope to organize another event but are well aware that large gatherings of that size are not sustainable and could disturb residents. The organizers and community members took pains to make sure they cleaned up the area after the event.
As for Smith, he has since been nominated by City Councilmember Rebecca Kaplan to join the Parks and Recreation Advisory Commission, a position he is enthusiastic about. Late last week, he and Abram picked up metal cans — a safe way to dispose of hot coals — and distributed them along the lake, in anticipation of people barbecuing during Memorial Day weekend. "It's been surreal," he said. "I never would have dreamed it would have brought Oakland together. It's a unifying situation."
Perhaps most of all, he said, he wants to talk with Schulte.
"The only thing I want out of this whole situation is for the lady to start being educated," Smith said. "I think that she needs to actually understand what she's doing when she's calling the police on Blacks. You know what I'm sayin'? … I will sit down and have a one-on-one conversation with her."