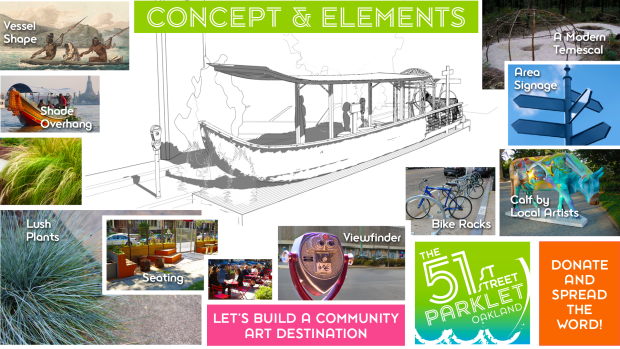 When Juhu Beach Club opened in Temescal two years ago, it immediately became one of Oakland's most popular Indian restaurants. Now, chef-owner Preeti Mistry, who lives in the neighborhood, says she wants to give back to it: Juhu Beach Club will be the business sponsor for Oakland's newest parklet, the
51st Street Parklet
, which is slated to be built in the fall near the busy intersection of 51st Street and Telegraph Avenue. The parklet will replace the two metered parking spots adjacent to the 51st Street entrance to the parking lot that the restaurant shares with several other businesses.
[jump] As parklets, or tiny public parks built in place of parking spaces, have become an
increasingly popular
means to beautify urban neighborhoods, many of the most successful examples here in the East Bay have been sponsored by restaurants or coffee shops. If done properly, it's a win-win: The busy restaurant gets a some extra seating and overflow space, and everyone in the neighborhood gets a pleasant space for hanging out outdoors and a convenient place to park their bikes.
Mistry stressed that the project isn't just about getting extra seating for the restaurant. In addition to the usual benefits that most parklets bring — a bike rack being prominent among them — the 51st Street Parklet will also have an educational aspect she believes folks in the neighborhood will enjoy.
As designed by creative director — and longtime Temescal resident — Sarah Patterson, the parklet's primary features will point to the neighborhood's history. The main structure will have a canoe-like shape, loosely inspired by the kinds of shallow-water vessels the Ohlone Indians once piloted on Temescal Creek, which flows underneath 51st Street. (The connection prompted Mistry to joke that what they're building is a "creeklet," not a parklet.) In addition, there will be a structure built to resemble an Ohlone sweat lodge — a literal
"temescal"
— and a calf sculpture that will be painted by local artists. The calf is a nod to the fact that this particular intersection in Temescal was used as a cattle grazing area by one of the Peralta brothers (a family of early Spanish settlers) — but it's also just meant to a fun structure for kids to climb on, Patterson said.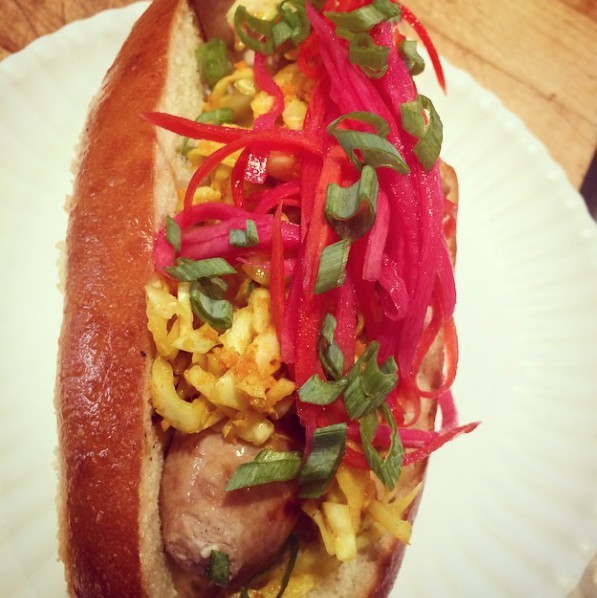 Meanwhile, the parklet will, indeed, provide some overflow seating for Juhu Beach Club customers, especially those ordering takeout from the restaurant's
summer lunch window
. But Mistry stressed that it will also be a place at which Bakesale Betty customers can eat their sandwich, and that anyone passing through the neighborhood will be welcome enjoy the space as well.
The restaurant just launched a
$29,000 crowdfunding campaign
to pay for the project. Food-centric perks include lunch for two at Juhu Beach Club ($175), a cooking class with Mistry ($1,000), and, for the high roller, your very own private birthday party at the restaurant ($7,500).