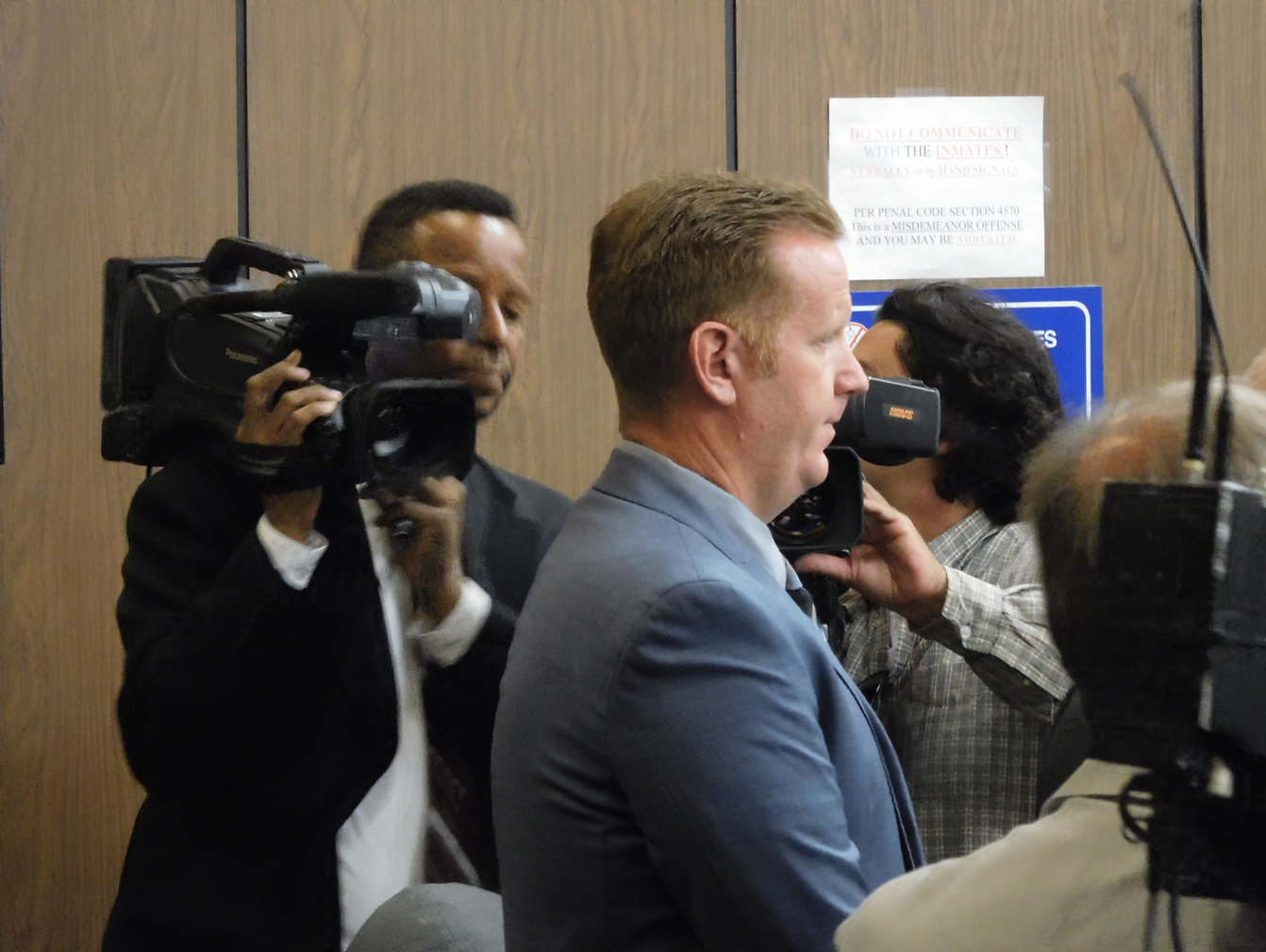 In a four-hour preliminary hearing today, Alameda Superior Court Judge Thomas C. Rogers said former Oakland police officer Brian Bunton pimped the young woman known as Celeste Guap, and that his actions appear to have constituted a conspiracy to obstruct justice.
The judge allowed the case to proceed to trial, which is set for June 5.
"He's actually, in a way, pimping," said Rogers. "He's assisting her like a pimp would."
If convicted, Bunton, 41, faces up to eighteen months in prison. He is the first of four current and former Oakland police officers facing trial for sex trafficking-related crimes that came to light last year.
Bunton's attorney, Dirk Manoukian, countered that his client never paid for sex or came to any kind of agreement on providing something of value for sex. Manoukian also pointed out that an undercover prostitution sting Bunton tipped Guap off about never actually took place, therefore he didn't provide anything of value to her, nor did he endanger fellow officers
As first reported by the
Express
last summer, Bunton met Guap on February 27, 2016 in West Oakland late at night while he was on patrol.
During this morning's hearing, a visibly nervous Guap testified that she was working as a prostitute in San Francisco that evening and got lost in West Oakland while on her way home to Richmond. Bunton called a taxi for her, and gave her a card with his cellphone number on the back. Hours later, Bunton sent Guap a text message asking if she got home safe. The two struck up an electronic relationship that the teenager characterized as "therapeutic," "friendly," and "sexual."
Guap, who was 18 at the time, also sent nude pictures of herself to Bunton. According to Guap, the two talked through text messages about her work as a prostitute. He asked her about how much money she made, and about other girls working the streets. When Guap told Bunton she worked an area of International Boulevard near 40th Avenue, Bunton recommended she work other areas of the city.
"Did you talk to him about how you made money," Assistant District Attorney Sabrina Farrell asked Guap today.
"Yes, he asked where I would do it, and if I made enough [money], or if I knew a certain girl — certain girls."
On March 4, 2016 Guap said she was dropped off at the Marriott Hotel near the Oakland Airport by her pimp, a man she identified as Troy Knight, who paid for a three-night stay. Knight, whose role in exploiting Guap hasn't been publicly discussed until today, provided her with supplies including clothing, lingerie, and condoms for a weekend of sex work. Guap put up an ad on Backpage and worked through the weekend.
On Saturday, March 5th, Bunton ended his patrol shift and headed to the hotel in civilian clothing. The two had made plans to meet and "talk," according to Guap's testimony. Bunton brought Guap a Starbucks coffee. When he entered the room, he took a seat on a couch. According to Guap, Bunton picked up her phone and "played with it" for fifteen minutes, according to her testimony. Later she discovered that texts and photos she sent him, including nudes, were deleted.
Bunton also offered Guap more advice on how to obtain clients as a sex worker. "He said that I should show more skin if I wanted to get more clients," said Guap today. Bunton also texted her that she "needed a better manager" after she complained about not earning enough money. She told the court that she "took it as him telling me I needed to get a better pimp."
The two laid down on the bed and performed oral sex on each other.
Then, according to Guap, Bunton said, "I feel like an asshole. Sorry to be a dick, but I have to get going."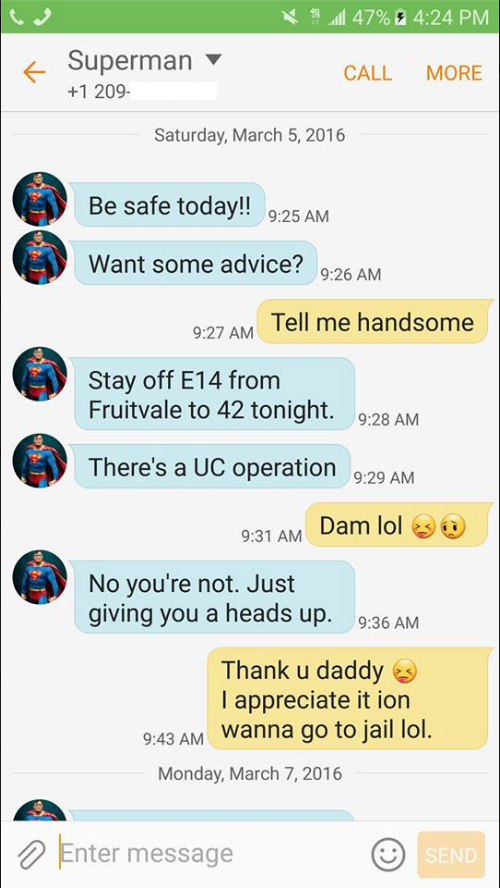 Later that day Bunton sent a text message to Guap: "Be safe today, want some advice? […] stay off E14 from Fruitvale to 42 tonight. There' a UC operation."
Farrell alleged that the tip regarding the undercover operation Bunton provided to Guap was one of the ways he paid for sex with her. More generally, Bunton was providing Guap with protection from arrest and harassment by other cops and possibly pimps.
According to Farrell, Guap told OPD internal affairs investigators that officers like Bunton who provided her with information were her "tickets out of arrest."
When the court reconvened after lunch, Oakland Police Lieutenant Jill Encinias, who heads OPD's Special Victims Unit, confirmed that there wasn't actually an undercover operation that night in the area mentioned by Bunton. But Encinias said there could have been other types of OPD special operations, including robbery or violence reduction enforcement, which wouldn't have generated paperwork.
Encinias said any kind of tip-off to a sex worker by a police officer of a sting is extremely dangerous. "We've seen unders that have gotten made, pimps that have shot at officers, girls try to stab them," said Encinias. "It's one of the most dangerous positions in the department."
Encinias also said that pimps conduct their own counter-surveillance against the Oakland police. "When information gets out, that poses a huge danger to the undercover officers. They could be ambushed."
Guap told the court that other officers provided her with information about police stings also. But eventually Guap had several fallings-out with officers in the department who were exploiting her for sex. She called this group the "faggot club." She became upset, she said in testimony today, when she learned that Bunton was talking about her with another OPD officer, Terryl Smith.
Smith is facing five misdemeanors counts of illegally accessing law enforcement records after he allegedly ran Guap's information through multiple computer databases.
In his cross-examination of Guap, Manoukian emphasized that at no time did she and Bunton ever discuss exchanging anything of value for sex.
"Did you discuss immediately after sex in the hotel that you wanted information?" asked Manoukian. "Did you ever say you wanted him to provide you with information about undercover police operations?"
"I don't remember," replied Guap.
Manoukian also questioned her about the use of a text messaging app called TalkaTone, which creates new numbers for the same cell phone. According to Manoukian, Guap created several new numbers to contact Bunton in April of 2016 after he had attempted to cut off contact with her.
Under cross-examination Guap also said that she threatened to hand her phone over to OPD's internal affairs unit so that they would see her communications with Bunton.
Manoukian said Bunton lied about the undercover police operation to keep Guap off the street on a rainy night, not to stop her from getting busted. According to a text message sent by Bunton to Guap: "I lied about the UC part to keep you off the street. You're the daughter of a dispatcher, I thought that was the least I could do."
Manoukian also tried to have the conspiracy charge thrown out. He argued that the DA was improperly turning a misdemeanor prostitution incident into a felony. But Judge Rogers disagreed and allowed both charges to advance.
"Once they had that relationship, he's been compromised for good," said Judge Rogers. "They both knew what he was getting out of it, and she knew what she was getting out of it."