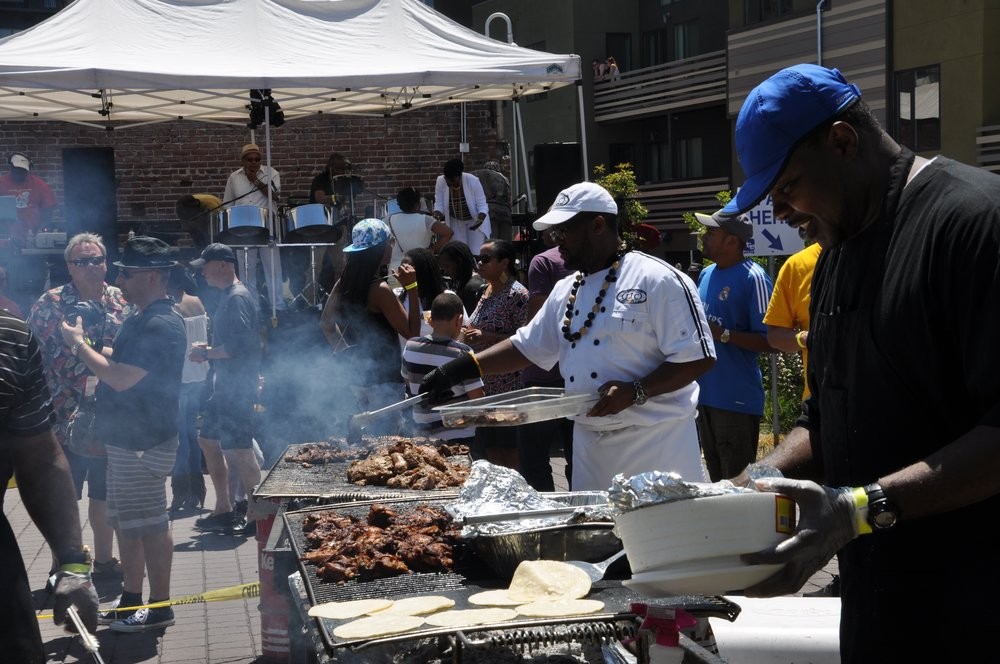 Which local chef makes the best Jamaican jerk? This Memorial Day, head to The HIVE and Drake's Dealership for tastings of chicken, pork, goat and fish jerk at the Jamaican Jerk Cook Off to support My Yute soccer camp. Chefs competing include James Syhabout (Old Kan & Beer Co.), who took home the People's Choice Award last year.
Other local chefs include Kristen Thibeault, who will be cooking jerk fish with the Nybll catering team. Chris Pastena of Chop Bar will make jerk goat. Drake's will not only be serving cold brews, but their chef Taylor Smith will also prepare jerk duck. Berkeley's La Marcha team, award winners from 2014, hope to reclaim the crown this year with a jerk chicken paella dish. August Varlack of Mohari Wellness Cafe is teaming up Howden Market to serve a whole roast pig.
"Soccer is really a huge part of Spanish culture, and isn't as popular here in America," said La Marcha's co-chef and co-owner Sergio Monleon, who will be cooking with co-chef and co-owner Emily Sarlatte. "My Yute is helping spread soccer here in America to kids that otherwise wouldn't be able to participate."
The fundraiser supports My Yute Soccer camp, an Oakland-based nonprofit, which runs a free youth summer camp and teen mentoring program, as well as mini camps during the year. Rovel "Steve" Sparkes, president and founder of My Yute Soccer, is originally from Kingston, Jamaica and wanted to bring his passion for soccer to local youth, as well as bring his hometown flavors to the annual fundraiser
Kids under 12 are free at this family-friendly event, where they can enjoy a jumpy house, face-painting, and of course, some soccer. Singer Sharon B and Tropixx band will provide live entertainment on the steel drums.
A $25 ticket will get you two tastings at any jerk or beer station (additional tastings are $5 each), or go for unlimited food and drink tastings ticket for $60. Craft brews provided by Drake's, Old Kan Beer, Ale Industries, North Coast Brewing Co., Federation Brewing, Line 51 Beer and 41 Hills Brewing Co. Calavera serve cocktails at the event.
Monday, May 29, 1-5pm, $25-60, The Hive, 2335 Broadway, Jamaicanjerkcookoff.com