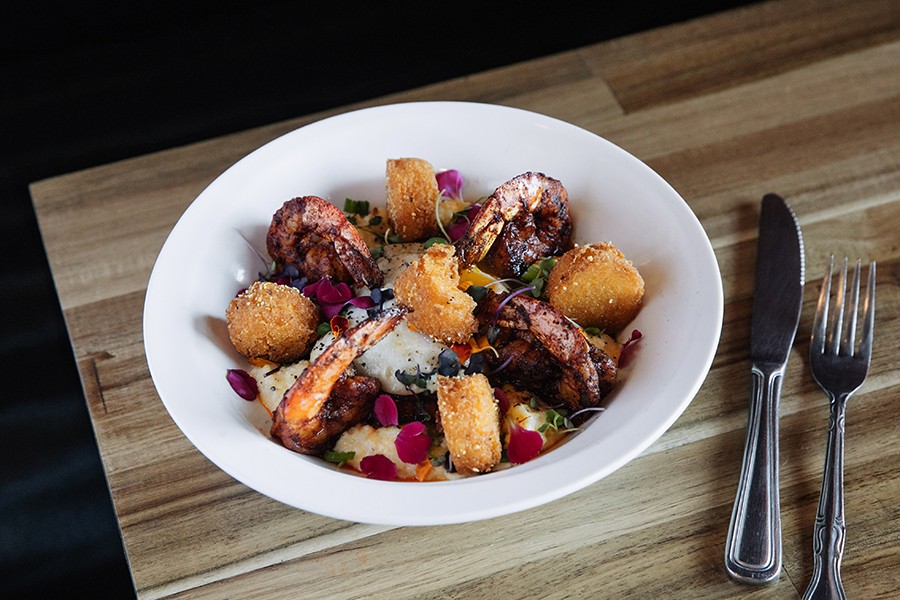 Tanesia Sellman takes issue with most renditions of fried chicken and waffles. First, the presentation. It's usually a piece of chicken plopped down haphazardly onto a waffle — and that's about it. With maple syrup, it's brown and beige and blah.
And then there's the whole eating debacle. You're expected to cut the waffle with a fork and knife, but if you're going to really tear into that boney chicken, you need to pick it up with your hands. If you drizzle maple syrup over the whole thing first, then you've got quite a sticky situation.
"I hate constantly cleaning my hands," Sellman said.
So Sellman did something kind of ingenious. She made chicken nuggets.
At her three-month-old restaurant Ivy Moon, the chicken and waffles are a hit — and they're plated beautifully. Microgreens top a pile of nugs on one-third of the plate, while four waffle quarters fan across the other side, kissed by a cascade of strawberries, blueberries, and edible orange flowers. I can't recall a more aesthetically pleasing version of the dish.
At first glance, it may be tempting to label Ivy Moon a soul food restaurant in the vein of Brown Sugar Kitchen — after all, both places sit in West Oakland, are helmed by black women, and draw crowds for modern takes on chicken and waffles. But Sellman actually calls Ivy Moon a New American restaurant, though it's certainly informed by her upbringing in Arlington, Va., watching the stove with her grandparents. Her grandfather, a farmer, taught her about cooking with local produce, while her South Carolina-raised grandmother left her a blueprint for great grits.
Unlike Brown Sugar Kitchen's celebrity chef-owner Tanya Holland, Sellman has no formal culinary background. Her experience comes purely from her home kitchen, feeding her four children the past 20 years.
Perhaps it's that home-cooking background — combined with Sellman's clear ambition and knack for aesthetics — that makes dining at Ivy Moon more interesting and fun than most New American restaurants. There is soul in her flavors, comfort in her simple techniques, and delight in her surprising flourishes.
That said, I caught Ivy Moon in a period of transition. Sellman said folks haven't been coming in for dinner much, so she's planning to try out a single, all-day menu instead — the change should happen any day now.
It sounds like the right move. While my brunch visits were all impressive, my dinner experience was spottier. Overall, everything was cooked perfectly and well-portioned, but some dishes needed editing.
The grilled lamb chop, for example, arrived a gorgeous medium-rare on top of an ethereally smooth sweet potato mash. But the barbecue sauce on top was a little too sweet, heightened by the already-sweet mash underneath and a potent balsamic reduction swirled on top. The final component of fried cabbage had the potential to bring some acidic balance to the dish, but it was bland and watery.
An appetizer portion of scallops was extremely generous, with four blackened and delicious scallops accompanied by, well, a lot of stuff. There was a creamy cauliflower purée, roasted florets, a tangy corn salsa, peppery greens, fried jalapeños, pickled radishes, and chili oil. The dish had at least three too many elements distracting from the main attraction.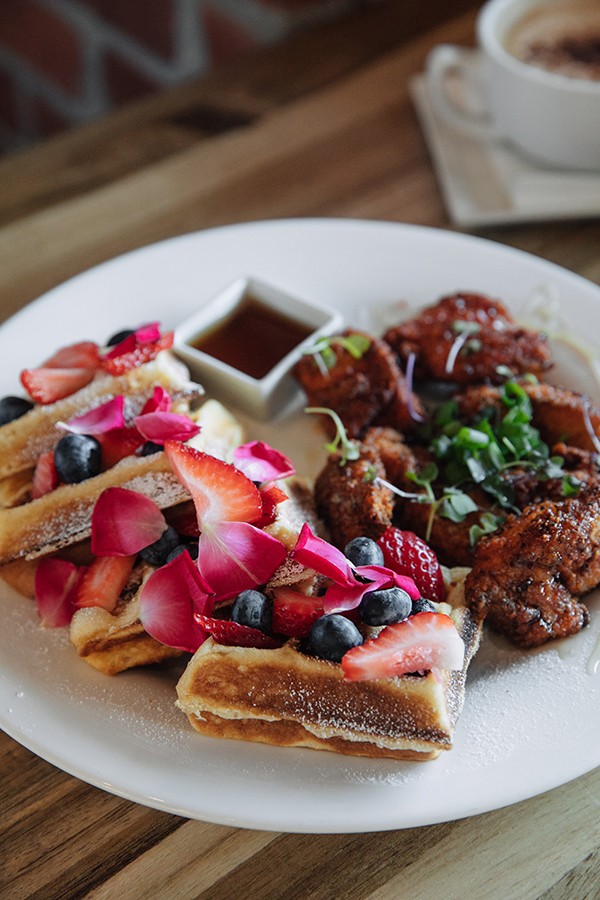 But I loved the mac 'n' cheese, which was basic but so ideal — proof you don't need a bunch of fancy cheeses or béchamel to do the dish right. A banana bread pudding — laced with thick caramel and soft whipped cream — capped off the night with just the right amount of sweetness.
By switching to an all-day menu, the restaurant can allow the business lunch crowd to finally experience that mac 'n' cheese, and, more importantly, folks can order the shrimp and grits at dinner.
It's almost certainly Ivy Moon's best dish. The grits are creamy but still retain a nice bite, and the colossal-sized shrimp that come with it are so juicy that it'll make you have second thoughts about all the other shrimp you've consumed in your life. There's a small pile of tender greens, a sunny-side-up egg, lots of black pepper, and the kicker: deep-fried morsels of grits, making the dish a true feast for the texturally inclined.
A close second is the restaurant's only sandwich: blackened cod, lime-chive aioli, fresh dill, red cabbage slaw, and pickled radishes and peppers all piled into a toasted bun. The flavors are bright and vibrant, and the slaw gives it just the right amount of crunch. The side of fries seasoned with smoked paprika doesn't hurt, either.
With Oakland's skyrocketing rents, many restaurants have been forced to close over the years. Ivy Moon has a great chance at longevity, though, because Sellman bought the building. She has big dreams for Ivy Moon: She wants to expand the seating by adding a second story and, eventually, open another location.
You can see that ambition on the plates — nearly every dish is prettily arranged and finished with colorful flowers, just like the chicken and waffles.
The ease of eating those chicken and waffles was pretty glorious, but chopped-up chicken breasts are far less forgiving than bone-in thighs. So, it wasn't shocking that my nuggets were a touch too dry. Still, the sweet-salty flavors were on point, with ample spices coating the chicken. True to her Southern roots, Sellman wouldn't reveal any of her flavor tricks. "The secret is love," she said.  
Ivy Moon
3112 Market St., Oakland
510-735-9115
IvyMoonRestaurant.com
Hours: Wed.–Mon. 8 a.m.–9 p.m.
Cash, all major credit cards
Sample Menu
Shrimp and grits $17
Chicken and waffles $15
Blackened cod sandwich $14
Grilled lamb chops $21